Y'all, my life. It's crazy.
I am getting married in one week.  Yes, that is o-n-e week. And it is the wedding of my dreams. My fiance- oh my gracious-he is amazing. I knew he was a winner from our first date, when he was picking out pieces for me of white chocolate Christmas mix with extra marshmallows. He's so creative, even-keeled (for those of you not from the South, that means he doesn't freak when confronted with a dry, over baked biscuit), talented, unconditionally loving, hilarious. Oh, and my in-laws are amazing too. His mom, like mine, is wonderful and loves to cook! #jackpot
Honestly, everything is coming together and feels just as it should be. The decor-white rose bouquets, greenery, Christmas wreaths, all wrapped in cranberry ribbon- is lovely. It's going to be such a beautiful day.  I've always dreamed of getting married at Christmas, and this is it.
At the same time, in the world of reality I never considered that a Christmas wedding, though beautiful and romantic, also happens during Christmas. Like, a week after Thanksgiving and in the middle of the most busy season of the year for pretty much everyone. When gift shopping traffic at the Summit reaches a fever point and grown adults make grand "hand gestures" to offending Suburbans. So to say that my fiancé and I have been busy, stressed, had hard conversations about the guest list and wondered if we would ever make it unscathed to the altar, that would be an understatement.
In the midst of the crazy, there is always one thing I can count on. It's my kitchen. It's the movement of sweeping a knife through a ripe pear, taking celery, combining it with onion and carrot and making a beautiful mirepoix for hot vegetable soup. It's my safe place- a place of rest, renewal, and a way to calm the hunger pains caused by hours of wedding registry scanning and walking the aisles of Lowes looking at fashion bathroom accessories.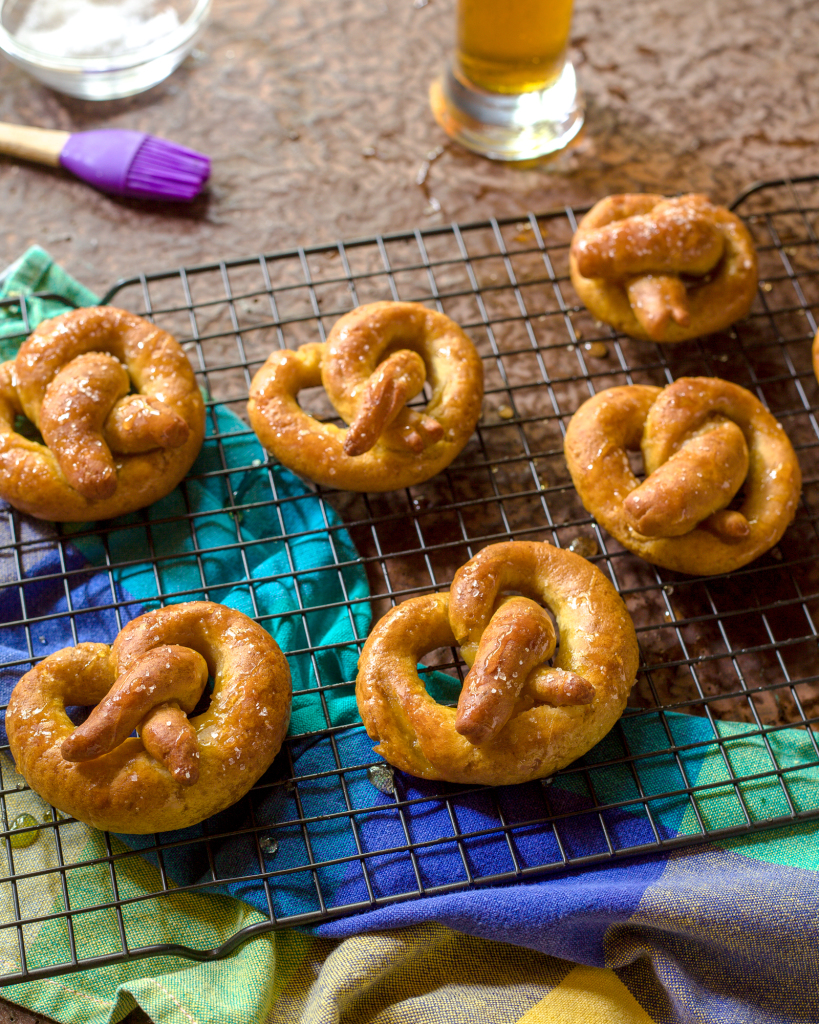 And for me, trying something new is just as therapeutic. It takes my mind off the to-dos and brings me back to rolling out pretzel dough with my hands and figuring out how to shape it into a knot. Dipping light, yeasty dough into boiling water topped with baking soda and watching it bubble over. And that's why this recipe is perfect for right now. It's worth the extra time it takes to make these by hand. They are so, so delicious and I will pit them against any you might find while shopping at the mall. Hot out of the oven, I presented them on a platter, and ate half of them by myself. I think at one point I started staring my family down when their hands reached toward the plate. It was that bad. And by bad I mean delicious.
So, if you are like me and in the middle of holiday craziness, take some time to get to your safe place. Let your mind reflect on all the good in your life and all we have to be grateful for. Then enjoy a great soft pretzel, throw on your warmest jacket, and go out there and tackle that to-do list. No hand gestures needed.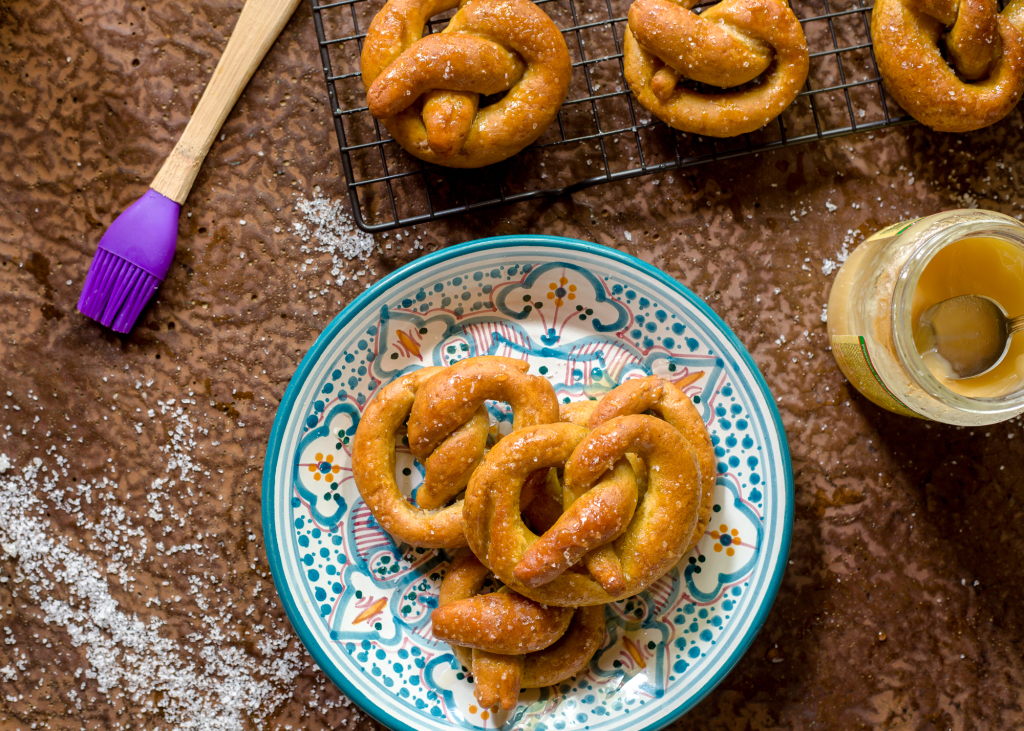 Gluten Free Honey Butter Pretzels (recipe taken from Kumquat blog, my favorite gluten free blog I have found! It's absolutely wonderful!)
What You Will Need:
1 package active dry yeast
1 cup warm water (105° to 115°; I used a candy thermometer to measure my temp)
1 tablespoon plus ½ teaspoon sugar, divided
420 grams (about 3 cups) kumquat's all-purpose gluten-free flour, divided (this is a great gf flour mix!)
1 teaspoon salt
1 teaspoon xanthan gum
4 tablespoons unsalted butter, softened (plus extra melted butter for topping)
4 cups water
2 tablespoons baking soda
cooking spray
coarse salt
honey for drizzling (I love local honey if you can find it)
What You Will Do:
Combine yeast, water, and ½ teaspoon sugar in a small bowl. Let sit for 5 minutes.
Combine 1½ cups flour, 1 tablespoon sugar, 1 teaspoon salt, xanthan gum, and butter in a large mixing bowl. Cut in butter with pastry cutter or fingers until mixture resembles coarse meal. Add yeast mixture and stir until well combined. Add remaining 1½ cups flour and mix to combine.
Pour out on a surface and knead a few times to make a smooth dough. Place dough in a large, well-greased bowl (I sprayed mine with cooking spray) and cover. Let rise in a warm place, free from drafts for 60 minutes.
Preheat oven to 475° and spray your baking sheet with cooking spray. Divide dough into 5 or 6 pieces (or if you like, you can make the pretzels a bit smaller like I did; I think I ended up with 8-10 pieces).
Knead pieces in your hands until nicely smooth. Roll each piece into a 16-18-inch length and form into a pretzel shape.*
In a non-aluminum pot, bring water to a boil with baking soda. Add pretzels, two at a time, and boil 1 minute. Use a slotted spoon to lift the pretzel out, and shake off excess water. Place pretzels on a baking sheet.
Using a pastry brush, spread melted butter on the pretzels and top with coarse salt. Bake at 475° for 10 minutes or until golden brown. Once out of the oven, drizzle with honey. Voila! The perfect, gluten-free, honey butter pretzel!
*This it the best way I found to shape these pretzels!
1. I like to first make a horse shoe, "u" shape with the dough, facing away from you.
2. Cross the left piece under right piece, right piece under the left piece, then flip that criss cross up and over towards you to the top of the "u" and press to seal it.
3. Shape it a bit to even out the pretzel form and you are ready to go!