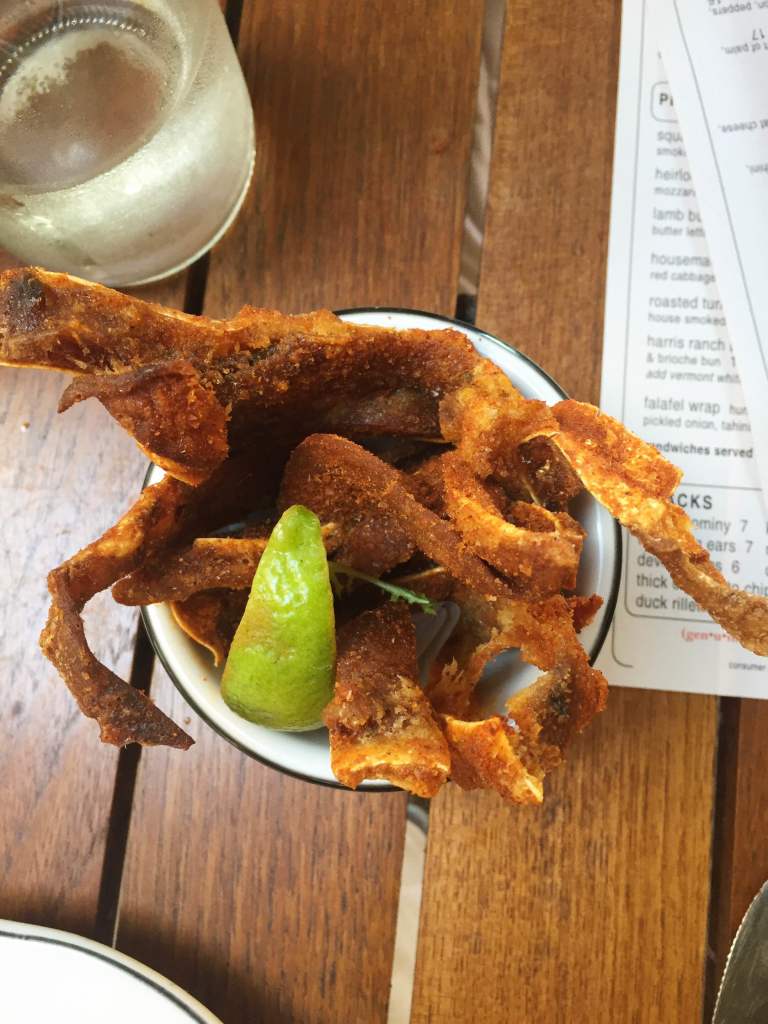 My first experience with Miami began the minute our red Ford Fusion zipped out of the Enterprise parking lot and onto Northwest 25th Street. Ferraris, Porshe 4-doors and Mercedes sedans cruised alongside us as we merged onto the causeway, where I was stunned; brilliantly blue, ocean water spread out as far as our eyes could see. Radio blaring, wind whipping through my hair, hand out the window to feel the breeze- this was going to be a beautiful trip.
The weather in Miami was in the middle of what locals would call a "cold snap"- mid 50's to low '60's- yet still warmer than what we have been enjoying in the southeastern sector. Jake and I's plans to enjoy the beach were thwarted a bit in leu of warmer tourist activities, namely those that involved eating and walking, which were just fine with me. But despite the weather, the city was pulsing with life and design. The Miami skyline is one of geometric pristines; clean, clear-cut skyscrapers juxtapose golden pink sunsets and pillowy clouds. Even the textures in Miami architecture were vibrant-wavy, loose, and rhythmic.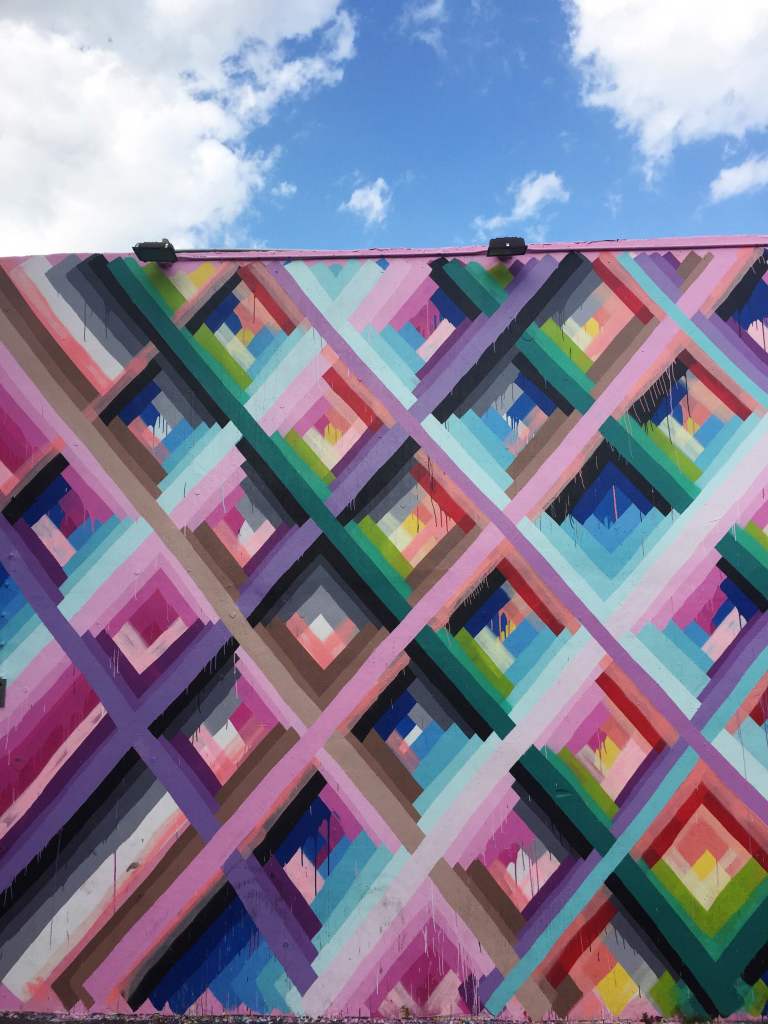 The colors were, beside the food, my favorite element of the city. Color pulses through Miami, coloring graffiti stained warehouse walls, weaving into pastel Art Deco hotel fronts with vintage Rolls Royces parked at the curb. And and the food, like the colors, are vivid, passionate, and full of life; almost evangelically inviting passers by to experience their perspective, wooing them through the way ingredients are layered, simmered, stacked upon one another until they meet the flavor point the chef so thoughtfully constructed.
The city was always moving, through bicyclists and muscled runners and the two women who steamed milk at the Cuban counter around the corner from our condo.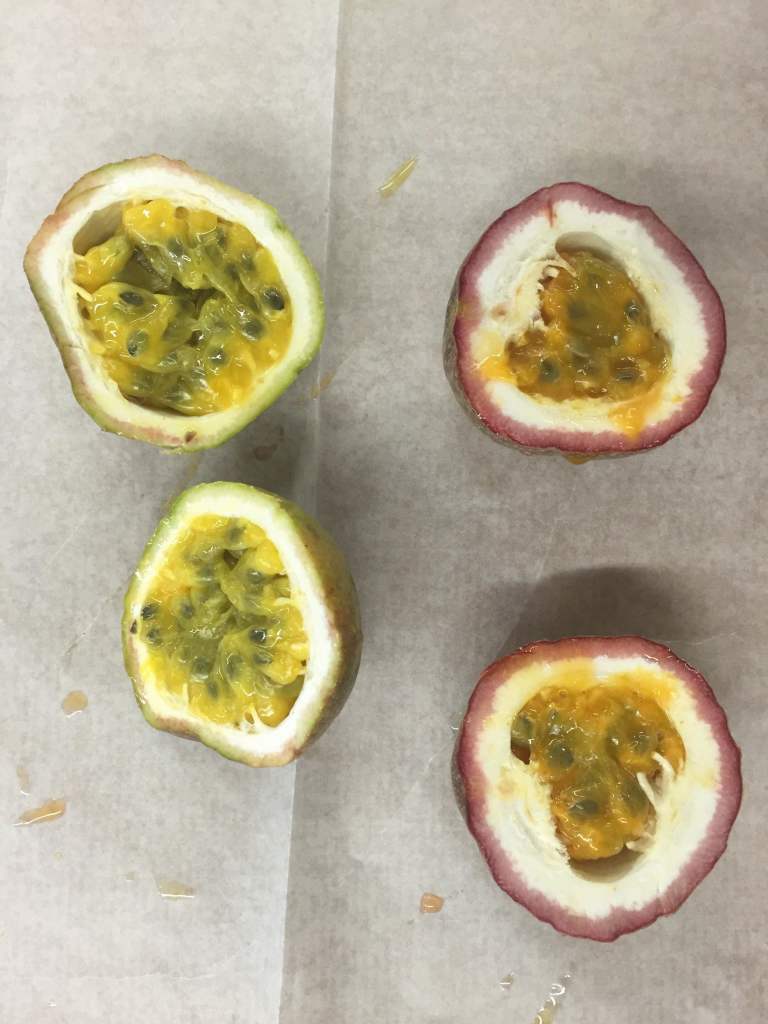 I fully realize that we are rarely without bias in our taste experience; each taste informs and builds upon the other in the stream of our flavor consciousness. And Jake and I did not eat a bad meal (which is rare for me to experience when in an unknown city). Each stop brought it's own perspective, outlook, and care for ingredients. Really, each place had heart, and that resonated with me. From our experience at Yardbird where we were greeted with two glasses of champagne and the manager (who shared how with us how honored he was that we chose to spend our honeymoon with them); to the crispy, fried beef juiceness of a Magos hot dog  (so patiently explained by a Spanish-speaking waitress holding a laminated photograph of the said item in her hand). The seafood was abundantly fresh, and the tuna tartare at Wynwood Kitchen tops my list of faves, as did the vaca frita at Havana 1957-the first flavor glimpse I have been given to the Brazilian food I love in along time.
So here I offer my humble acknowledgment of the beauty and passion of Miami eating; our favorite stops, and an open invitation for you to experience the heart behind what the city has to offer. And as you do, I invite you to sit with me, and reflect on this month's memories. Especially the good ones that propel us into the Christmas season-and all of the joy that lies ahead.
Miami Must Eats: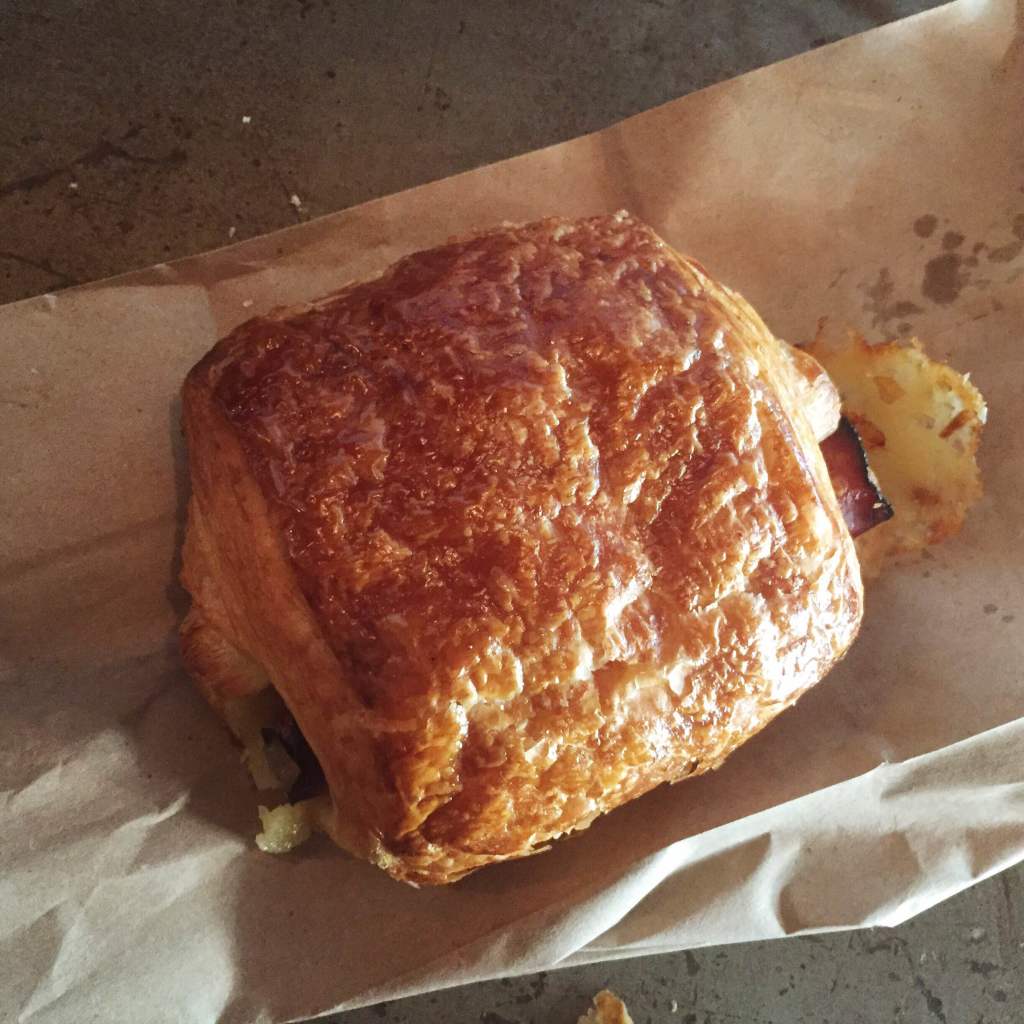 1. Ham, butter and cheese croissant/latte at Panther coffee: I love espresso. Like, have bought every coffee contraption outside of the $2,000 one you can get on Williams Sonoma's website to try and make it at home. So, when I travel I am always on a quest for the perfect espresso. The lattes at Panther are some of the best I have ever had (I tried the whole milk, soy and almond milk varieties). They also offer two different roasts of espresso; I love the East Coast variety.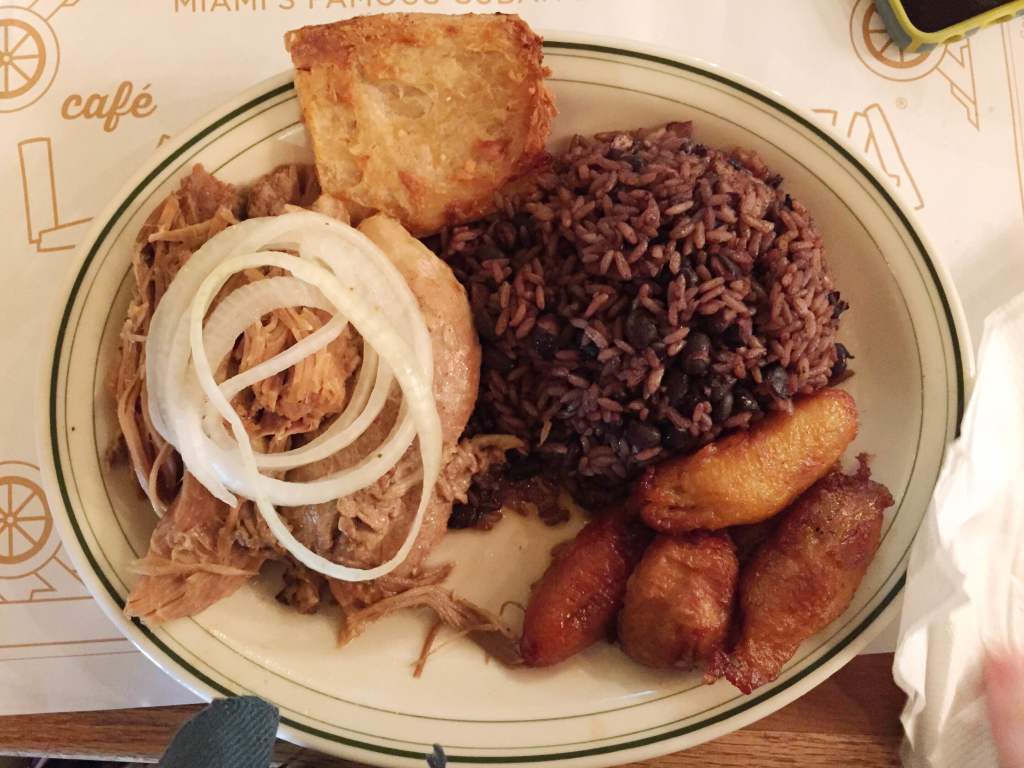 2. Moros Rice at La Caretta– I love feijoada (Brazillian black bean stew), and this was the closest I came to it while in Miami. They also have the best cortado I have ever tasted- and don't miss the cinammony sweet plantains either.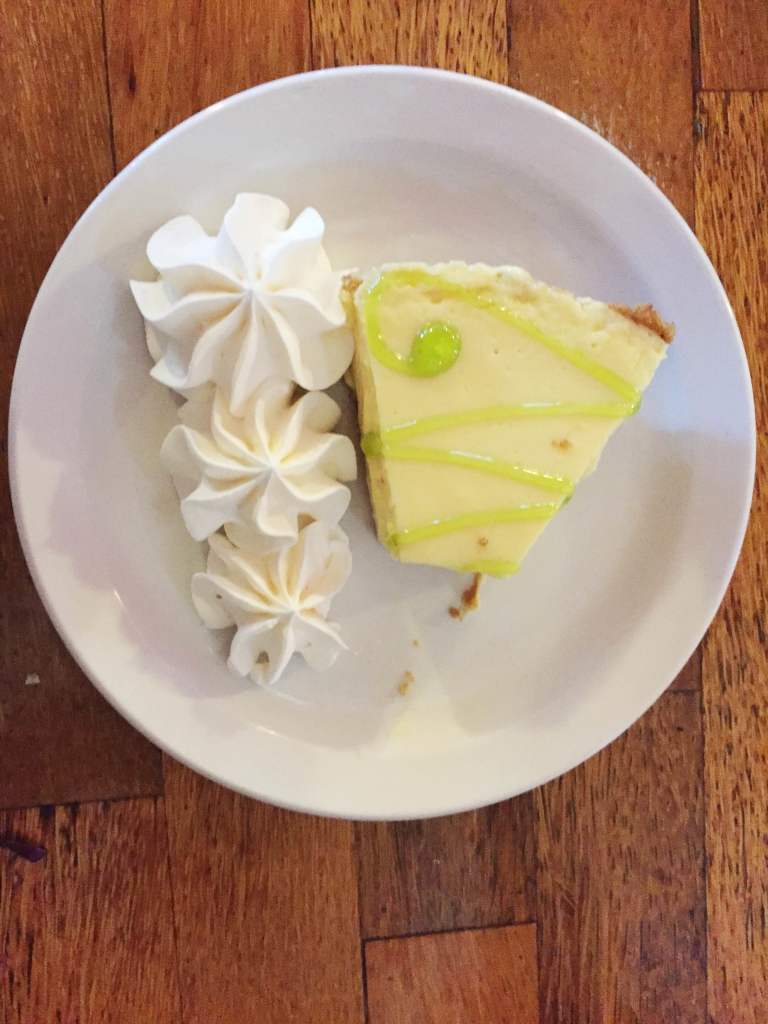 3. Key Lime Pie at the Key Largo Conch House– So, apparently true key lime pie isn't the "green stuff," it's the yellow. This was the brightest, most deliciously citrus cream held together by a thin graham crust I have ever tasted. You. Must. Try. This.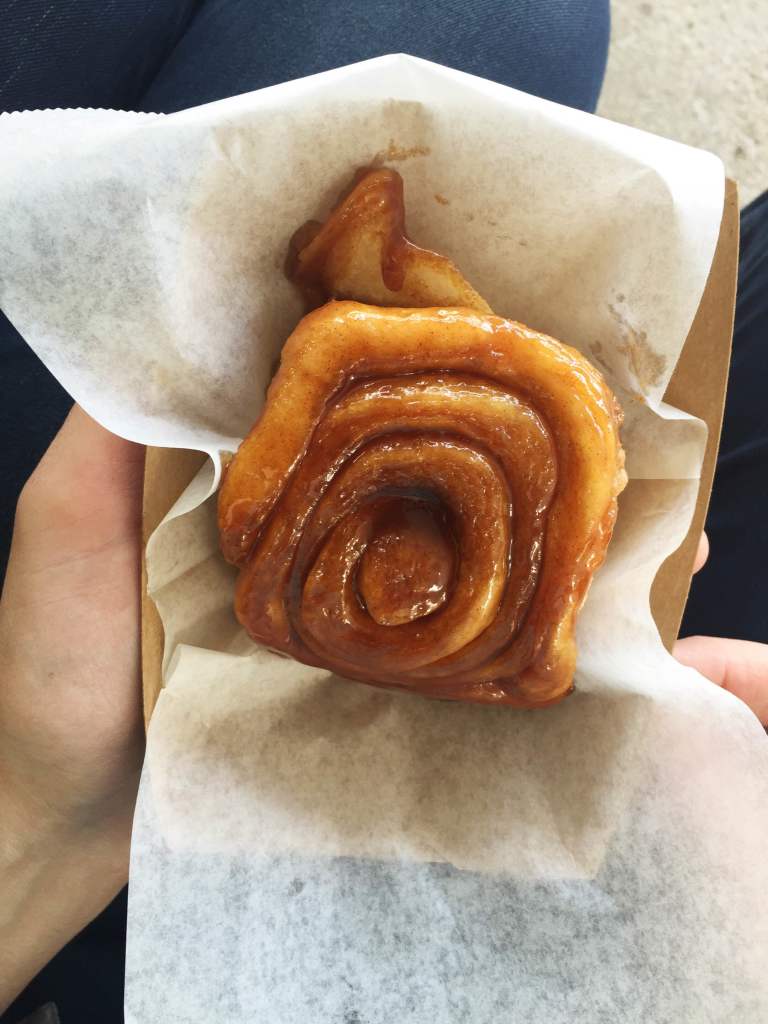 4. Cinnamon roll at Knaus Berry Farm– I also learned that there is an Amish community in Homestead, Florida that makes the best cinnamon roll I have ever had. The beauty of this roll is that the sweetness comes not from outward icing, but instead from a maple/honey/cinnamon glaze that creates a buttery crunch, soaking in the inside and outside of the roll,  you can't get enough of. Oh, and the batter has specks of cinnamon in it. Yes.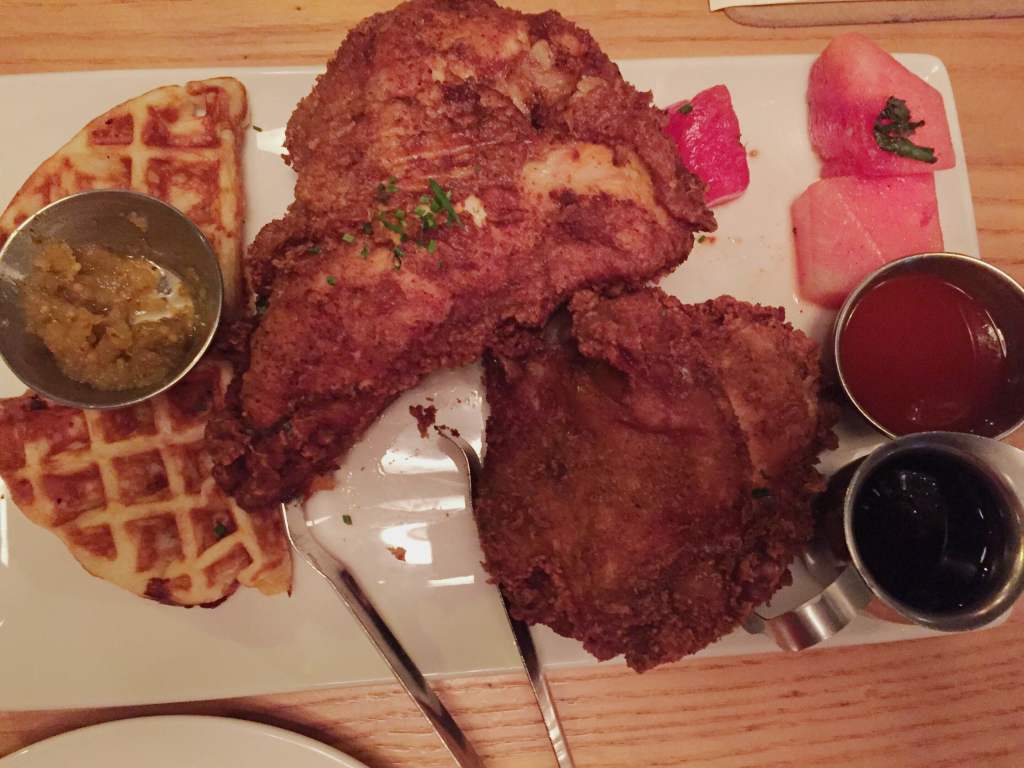 5. Fried chicken with cheddar chow chow waffle, pickled watermelon and bourbon syrup at Yardbird– Yardbird is doing something incredibly special with their fried chicken. Juicy and lickably moist on the inside, crunchy, dark golden skin on the outside, with a puffy cheddar waffle and bourbon-spiked syrup to soak into every square. The taste dynamic when you layer all of the elements is like a rich, chicken-sweet punch. It's delightful! Also, if you are by chance able to try their lemon poppyseed cornbread, prepare thineself. It will change you.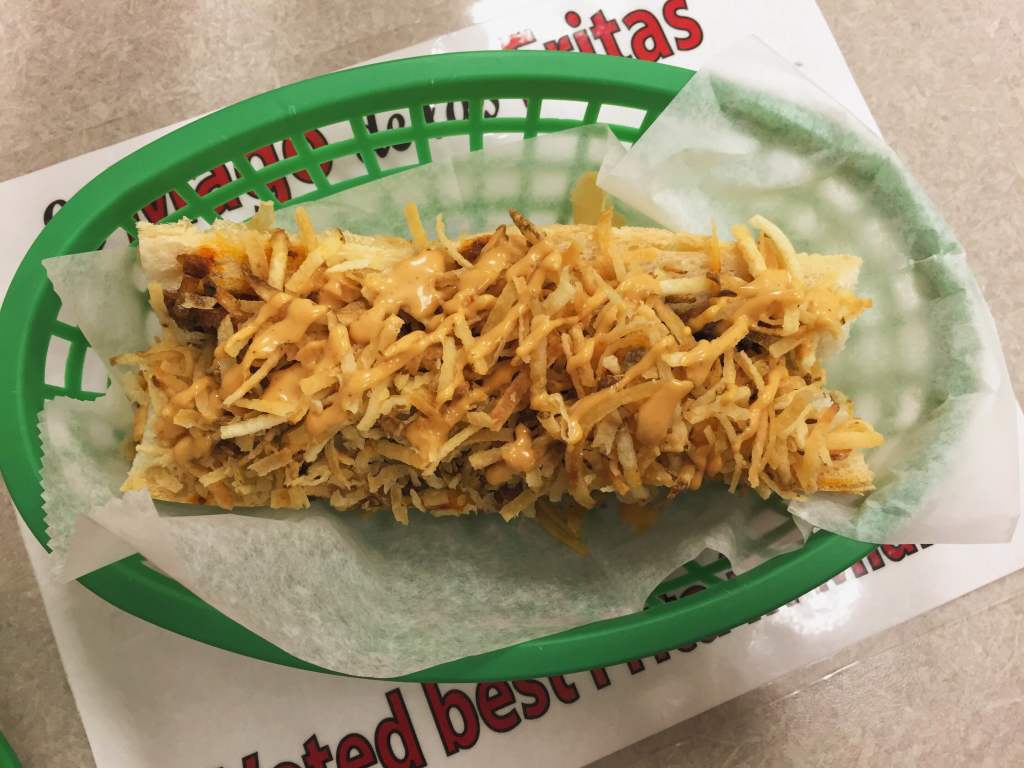 6. Mago magic dog at El Mago de Las Fritas– a pure sausage dog, layered in frita and fried potato wisps, with a spicy mayonnaise. Upon putting this in my mouth, I did a happy shake in our red leather booth and through a mouthful of food attempted to squeal  in pure delight (#potato-spray).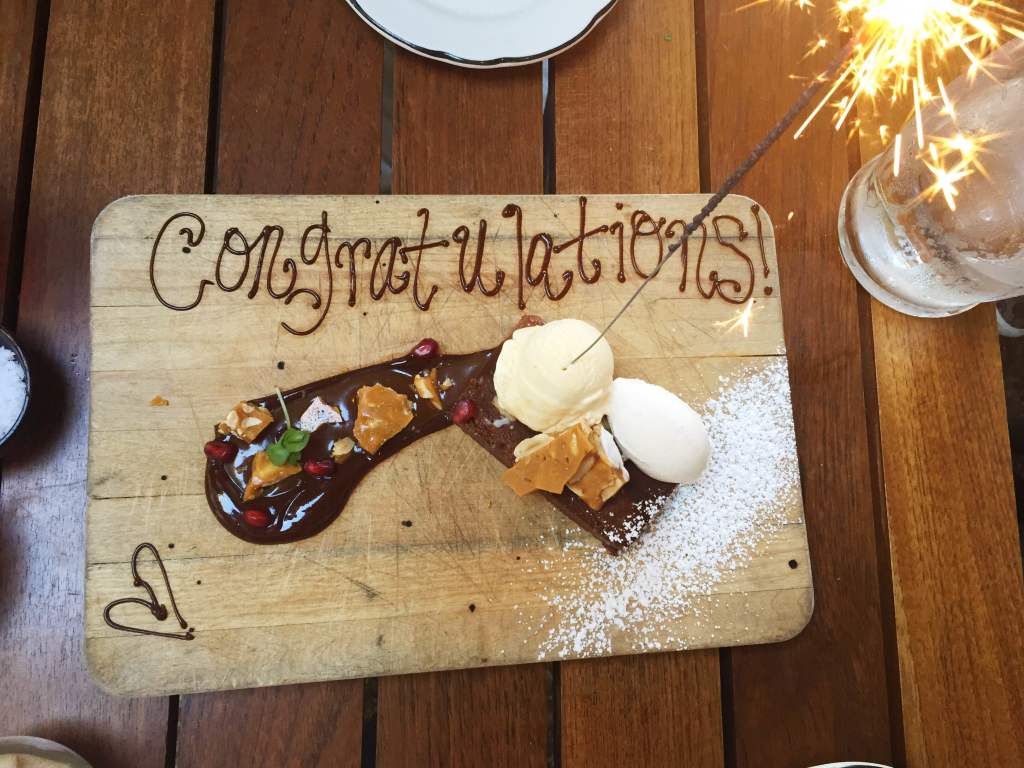 7. Milk chocolate peanut butter candy bar sundae at Michael's Genuine– Salted peanut brittle meets malted vanilla ice cream stacked on top of a crunchy dark chocolate/hazelnut brownie, with dark chocolate sauce and floating pomegranate seeds. Because it was our honeymoon, the restaurant gave us a sparkler to top off a magnificent trip. (I'll save you the finished version, with chocolate smear on a licked clean wooden board).  #luv
Honestly, these are only a few of my favorite spots we visited (and that I had the patience to photograph). I highly recommend you also checking out Spris, Dylan's Candy Bar on Lincoln Road, Alaska Coffee Company, Wynwood Kitchen, Buenos Aires Bakery. Feel free to comment below with any menu questions! Love you guys, and merry, merry Christmas.