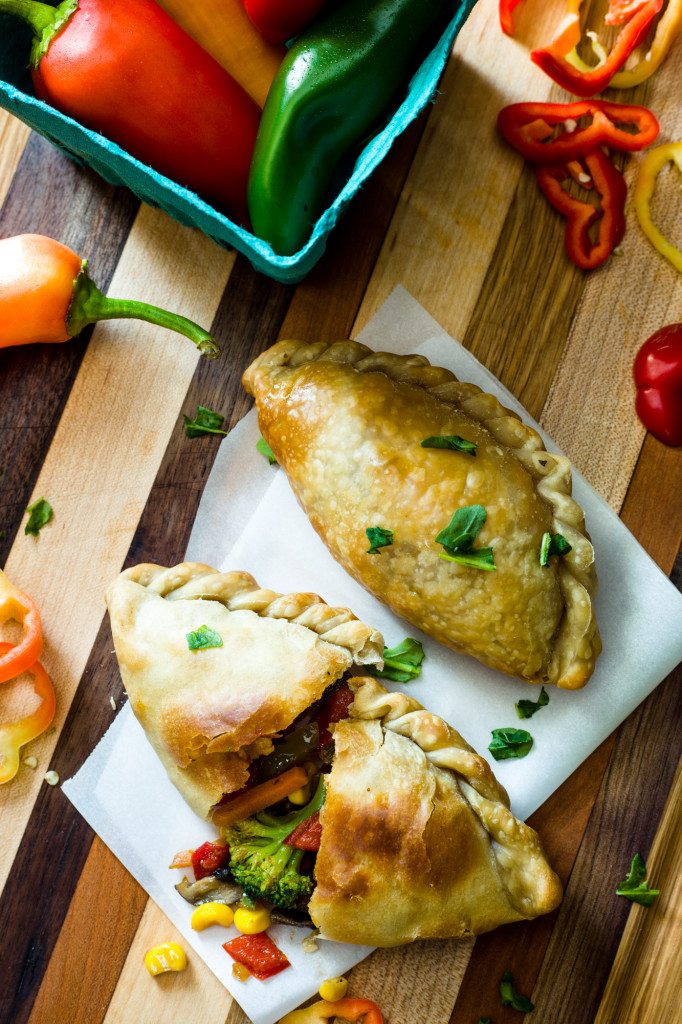 It was one of those days. Those hot, hot, hot summer days that start off at a blistering 90 degrees by 9 a.m. The days when your hair starts to wilt before you walk out the door, and keeping your mascara from smudging down your face is about as realistic as keeping your elbows from sweating.
And there I was, at a local farmer's market, in a booth solely decorated with the white tray I brought, trying to convince people to eat baked empanadas. I realized that shortly after beginning my hope-filled empanada-folding demo, all the passersbys to my booth wanted was ice and a bucket of water poured on their head. They wanted to grab a few sun-ripened tomatoes, warmed already in wicker baskets, and bounce. They definitely were not hanging around for a lukewarm pastry.
Yet I was there, and I was sweating, and I wanted to follow them back to their cars and blast the A/C. It was then that it hit me. Empanadas are delicious. Vegetables are delicious- and as much as this will please my mom to say, I think I am growing to like them even more as an adult. But warm empanadas on a hot summer morning are not high priority to shoppers already drenched in sweat. Also, hello, I needed a Luv Cooks sign. Or a name tag. Or something that would assure people I could indeed be trusted with pastries.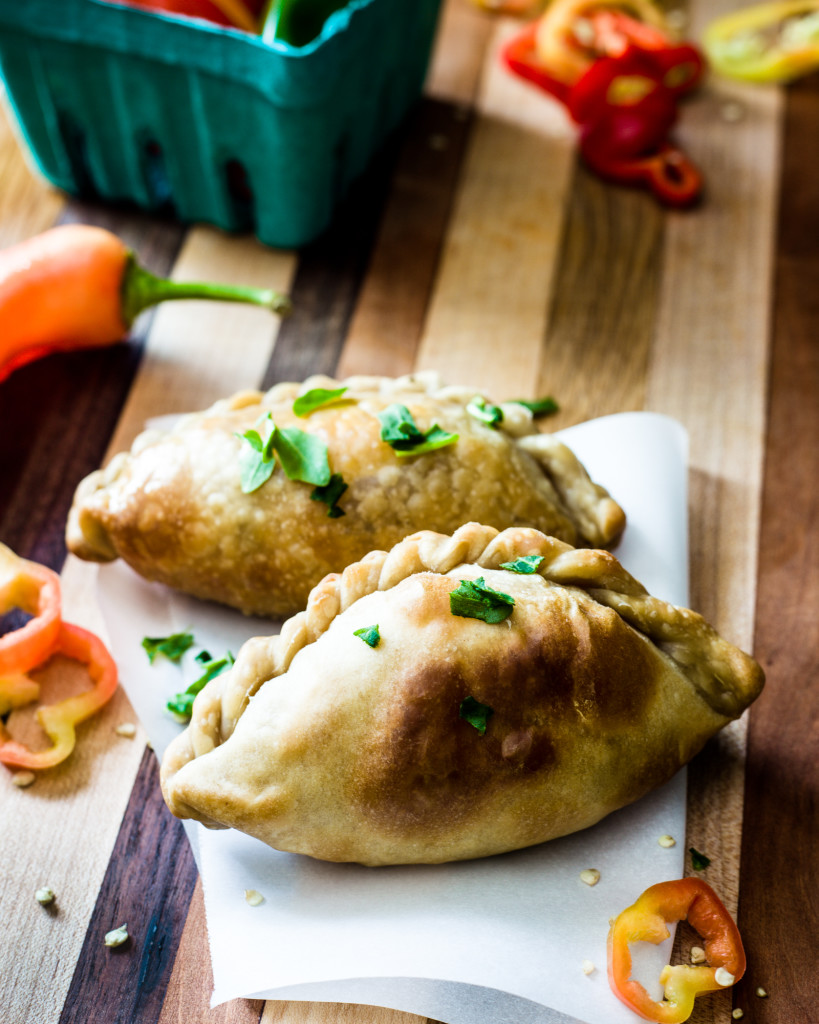 Which leads me to Periscope. Have you guys heard of this app? It's pretty amazing- and I think is going to make my job as a blogger much easier. In fact, I think it's going to be a great way for all of us to connect about food, life, and other fun things. I actually tried it out today, which led to a video of me below geeking out over my new fall planner. Get it done, not perfect, people- as my friend Rachel Coffey says:
Also, if you feel so inclined, I would LOVE for you to search for me on Periscope- luvcooks- and tune in to share with me what you want to see more of on the blog.
Ok, now that we have successfully navigated a social media trend, and as it is FINALLY feeling cooler (and you may be attending outdoor activities where you need an easy, portable snack or treat for a crowd)- make these. Using the premade empanada dough makes your life even easier. Plus, you can do endless varieties with this recipe- add cheese, and it becomes melty and the flavors rich. Or add shredded chicken for a meatier treat. Use your imagination and the possibilities are endless! I even found this to get your creativity flowing: A list of 24 variations on an empanada.
Just scroll on down for my veggie version. Kick back, relax, make a glass of iced something, and chow down on a fresh empanada. Maybe even Persicope about it all. Because summer is almost over and a fiesta is in order!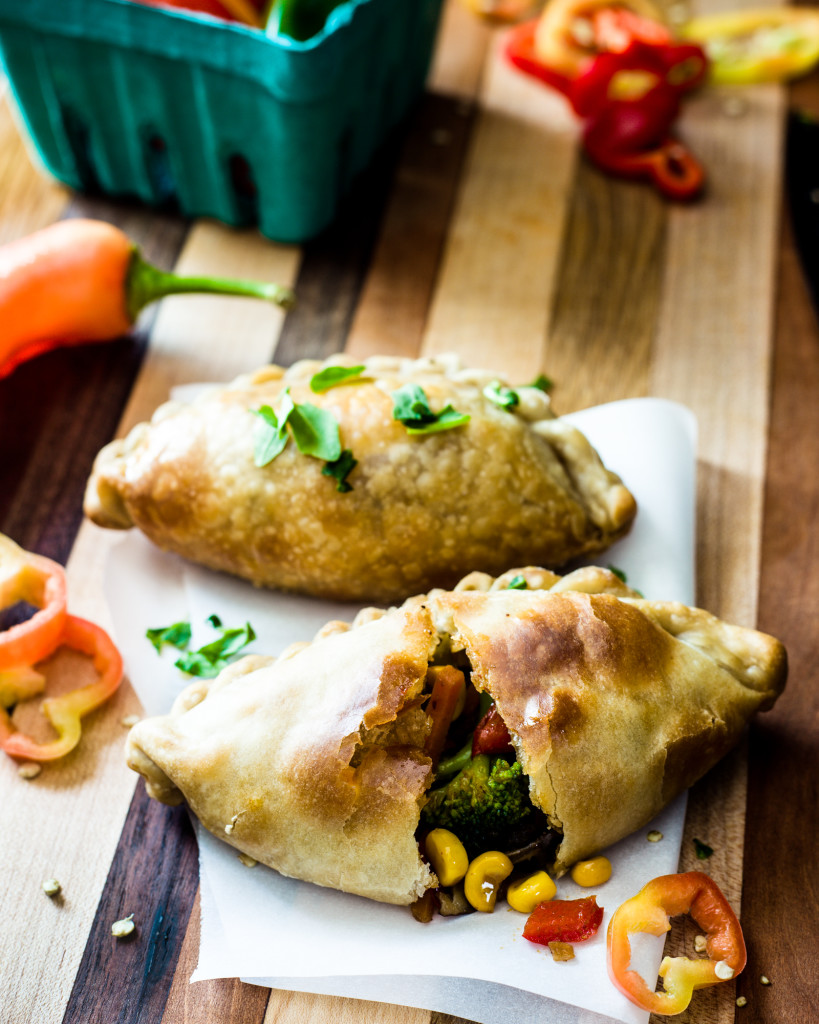 Veggie Empanadas
Make sure you remove your empanada dough from the fridge, or the freezer if  it's frozen, before you begin your filling. This recipe is easy, and I promise your creative use of leftover veggies, and chopping skills, will pay off!
What You Will Need:
1-2 tablespoons olive oil
1 medium onion, chopped
2 cloves garlic, minced
1/2 red bell pepper, chopped
1/2 green bell pepper, chopped
1/2 jalapeno pepper (remove seeds for less spice), finely diced
1/2 teaspoon red chili flakes
1/2 teaspoon Mexican oregano (if you don't have Mexican you can use regular)
1/2 teaspoon paprika
1 teaspoon cumin
2 generous tablespoons sofrito
2 generous tablespoons pitted olives, cut in halves
1 bay leaf
1 cup veggie or chicken stock
1 cup frozen butternut squash**
1 cup frozen peas**
10 empanada discs (I used Goya Emapanda Dough)
What You Will Do:
Heat olive oil in large saute pan to medium heat.
Sauté onion, garlic, bell peppers, and 1/2 jalapeno until onions soften on medium heat.
Add red chili flakes, Mexican oregano, paprika, cumin, sofrito, pitted olives (cut in halves), bay leaf, veggie or chicken stock, squash, and peas.
Bring mixture to a simmer, stirring occasionally, and cook until the peas and squash are softened and the majority of the liquid is absorbed, about 5 minutes. Take pan off the heat, and carefully remove the bay leaf.
Move your empanada discs close to you on a cutting board or clean surface.
 Spoon 2 tablespoons filling into half of the empanada disc. Fold the other half of the disc over on itself, forming a half-moon. Seal the edges by pressing down around the rim of the empanada with your fingers.* You can either use this empanada technique to make the edges twisty or just use a fork to lightly press down on the edges for a ribbed look.
Move the empanadas to a large baking sheet lined in parchment paper.
Bake at 400 degrees for 10 minutes; flip, bake 10 more minutes, or until golden brown on the edges.
Comemos amigos! Enjoy!
*You can dip your fingers in water before you close the empanadas if this helps you get a better seal. Mine were fine without it.
**For the recipe in the photo, as you can see, I substituted frozen corn and a broccoli medley mix for the squash and peas. You can totally be creative and use whatever frozen veggies you have in your freezer!