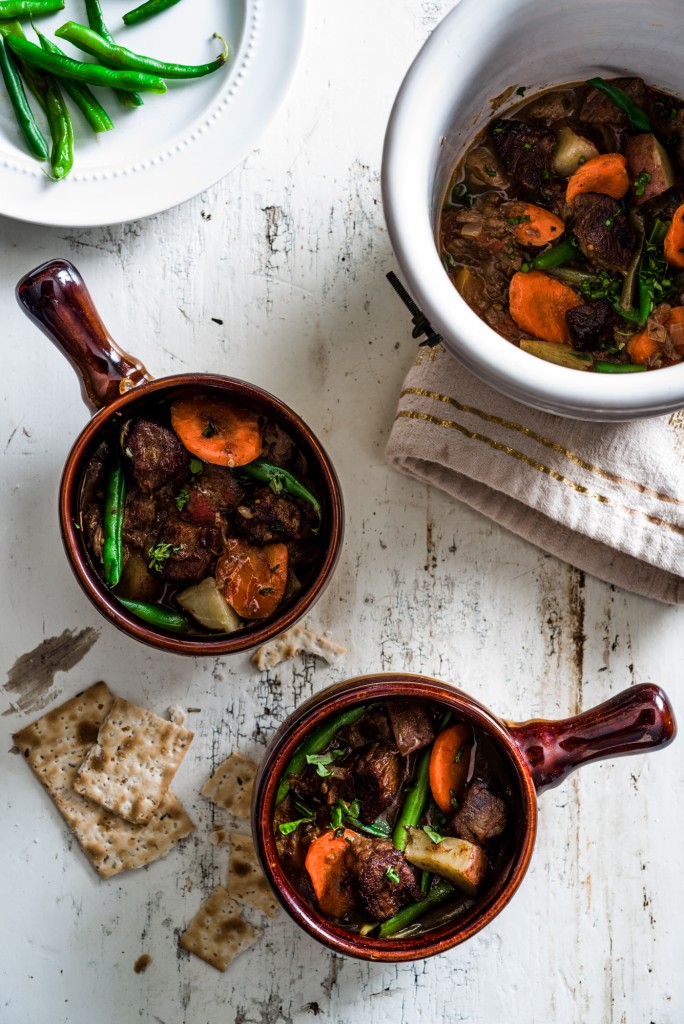 January is just the best.
There are a host of reasons I feel this way. It's a fresh start to the year, my schedule seems to become slow enough to give time for some goal setting- but most of all, it's this:
Jake strums on his guitar next to me. My desk is leans against a large window; I turn my head to the right and look out at the city where I've always dreamed of living. Cars rush past outside and their rhythm beats sweetly alongside the guitar riffs. This is the start of Nashville for me.
And the beginning of 2016 has been a sweet one. The start of life in a new space; living in a tiny one (#loftlivin'); and new friendships forming that I feel will be lifelong. Up until this moment, I have yet to experience feeling so at peace, so in that "right where I am supposed to be" position. Life is good.
And it's funny how I feel already that I owe something to Nashville. The smiling faces, the creativity, and the overwhelming support to people pursuing their dreams; there's something here that I want to jump into, be a part of, bless people with. And, fortunately for me, my sister gave me just the way to do it.
Cue video intro here!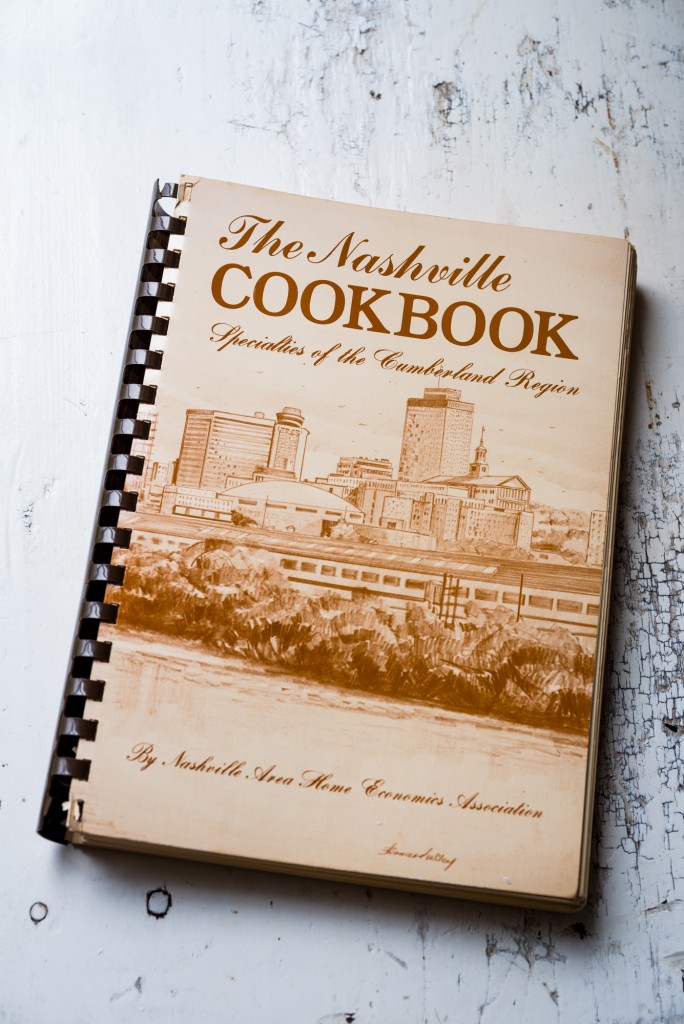 The Nashville Cookbook: Recipes of the Cumberland Region is where this year begins. This book is a treasure trove of history, Southern tradition, recipes yet to be explored, all from a city I long to know more about. Written by the Nashville Area Home Economics Association in 1976, one of my favorite quotes in the book's forward is "Food is essential for the nourishment of the body, and books are essential for the nourishment of the mind and the imagination. A good cookbook can meet both these essentials, and that is what the Nashville home economists have provided here." It is a collection of the history of places- there are beautiful prints and historical pieces on the Maxwell House Hotel, the Parthenon, Fort Nashborough and places in the Cumberland Region. It is my introduction to Nashville as a city, as a food culture, from the point of it's history and its fascinating, "zany", carefully crafted recipes. As the opening pages state, "We wish the book to be a joy to read, to use, to savor, and to treasure!"
So this is where Luv Cooks lands. I will cook from these recipes, aiming to make them as authentically as I can. I will include local product, produce, meat, cheese- when I can and where I can- and hope that through this process I have the pleasure of meeting the people who are bringing these fantastic foods to our table.
I will also most likely offer my variations on the tried-and-true. This week's recipe- such a warm, comforting start to a below freezing week in Nashville- already involves some tweaks, based off of cooking methods I have learned in styling. But I hope that each of these changes will bring something new, and helpful, to your table.
So, saddle up this year for a fantastic, fun, wild ride through a cookbook, written in 1976, full of Southern flair, ingredients, spice, and the joy of life that is wonderfully unique to Tennessee. Let's eat!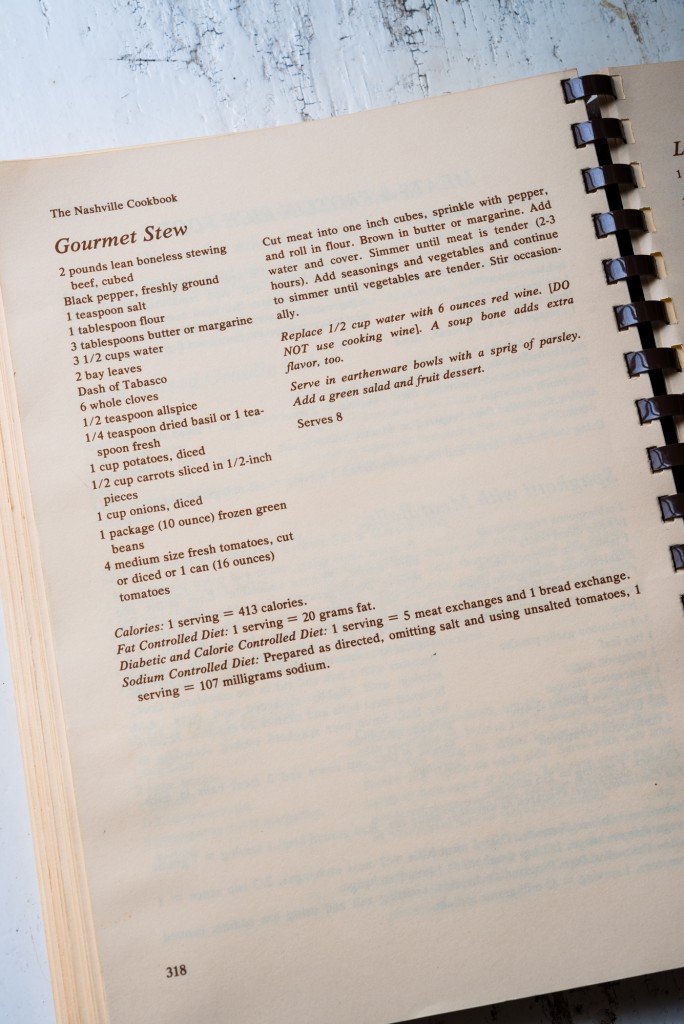 This week's purveyors: 
Meat: Delicious, lean stew meat by KLD Farm (Their beef is 100% chemical free; grass fed and grain finished; contains no antibiotics or growth hormones; and is dry-aged for 14-18 days . In other words, deliciousness.)
Produce: Potatoes by Smiley Farm (Link Smiley Farm at Local Table; they sell daily at the Nashville Farmer's Market!)
Weekly tip: Quality Stew Meat + Relax with Some Soup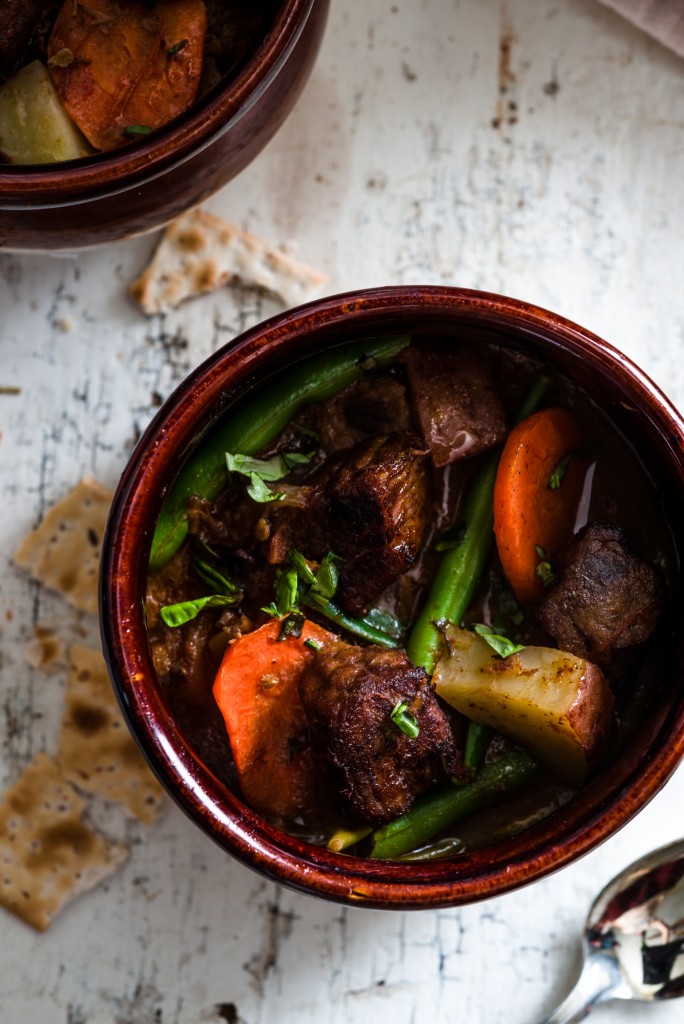 Gourmet Stew from The Nashville Cookbook
This beef stew is perfect for a cold winter night, and so simple to make. The hardest part is probably waiting for the meat to tenderize, which for me took a about 2 1/2 hours. The recipe in total takes about 3 1/2 hours, but I made mine on a lazy Sunday afternoon, and it was perfect.
What You Will Need:
2 lbs lean boneless stewing meat, cubed, and patted dry
Black pepper, freshly ground
1 tablespoon flour
3 tablespoons organic butter
4 1/2 cups water, divided
2 bay leaves
Dash of hot sauce
1 teaspoon salt
6 whole cloves
1/2 teaspoon ground allspice
1 teaspoon fresh basil, chopped (or 1/4 teaspoon dried)
1 cup red-skinned potatoes, diced
1/2 cup carrots, cut into 1/2 inch thick slices
1 cup onions, diced
10 ounces fresh green beans (the original recipe calls for 10 oz frozen, but I like fresh)
4 medium size tomatoes, diced (1 lb.) (recipe calls for 1 16 oz can as an option, but I went with fresh)
What You Will Do:
1.  Heat a large dutch oven with 3 tablespoons butter on medium to medium-high heat (higher heat works better for browning).
2. Toss meat pieces with 1 tablespoon flour, and top with a few grinds per side of salt and pepper, to evenly coat all four sides of the beef.
3. Once the butter is bubbling, toss in the stew meat and brown on all sides.
4. Once the meat is sufficiently browned and crisp, add 3 1/2 cups water and 2 bay leaves.
5.  Simmer on low to medium-low heat for 2-3 hours, or until your meat is tender. (I went for about 2 hours and 15 minutes before I started adding the veggies and spices).
6. Add 1 more cup hot water and the rest of your ingredients (hot sauce, salt, cloves, allspice, basil, potatoes, carrots, onions, green beans, and tomatoes).
7. Bring the stew to a new boil (I turned my heat up to medium-high) then reduce to a simmer on low to medium-low.
7. Continue to simmer the soup until all the vegetables are tender, about another 50-60 minutes.
8. Now, put on your stretchy pants, warm socks, and cozy up with a bowl of stew to an episode of Nashville. Enjoy.