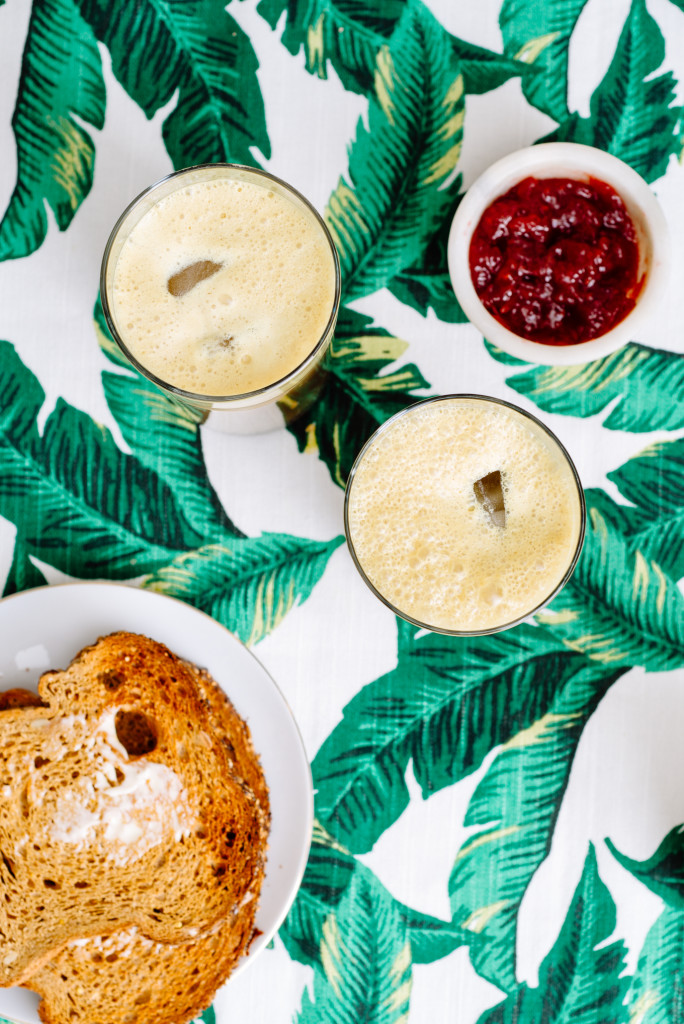 BREAKFAST!!!
One of my favorite times of the day. Ever since I shouted "RISE AND SHINE!" to my college roommates as I ran out the door to hit up the cafeteria at 7 AM (yes, I was THAT person) my love for the first meal of the day runs DEEP.
Also, breakfast involves coffee, which I consider to be one of the most necessary food and/or beverage groups out there.
That's why this week I decided to combine my love of breakfast + coffee + health benefits and show you guys how to make a bang-up golden milk iced coffee that could get you going and bless yo' brain.
Now, what is golden milk? A super delicious, coconut-based milk laced with turmeric and black pepper said to have anti inflammatory and relaxation properties. It's wonderfully rich, a bit spicy, a bit sweet, and just right for combining with coffee. Just like with our cheesy turmeric crackers post, combining turmeric with black pepper in golden milk, is a great way to unlock curcumin- which can aid in digestion and stabilizing blood sugar.  Plus, this golden milk is simple, only slightly sweet, and made with dairy-free coconut milk. WIN!
I also realize that breakfast is WAYY more than coffee- and should be- because, after all, if you want to get that gold star MVP award at work you need to be on your game!! So I recruited my great friend Mallory Swain, of Mallory Swain Health Coaching, to hang out on my sofa and teach me her nutritious breakfast ways. Her number one tip? Make a smoothie!!
Also, you can find Mal's first favorite smoothie recipe here. And her current fave recipe is linked on the YouTube video details!
So this weekend, sit back, relax, blend up a smoothie, check out Mallory's website, and enjoy some Golden Milk iced coffee. You've earned it!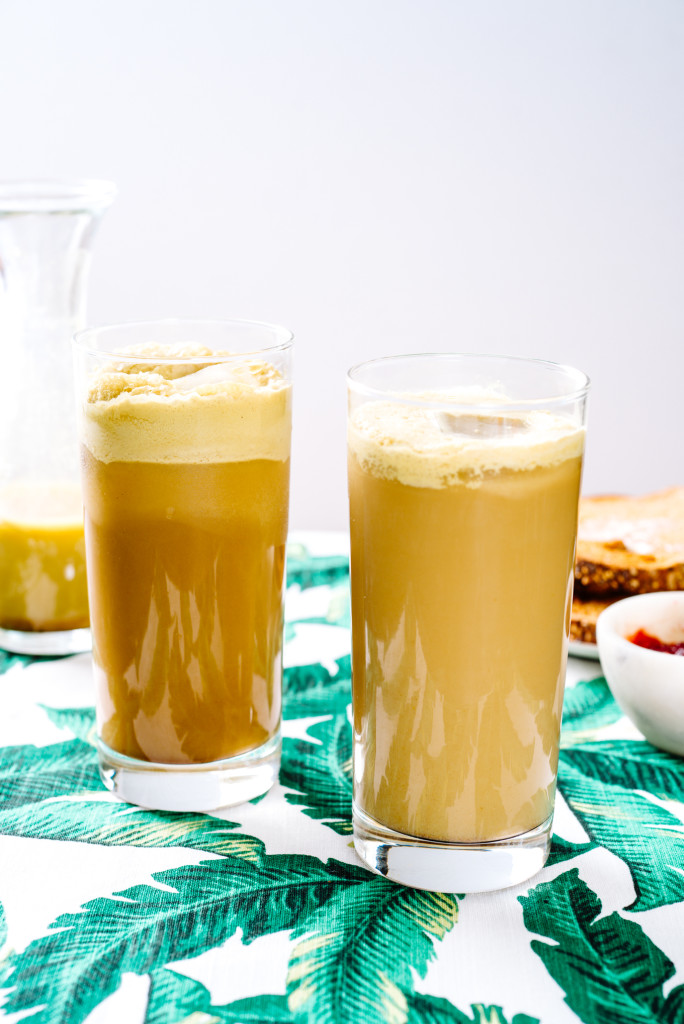 Golden Milk Iced Coffee
This recipe works best when your golden milk and coffee are hot! I like to make the golden milk ahead of time, keep it in the fridge, then heat it up for about a minute while I make my coffee. This golden milk recipe is a bit modified from Wellness Momma's version. Blend, add ice, enjoy!
What You Will Need
8 to 10 ounces fresh, hot coffee (I like the French press method)
1 13.5 ounce can organic coconut milk
2 tablespoons coconut oil
1 tsp turmeric
1/2 tsp cinnamon
Pinch of black pepper
Pinch of cayenne pepper
1 inch piece ginger, peeled and grated
1 teaspoon organic vanilla extract
1 tablespoon honey
Powdered stevia, to taste
What You Will Do
Combine coconut milk, oil, turmeric, cinnamon, black pepper, cayenne, ginger, and vanilla extract in blender until combined.
Heat mixture over medium heat until combined and coconut oil is melted.
Stir in honey until dissolved.
Remove from heat, pour into a jar, and allow to cool (or use immediately in coffee).
Pour coffee and desired amount of golden milk into blender. Blend on medium speed until combined. Taste; add stevia if needed.
Allow coffee to cool for a few minutes; pour over ice and enjoy!