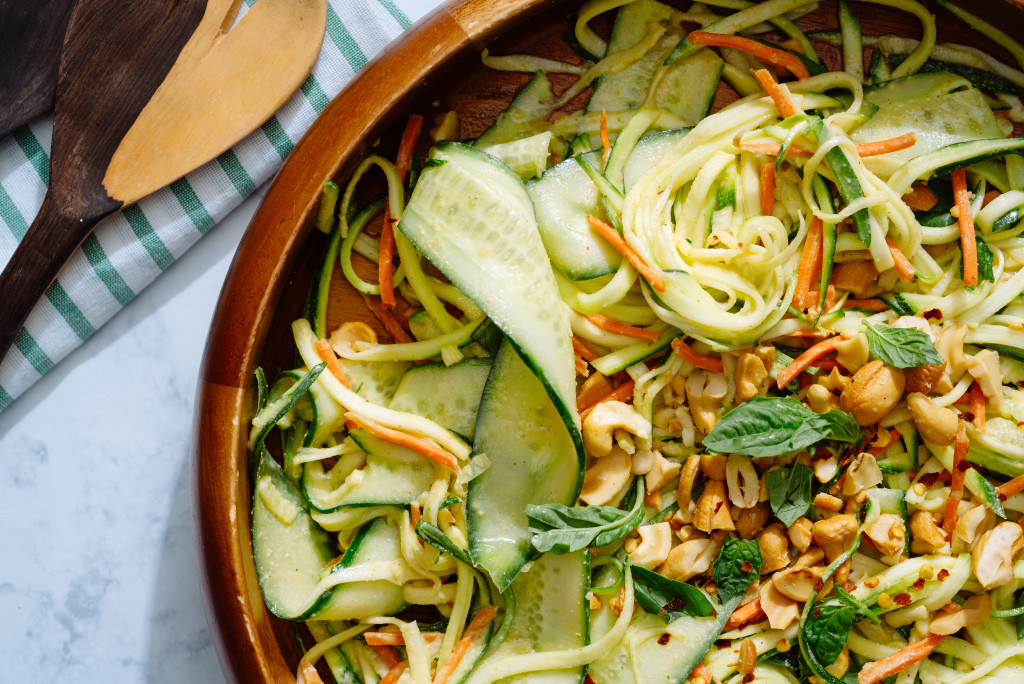 It's August! YESSS!! Cue all the back to school recipes! And pass the zucchini.
This fabulous month we delve into the world of zucchini, zucchini noodles, and everything that comes along with using zucchinis as this last month of summer begins.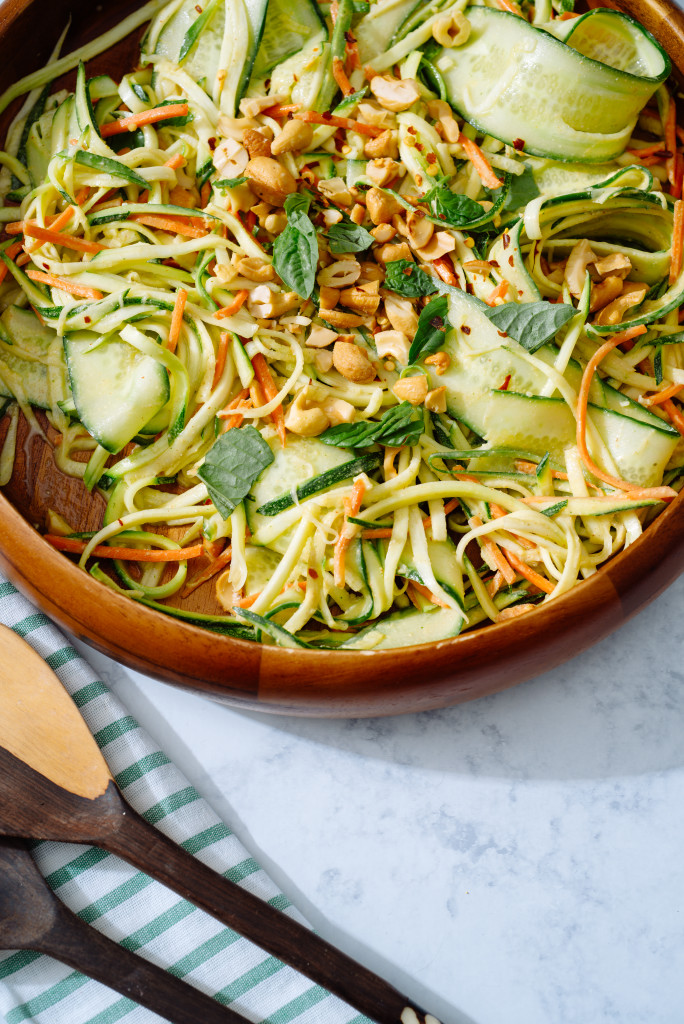 Which also means that school is starting, and everybody I know needs quick and simple recipes to make the August days (and sometimes late nights) even easier!
I am soooo pumped about this week's recipe for several reasons. One- the peanut dressing is DELICIOUS. Two- it features gochujang, my favorite spicy chili paste. Three- it's gluten-free and low-carb, which of course means you can eat the entire bowl in one sitting.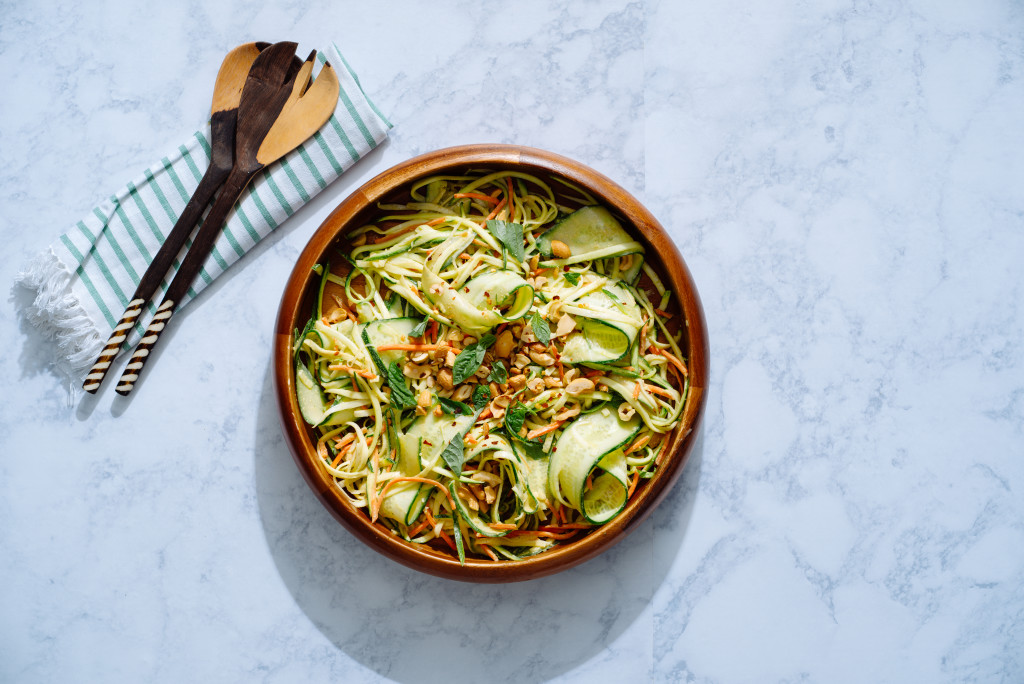 And speaking of low-carb, for those of you who are super into the zucchini noodle trend, I found the BEST article about making zucchini noodles I've ever read here. Lisa is AMAZING and here are just a few of her tips that I utilized in this recipe:
Preferred tool: Mandoline I love my mandoline! To create the noodles for the Thai "pasta" salad below, I sliced a washed zucchini on the middle setting (I believe it was 2). The zucchini curled into pretty shapes this way! It also had a nice bite- the thinner pieces felt limp to me.
Cooking Method: Raw I liked this summery salad cold and raw. You can gently heat the noodles if you like (in a bowl in the microwave for a minute) but I vote on the raw method because the zucchini is able to maintain flavor and crunchiness really well that way.
Storage: In the fridge Lisa gives a great tip on her post about slicing the noodles ahead of time to make prep even easier, and storing them in the fridge in a covered container lined with a paper towel. Easy!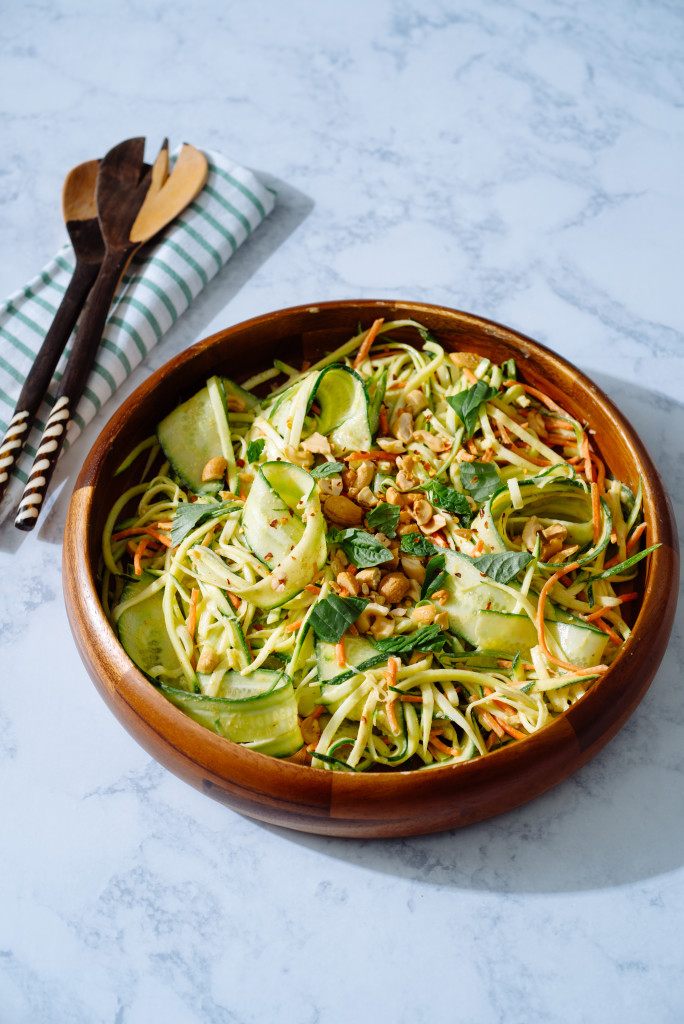 Thai Zucchini Noodle Salad with Peanut Cashew Dressing
This light salad is the epitome of summer ease, and takes advantage of all of the health benefits raw zucchini offers. Slice zucchini noodles and blend the peanut dressing ahead of time for even easier assembly. Fresh basil is the perfect topping for such a summery side dish. You can also find the full recipe on Birmingham magazine's website:) 
Yield: 6 to 8 servings
For the Thai Peanut Cashew Salad Dressing:
1/2 cup peanut butter
1 tsp honey
1 tablespoon rice vinegar
1 tsp fish sauce
1/4 cup cilantro leaves and stems
1/2 cup water
1 tablespoon olive oil
1/2 tsp salt
2 tablespoons roasted whole cashews
1/2 tsp gochujang
What You Will Do:
Blend all ingredients in a blender on low speed until combined, then medium speed until a smooth puree forms.
Place in fridge to cool.
For the Thai Zucchini Noodle Salad:
10 ounces skin-on zucchini noodles
5 ounces thick sliced cucumber ribbons
2 ounces matchstick carrots
3 tablespoons chopped roasted cashews, plus more for topping
Fresh basil, leaves and torn pieces, for topping
Chili flake, for topping
What You Will Do:
Toss together zucchini noodles, cucumber ribbons, matchstick carrots, and cashews.
Pour peanut cashew dressing onto vegetables about 1⁄3 cup at a time, and toss to desired consistency.
Top with fresh basil, chili flake, and additional cashews if desired. Enjoy immediately!