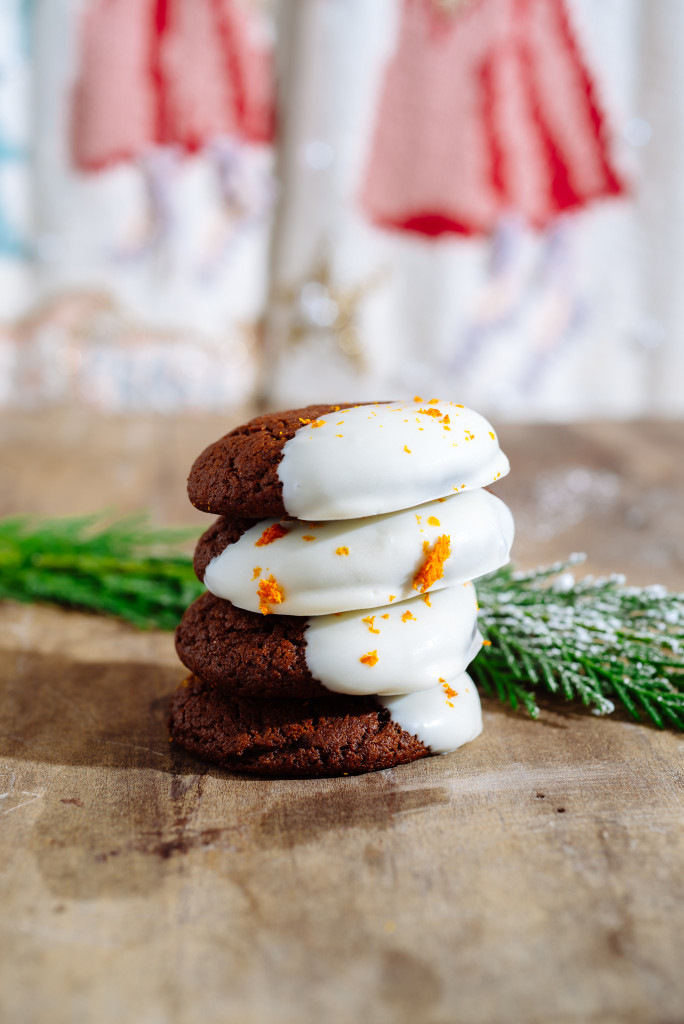 COOKIES!
To me, no holiday season is complete without the ingestion of at least umm, 100 cookies a piece.
That may be an understatement.
But I thought it appropriate to make recipe #2 of our Twelve Recipes of December, one of my favorite gingerbread cookie recipes I've developed.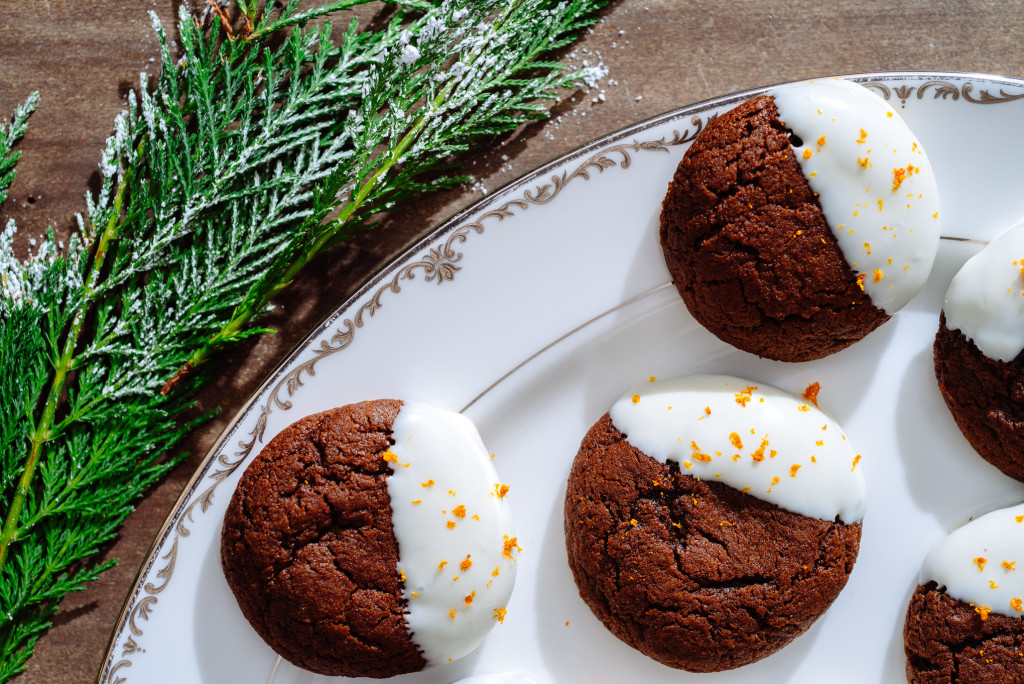 Working as a recipe developer is fun, but can also be uber frustrating. Especially when you think you have a brilliant flavor combination idea- cabbage and BASIL anyone?! I promise it smells like pizza in the oven!- that doesn't turn out to be so brilliant (umm, yes, I did once attempt a creative homemade kettle corn that nearly caught my pan and/or stove top on fire).
This recipe, though, was inspired by lots of gingerbread cookies I saw on Pinterest that I wanted to keep the soft texture from, but also add some depth to the flavor. I love standard gingerbread SO much, but it takes TIME to make. This dough requires that extra step of making it ahead of time and allowing it to rest in the fridge. And heaven knows during this season time ITSELF is a gift. BUT if you are going to take the time and monetary effort to bake these cookies, then by golly let's make them special!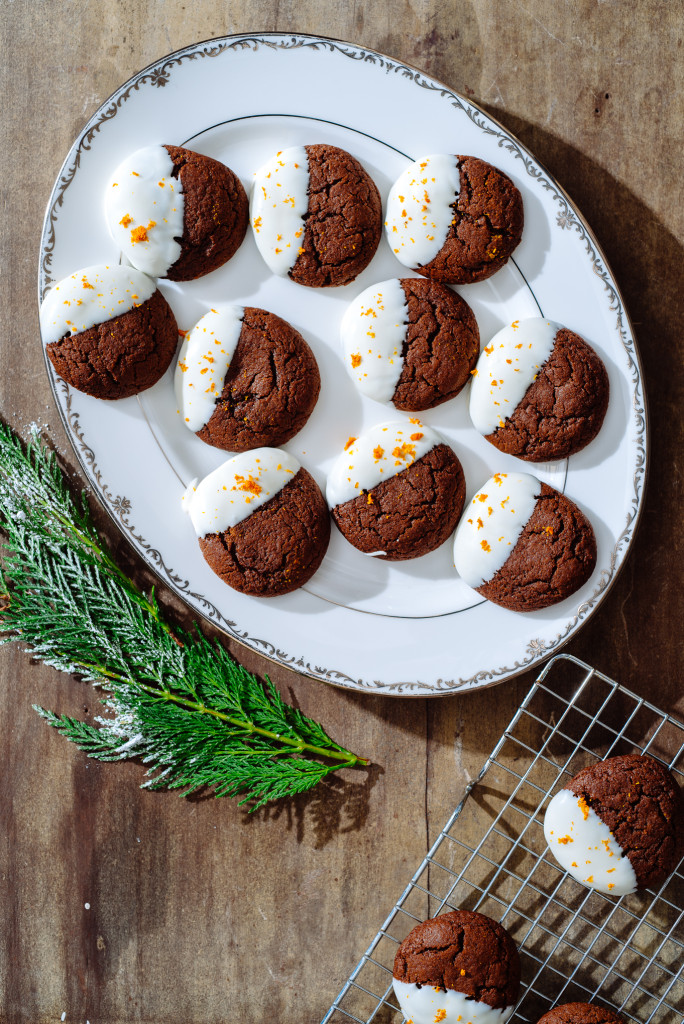 I also thought that adding a few special tweaks could take your bring-gingerbread-to-your-in-laws/coworkers/Friendsgiving game up a notch. Plus, the addition of the pretty orange zest on top is so fun and adds that special sparkle to your Christmas cookie!
Alright my loves, let's GET TO BAKING!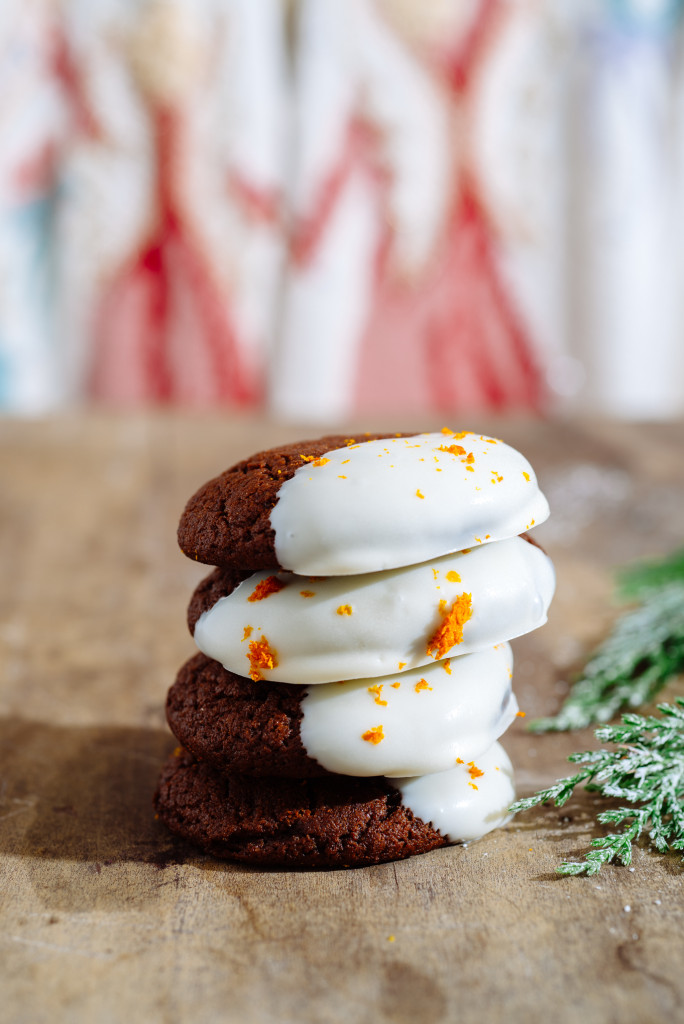 Black and white dark chocolate gingerbread cookies with orange zest white chocolate
Gingerbread cookies are a December staple, but this version is soft and chewy, with a hit of dark chocolate and molasses that makes them irresistible! Whole wheat flour adds a great texture and the white chocolate dip is a perfect vehicle for more orange zest flavor. Also, the cookies taste even better if you let them sit in the fridge for 3 hours! You can also check this full recipe out in the December issue of Birmingham magazine!
Yield: 24 cookies
What You Will Need:
3/4 cup unsalted butter, room temperature

1/2 cup molasses

1/2 cup dark brown sugar

1 large egg, room temperature

2 cups white whole wheat flour

1 teaspoon baking soda

1/2 tablespoon ground ginger

1 teaspoon ground cinnamon

1/4 tsp ground allspice

1/4 tsp ground nutmeg

1/4 tsp ground cloves

1/4 cup cocoa powder

1/2 teaspoon salt

1/4 plus 1 tsp orange zest

1 tsp vanilla extract

3/4 cup white chocolate melting chips
What You Will Do:
Whisk together flour, baking soda, spices, cocoa powder, salt. Set aside.

Beat butter, molasses, and dark brown sugar in a stand mixer on high for three minutes, or until light and fluffy. Scrape down sides of bowl.

Add egg, mix to combine.

Add vanilla and 1/4 tsp orange zest. Scrape down sides of bowl as needed to incorporate all ingredients.

Add in dry ingredients in two batches, stirring until fully combined.

Put dough in fridge, covered, for at least three hours to set.

Preheat oven to 375. Line a metal baking sheet with parchment paper.

Scoop cookies in one to two tablespoon scoops. Roll into small balls with your hands. Place dough on baking sheet.

Bake for 12 minutes; let cool for two minutes, then remove cookies to cooling rack to cool completely. Line additional cooling rack with parchment paper.

Melt white chocolate chips in 30 second increments, stirring after each round, until melted and smooth.

Dip cooled cookies halfway in white chocolate mixture, place on parchment lined cooling rack. Sprinkle with orange zest.

Let cookies rest at room temperature for at least 15 minutes to set.