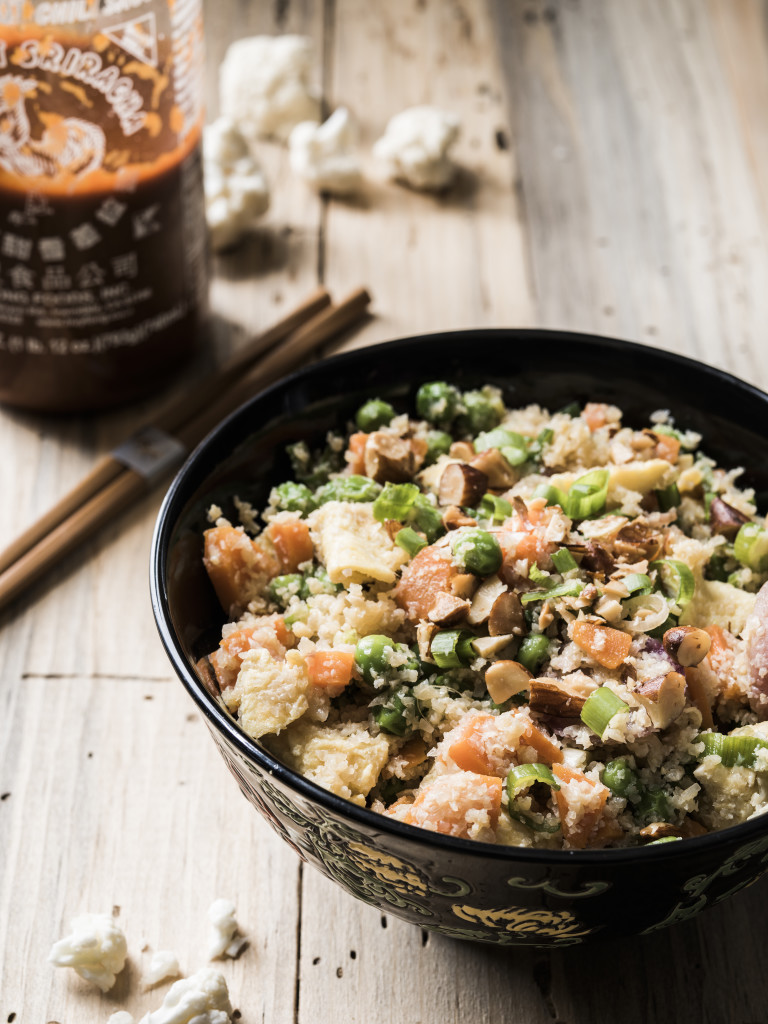 It's a Farmer's Market around my kitchen these days.
Let me explain- my husband loves produce. And not just in a "Oh, I think I'd like broccoli for dinner tonight" way. A "Callie! This tastes just like what a plum should be. Deeply sweet at first bite, then tart at the finish. Beautiful!" Yep, that's my Jake.
He also loves to shop for produce, so I have relegated our weekly grocery trips to him. He has a knack of picking out the best of the best in fruits and vegetables. Last week he brought home these tiny little oranges that looked like flaming prunes, but tasted like heeeaavennnn. In another life, I think he would make a great farmer/produce guy/"Jackson" on Gilmore Girls.
Since he normally brings home ingredients I know what to do with- carrots, celery, peppers- I'd gotten into a comfort zone of rotating dishes with those as a base. But the other day, he brought home a bright, unexpected, creamy cauliflower with a sturdy green base. Don't get me wrong, I will eat cauliflower if I am forced to, but my past experiences with the poorly cooked variety lingered in my mind. So, the prized produce sat on the first shelf of the refrigerator, slightly pushed back behind the carton of eggs and leftover Moroccan chicken (post coming soon; I can't wait to share this with y'all!)
I neglected the cauliflower, ignored the cauliflower. Until our monthly budget came through and I realized that in order to save for our future, I had to suck it up and try my best to be Pioneer Woman.  I needed to use up what we had. And that meant, you guessed it, digging out that cauliflower.
I'd heard of cauliflower fried rice before, but had yet to attempt it on my own. Y'all- this flipped my cauliflower experience around and could quickly become a new, rotating dish for me. It's healthy, uses up all of those leftover veggies you have lying at the bottom of your crisper drawer, and tastes good. It doesn't taste quite like rice- the texture is completely different- but it's right up there in the "fried rice" flavor profile. Because the cauliflower is so neutral, it soaks up the flavors like a champ. And this recipe made a ton- I think we ate on it for at least four days. And I got to throw in those leftover radishes my personal produce guy may have picked out a while ago.
So, in the spirit of all things quick, easy, and good-for-you-but-tasty, try this recipe out y'all. I think you might dig it (and the leftover veggies you use up in the process).
Cauliflower Fried Rice, recipe inspired and adapted a bit by The Kitchn version here
This easy, quick weeknight staple is lightened up a bit in carbs but not in flavor. Use whatever leftover veggies you have in the stir-fry portion. I like frozen peas, chopped celery, radishes, frozen chargrilled corn, zucchini, squash, Vidalia onions…whatever your creative, cookin' heart desires. 
What You Will Need:
1 head cauliflower, washed and dried
2 tablespoons vegetable oil, divided
3 large eggs
1 tablespoon minced ginger
3 cloves garlic, minced
2 carrots, diced at about 1/2 inch (cut the carrot in half lengthwise, then each half in half again, then dice)
1/2 cup peas, fresh or frozen
3 to 5 radishes, thinly sliced
4 green onions, thinly sliced (plus extra for garnish)
1/4 almonds, roasted and tossed in a bit of olive oil and sea salt
2 to 3 tablespoons gluten-free soy sauce or Tamari (or you could use regular if you like)
Sriracha and extra chopped green onions, for topping
What You Will Do:
1. Cut the cauliflower into florets, making sure to discard most of the stems and inner core. Working in batches, pulse the cauliflower in a food processor until it breaks down into rice-sized pieces. You should have 5 to 6 cups of cauliflower "rice." I think mine took about three batches in a smaller food processor.
2. Heat 1 tablespoon oil over medium to medium-high heat. Whisk the eggs and pour them into the skillet. Quickly scramble the eggs, or make a giant omelet. This can be incredibly satisfying; watching the eggs cook without stirring them. Not quite sure why. #weird Transfer the eggs to a cutting board and roughly chop into pieces.
3. Wipe the skillet clean and warm 1 tablespoon of vegetable oil over medium to medium-high heat. I give this leeway because our stove gets really hot so I use medium.
4. Add the ginger and garlic, and sauté until fragrant, about 30 seconds. You should really be able to smell the garlic-ginger combo here. Stir in the carrots, peas, radishes,  and the cauliflower "rice" into the pan, mixing the ingredients thoroughly with a spatula.
5. Lower the heat to medium (or medium-low), cover the pan, and cook until the cauliflower is tender, 5 to 8 minutes. Uncover and stir in the chopped eggs, green onions, almonds, and 2 tablespoons of soy sauce. Taste and add more soy sauce to taste; I think we used about three tablespoons. Drizzle Sriracha festively on top if you like it spicy. Enjoy!