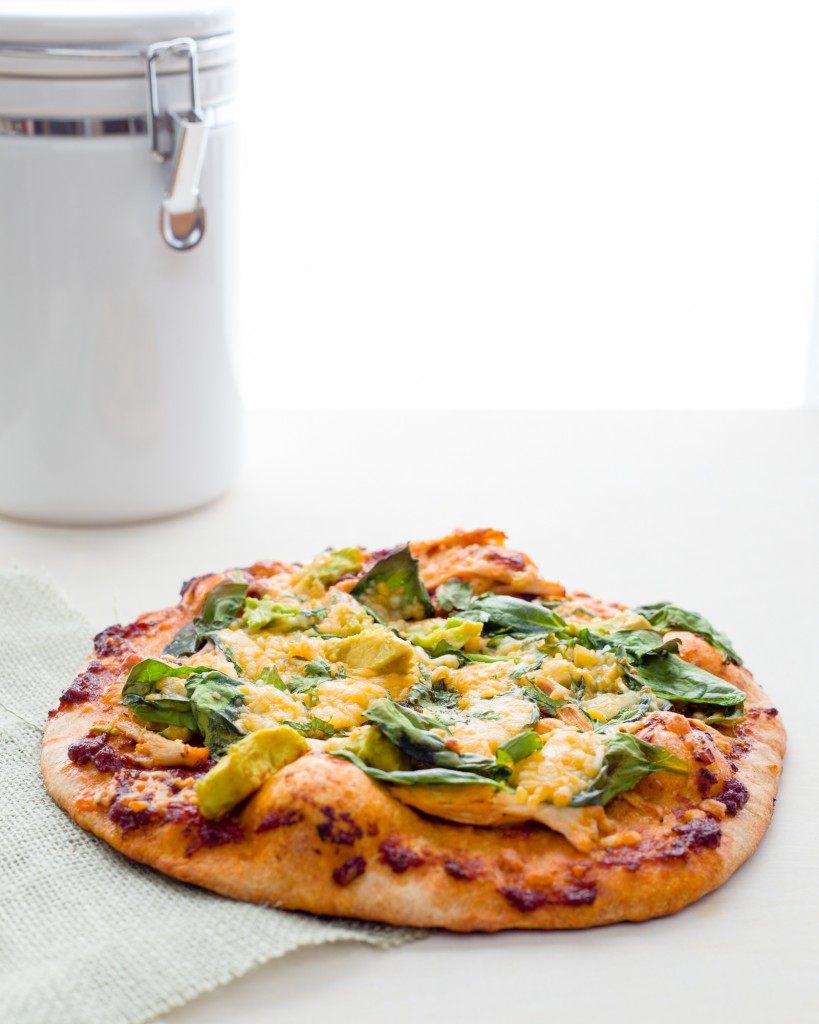 I have a love/hate relationship with pizza.
There are many things to thrill to about pizza. Layers of baked cheese, herb-soaked tomato sauce and fresh meat and/or vegetables piled on top of a soft, but crispy-on-the-edges dough, is song-worthy. Other high points include its sweetly tomatoey flavor hit, satisfyingly warm bite of stringy cheese not quite softened to its base, and beautiful, lingering salt kick from thin slices of meat or seasoned veggies.
But, there are also many things to run from with generic pizza. Overly processed and spiced, bad pizza is too heavy on the dough and not heavy enough on the flavor. Kind of like a rectangle of thick, shellacked cardboard baked to crusty doneness, it leaves a one-note sensation of grease and blandness in its wake.
Needless to say, I am hesitant to try any pizza recipe because of my immediate fear of the untasty; and as you know, it is hard for me to hide my disappointment and displeasure with bad food (I know Mom, I know). However, if there ever was anyone to trust in this journey of facing my fears, it would be Rachel Van Egmond. Vowing from a young age never to leave home without a necklace, she is the one-woman owner and founder of Van Egmond Vintage (where she repurposes vintage jewelry into beautiful necklaces), mother of precious Ramsey, and wife of eighth-grade math teacher and musician Jeremy. To say that her life is busy is an understatement! But on a recent dinner at her home in Montgomery, I was wooed immediately by her take on- gasp!- pizza.
Rachel's dough was different; sweet and hearty, but not too thick, softer in the center and  airier on the edges. I loved her southwestern-themed toppings- avocado, shredded chicken, bell peppers, lightly sprinkled cheese and tomato sauce. Like Rachel, it was light and fun and full of creative flavors.
Immediately inspired, I set about creating my own version, with her dough as my anchor. And I will tell you, this dish is my new, go-to weeknight dinner. Making the dough is easy, and you only have to be patient enough to let it rise for an hour. The sun dried tomato sauce is inspired by Budget Bytes and tastes just like the jarred variety, but super delicious and much less expensive. Roasting the chicken, doused in spices, skin on and bone in, keeps the flavor in without weighing down the crust. All in all, this version is a winner. And when it comes to pizza, I don't use that term loosely.*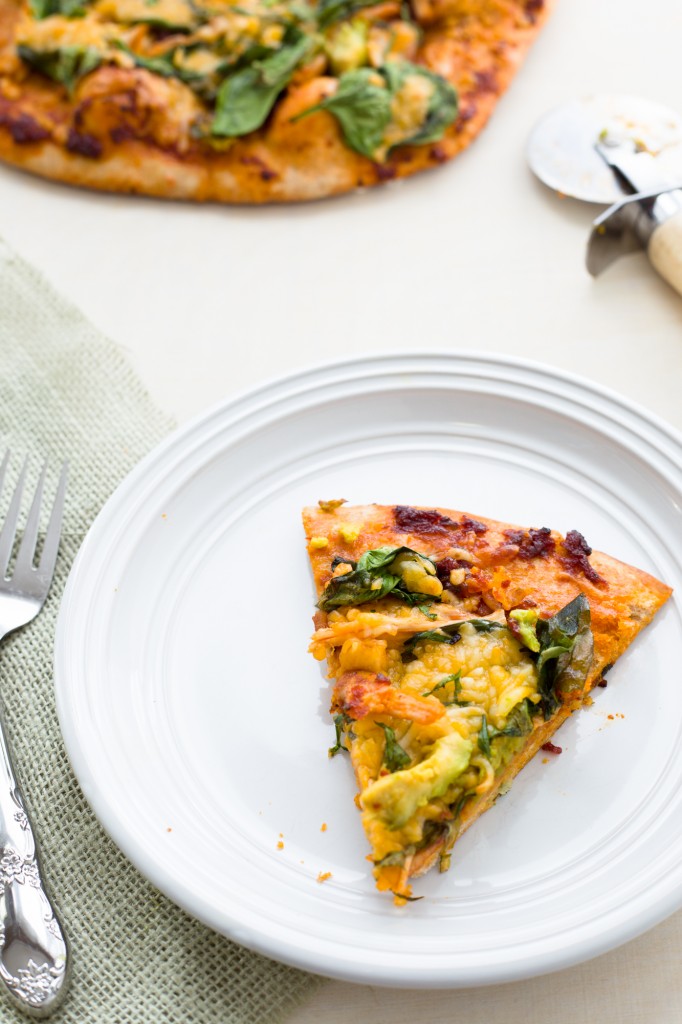 *Also, please be advised  that you have not been to Body Pump in weeks (ok, let's be honest, months) like myself, the hand-kneading of dough method will most likely count as your workout for the week and you may or may not be sore tomorrow. You have been sufficiently warned:)
Honey Wheat Pizza with Sun Dried Tomato Sauce and Roasted Chicken
What You Will Need
For the pizza
1 or 2 batches of pizza dough (depending on how many people and/or singles you are feeding; 1 batch feeds 2 hungry people)
Sun dried tomato sauce (recipe below)
Shredded roasted chicken (recipe below)
Fresh spinach leaves
One avocado, diced
Colby jack cheese (Just make it as cheesy as you like)
For the dough*
2/3 cup warm water
1/2 tsp honey
1 tsp sea salt
1 tbsp extra virgin olive oil
1 cup + 1 tbsp bread flour (plus extra if hand-kneading)
1 cup + 1 tbsp whole wheat flour
1 1/4 tsp active dry instant yeast
What You Will Do
1. By Hand: Go ahead and flour a large, clean surface on which to roll out your dough. Place all dough ingredients in a large bowl. Using a large wooden spoon, manually stir all of the ingredients until they just come together in a ball. Take the dough out of the bowl (it's totally ok for there to be flour/dough shred pieces at the bottom of the bowl at this point; just scoop them out and add them back into your dough ball) and put it on your floured surface. Knead the dough, taking out all of your aggression from the week onto the now flattened loaf, until it's warm, sticky, elastic, and it has a nice give when you press into it with your palm; about 10 minutes or as much as your biceps can stand.

OR
2. With a stand mixer. Place all ingredients in a stand mixer. Manually stir a couple of times with a dough hook, then attach dough hook and knead on low for about 2 minutes until a ball of dough forms. Then, increase speed to medium high and let knead for 8-10 minutes.
3. Cover dough bowl with damp washcloth (I used plastic wrap and a damp washcloth) and place in a warm place to rise for about 45 minutes. If you are making the chicken for this pizza, I would get that going now.
5. Preheat oven at 450. Go ahead and place a pizza stone in the oven to get hot.
4. Remove dough from the bowl and roll it out to form pizza crust(s) about 1/3 inch thick. I made three large pizzas with two batches of dough. Now top with sun dried tomato sauce, roasted chicken, spinach, avocado, and cheese.
5. (CAREFULLY! I almost burned my over-ambitious hand off here) slide your pizza onto a preheated stone. Seriously, please use extreme caution and don't be a spaz and have to ask of help only after you burn yourself like I did. Bake for 10-12 minutes, or until cheese is melted, bubbly, and happily sizzling in the pan.
6. Let cool for a minute or two, then slice with a pizza cutter and serve.
For the sun dried tomato sauce:
2/3 cup olive oil (Use the best quality you can here; it really makes a difference in the sauce!)
2 cloves garlic, minced
1 tsp dried oregano
1 tsp dried basil
1/2 tsp paprika
1/2 tsp cumin
two pinches crushed red pepper
some freshly cracked pepper
1 tsp salt
6 oz. tomato paste (I like Hunts)
1 tsp honey (Use local honey if you can here too)
 What You Will Do
Add the olive oil, garlic, oregano, basil, paprika, cumin, crushed red pepper, salt, and some freshly cracked pepper to a small skillet.
Stir continually, and heat the mixture over low heat for about 3-5 minutes. If this sizzles that's totally ok; you just want it to smell aeromatic and try not to let the garlic burn.
Add the tomato paste and honey, and continue to stir continually. The oil will most likely separate from the spices, and that's great! It tastes good that way. I heated mine over low for about 4 minutes, or until the paste darkened a bit.
This tasted great the day I made it, and the next day when I used it again. I think the spices develop flavor in the sauce over time!
For the roasted chicken
What You Will Need
3 bone-in, skin on chicken thighs, patted dry
Some generous shakes of Jim N Nicks' Chicken and Turkey seasoning
What You Will Do
1. Preheat your oven to 450 degrees.
2. Place your chicken thighs in a roasting pan. Cover generously with spice mix; flip pieces over and do the same thing on the other side.
3. Bake for about 28-30 minutes, or until a meat thermometer reaches 165 when inserted into your chicken.
4. Let cool, then shred into pieces for the pizza pizza.
For those of you who made it all the way to the end of this article, I love you and appreciate your tenacity. Not only will you be rewarded with great pizza, I also give you with the best restaurant pizza link in Alabama: Bettola