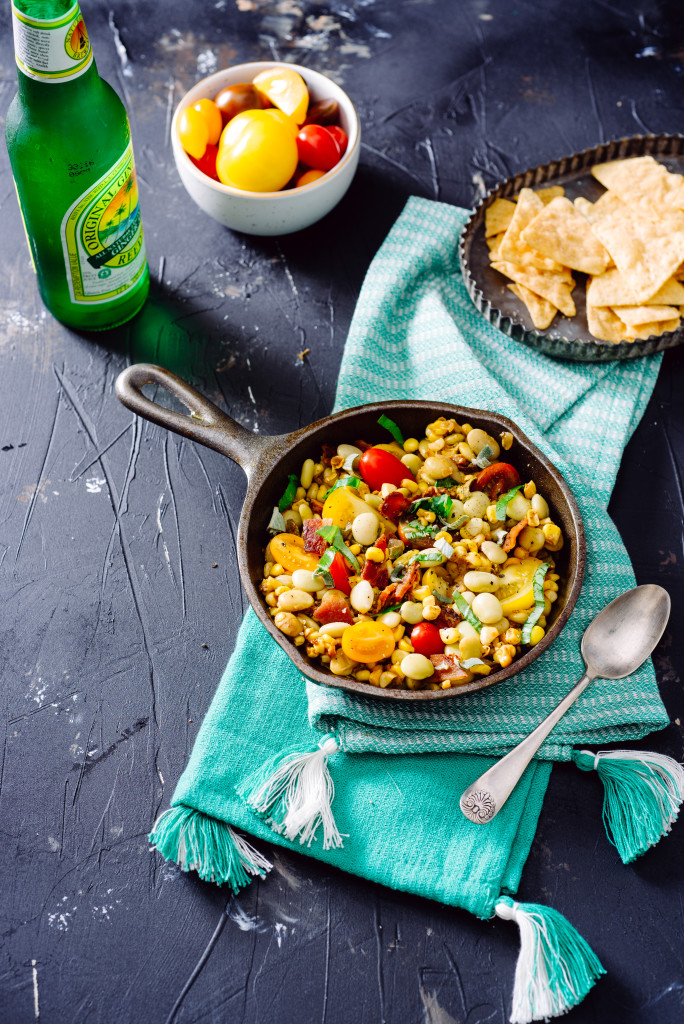 Hey WOW it's July and WOH there is some heat happening in Tennessee!
I liken going outside to feeling like your tonsils are being strangled by a hot sauna while someone sets a steamy, hot cast iron skillet above your face.
It's weird; but growing up in the South, oddly familiar.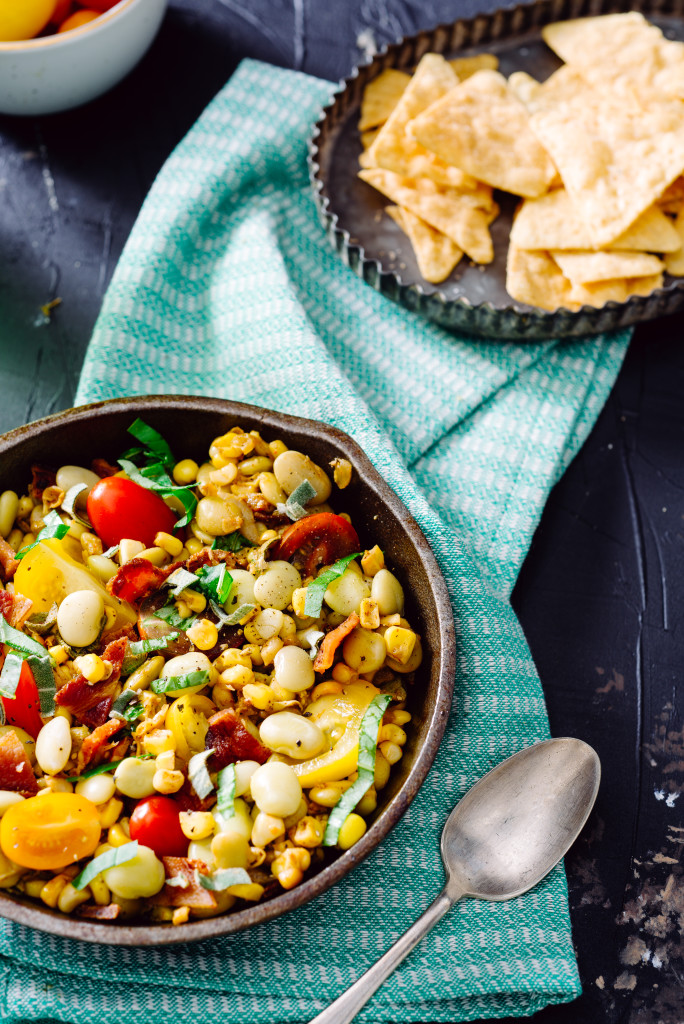 And of course, I am doing all I can to stay inside near an air conditioner for the better three fourths of the day. I find that a run with our dog Bigsby in the morning also fulfills about 200% of my outdoor quotient for the week.
And because of my avoidance of anything outdoorsy until September, this also means that a lot of the recipes I'm cooking these days revolve around the things I have scrounged around from food shoots or indoor trips to the grocery store.
Like this delicious succotash Jake and I shot for Birmingham magazine this month. I am a complete sucker for corn and bacon, and this sweet corn version with bacon and sage is soooo good. As in, my mouth is watering thinking about it. Plus, you don't even have to go outside to cook it! No grills! Just an indoor heat source and cast iron skillet to fry bacon is all you need.
And speaking of leftovers, this week's video is ALL about what to do with leftover produce. As in, avocados, brown bananas, and sweet potatoes! PRAISE for getting creative and bringing FUN back to your leftoverzzzz (with a Z of course).
And as promised, the links I mentioned above for some creative leftover inspiration:
Frozen avocados: Just blend the avocado fruit with a bit of lemon in a food processor. Pour into ice cube trays and freeze! Can be thawed to use in salad dressing, guacamole, and smoothies! Just don't eat by itself- it will be watery and not taste the same!
Banana recipes:
Cookies: Banana Chocolate Chip
Pancakes: Healthy Banana Pancakes
Muffins: Whole Wheat Banana Muffins
Banana/Quick breads: Coffee Cake Banana Bread and Strawberry Banana Bread 
Banana "Fro yo": Peanut Butter Frozen Yogurt
Sweet Potatoes: Stuff them! Bake them whole, doused in olive oil with a bit of sea salt and wrapped in aluminum foil, in a 450 oven for about 45 minutes to an hour, depending on the size of your tater. Let cool for 15 minutes; slice open, and fill with: turkey pepperoni, cheese, marinara sauce, basil; or black beans, ground turkey, cheddar cheese, and salsa. Combos are endless! Put back in oven on baking sheet to melt cheese if desired.
Sweet potato baked goods: Cinful Sweet Potato Cookies and Healthy Sweet Potato Breakfast Brownies
And this week's corn recipe! Which you can also find here!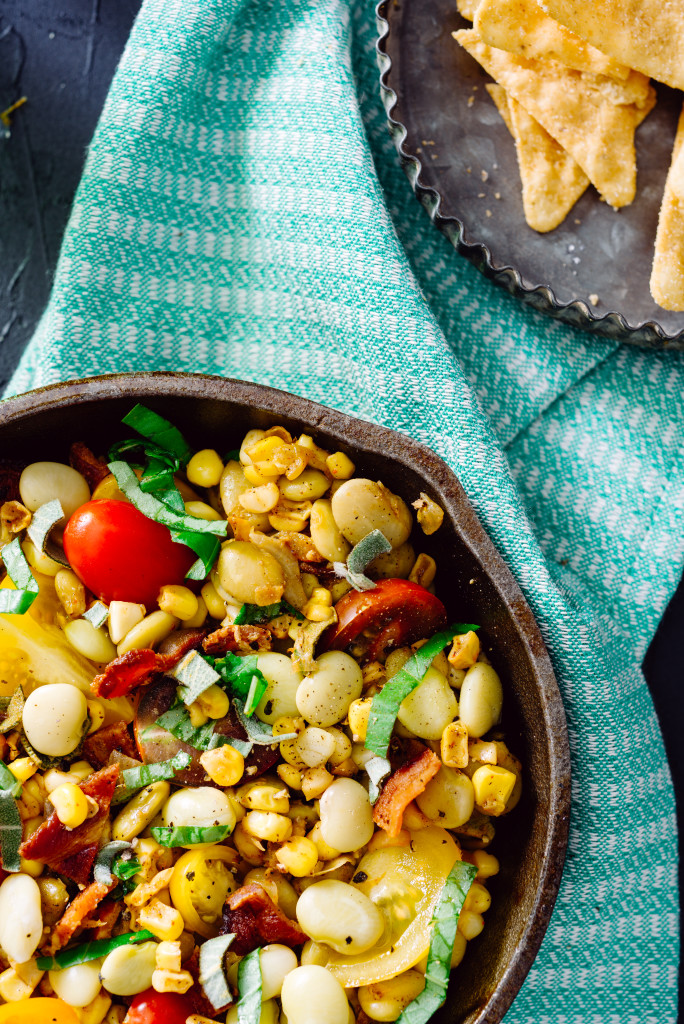 Fresh Corn, Bacon and Sage Succotash
This easy breezy summer side is perfect for a hot day because you don't have to go outside to cook ANYTHING and it's just as tasty indoors with a glass of cold, cold iced tea. Serve with tortilla chips if you like:) 
What You Will Need
3 slices center-cut bacon

1 tsp olive oil

1/2 cup sweet Vidalia onion, diced

2 cloves garlic, sliced

1 tsp chili powder

1/2 tsp plus ¼ tsp salt

1/4 tsp pepper

4 ears fresh corn, shucked and kernels removed for cooking

1 15.25 ounce can lima beans, rinsed and drained

1 tablespoon chopped fresh sage

1 tablespoon chopped fresh basil

1 pint organic heirloom cherry tomatoes, halved
What You Will Do
Cook three pieces bacon in a cast iron skillet on medium low heat until done and crispy; remove and drain on paper towels. Drain all but 1 tablespoon grease.

Add olive oil, sweet onion, garlic, chili powder, ½ teaspoon salt and ¼ teaspoon pepper; heat until onion is softened, three minutes.

Add corn and lima beans and cook 6 to 11 minutes on medium low heat, depending on how crunchy you like your corn. It should be crisp-tender and cooked through.

Allow corn mixture to cool. Chop bacon.

Stir in chopped bacon, sage, basil, ¼ tsp salt, and cherry tomatoes to corn mixture. Taste; season with more salt and pepper if desired.

Serve succotash immediately or store in the refrigerator.