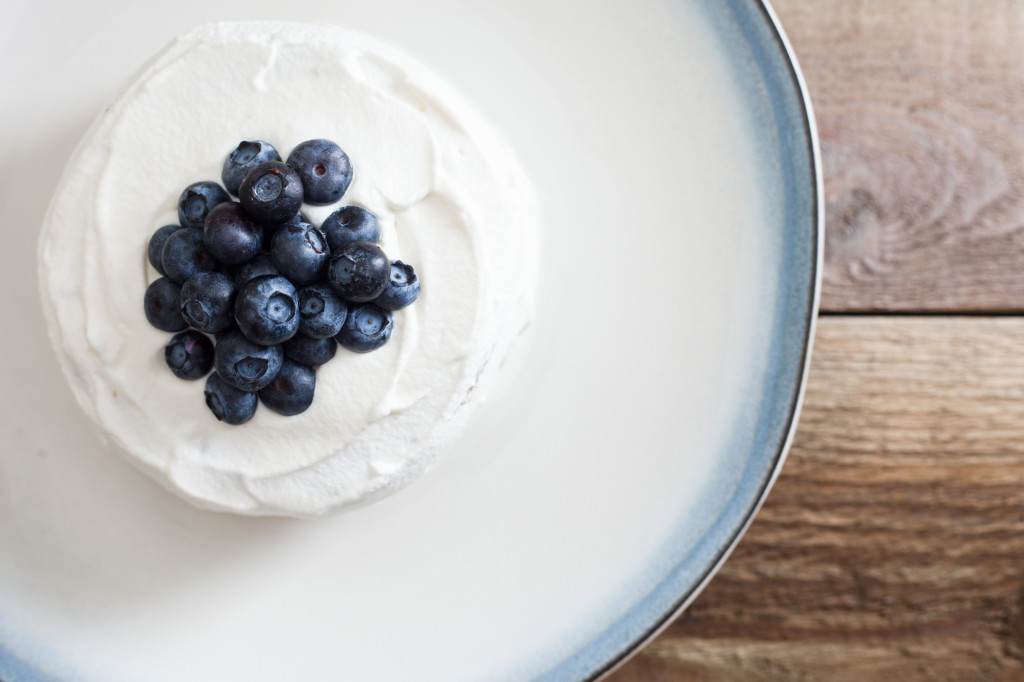 In my book, babies are absolutely precious. In fact some are so cute I actually feel like my heart might explode with joy and undeniable mushiness. Full of life, cooing at every glittery object dangled across their tiny little faces; arms outstretched to the object's owner, inviting them to cuddle. My absolute favorite baby is one with what I like to call "Michelin" arms- a.k.a. the chubby rolls of skin that fold over their tiny elbows, waiting on the little one to grow a bit more before they unfold.
Now, I don't actually have a baby, so I realize that my view of them is probably a bit romantic. Maybe they aren't always cooing, maybe sometimes they cry. But in my mind, until this situation changes and reality hits, I will cling to the dreamy, giggly Gerber moments I see on Publix commercials.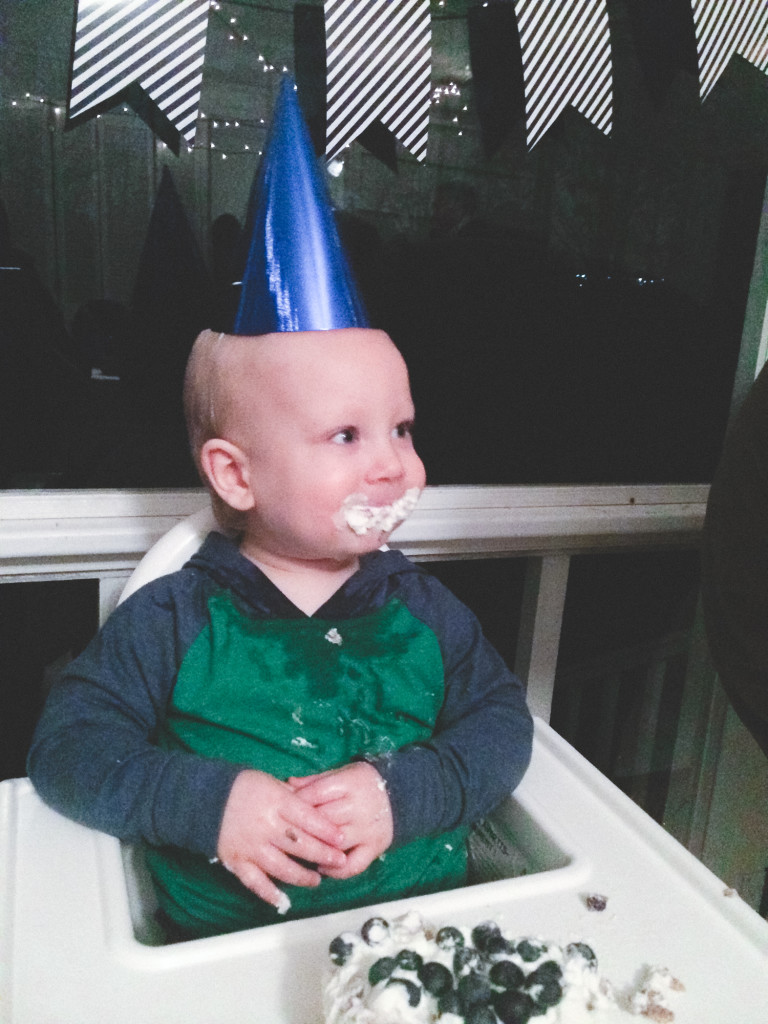 That being said, I was over-the-moon thrilled when my friend Celine asked me to make a low sugar baby smash cake for precious Pace's first birthday. Pace has yet to eat sugar, and being new to the realm of whole foods nutrition, it was a challenge to find a recipe I felt good about. Some were so far left I had trouble, in my newbie mind, recalibrating the ratios to resemble something that might delight a little one. Others seemed more towards center, but their appearance resembled something close to play dough. (Which, by the way, who didn't love play dough as a kid? I think I loved it so much I ate it.)
But this recipe, sent to me by Celine and found on Fit Mama Real Food was a blessing. I loved Heather's take on real food for kids. Her recipes are right on target, nutritious, and I was pumped to find out about her site. Knowing Pace's love for all things fruit, I thought blueberries would be a nice tie-in for him, since blue appears to be a good color for boys' birthday parties and all.
Below is my spin on her awesome recipe. I hope you have time to make this for the precious, giggly munchkins in your life; I think they'll love it. Bon appetit and happy smashing!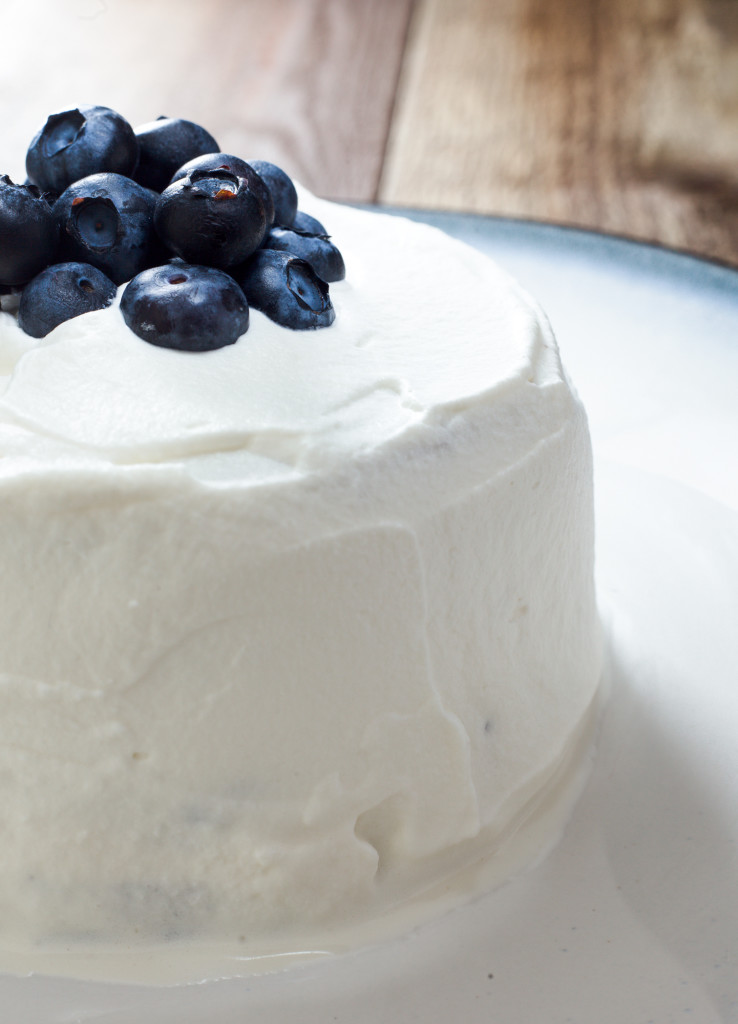 Low Sugar Banana Blueberry Smash Cake
 What You Need 
For the cake
5 ripe, medium sized bananas
3/4 cups whole wheat flour
3/4 cup oat flour (just grind rolled oats in a blender, then measure)
1 teaspoon cinnamon
1 teaspoon baking soda
1/2 teaspoon salt
1/2 cup natural no sugar added applesauce
3 tbsp coconut oil (melted), plus more for greasing cake pans
3 teaspoons vanilla extract
1/2 cup thawed frozen blueberries
For the frosting
8 ounces organic heavy cream
1/4 teaspoon vanilla extract
Additional fresh blueberries for topping
What You Will Do
1. Preheat your oven to 375, and use coconut oil to grease two 9-inch cake pans.
2. Mash bananas! This is somewhat tedious if you do it with a fork, but hey, gotta show the babies some luv!
3. Combine both flours, cinnamon, baking soda, and salt in a large bowl.
4. Add mashed bananas, applesauce, coconut oil, vanilla extract and mix until just combined.
5. Gently stir in blueberries, trying not to break the skins (this has the potential to turn the inside of your cake purple).
6. Making sure to distribute the batter evenly, pour it into each cake pan. My recipe took about 1 1/3 cup batter per pan.
7. Spread the batter into the edges of the pan. Use a butter knife to even out the top of the batter. This will help your cake layers lie flat when you stack them.
8. Bake at 375 for about 15 minutes, or until the cake is golden on the edges and a toothpick inserted in the center comes out clean.
9. Let the cake cool.
10. Once cooled, flip the cake out of the pans onto a cutting board. To make the cake baby size, I used the rim of a small bowl and cut two circles out of each layer. Save the scraps for an adult snack later on! It's delicious. Now get ready to get your frost on!
For the frosting
1. Pour cream and vanilla extract into a chilled mixing bowl. Whip on high speed until stiff peaks form.
To frost the cake
1. Find a pretty platter, and put the base cake layer on the plate.
2. Using an offset spatula or butter knife, spread a generous amount of whipped cream onto the top of the base cake layer. Put next cake circle on top. Repeat the process until you reach the top of the cake.
3. Pile whipped cream on the top layer, then use your spatula to spread it downwards, covering the sides of the cake. Use extra whipped cream to cover any cake left uncovered.
4. Top with fresh blueberries, and voila! Enjoy!