Y'all, it's Thanksgiving week, and I don't know about you, but I have work/life/blog details piling up in my mind like stacks of leftover turkey sandwiches.
How are you guys feeling? How is life this week for you? I hope it's been smooth as pumpkin butterscotch trifle.
I think that this year, we should make recipe planning a bit easier for everyone. This week's Thanksgiving-themed dessert is easy-peasey- and takes a total of max 10 minutes cook time. Also, due to my lack of energy brain cells, I could not figure out what to title this post.  Pumpkin Spice Chocolate Bark? PSPS Bark? Yes, the bark is topped with pumpkin seeds, but the pumpkin seeds are pumpkin-spice flavored, which makes them even more delicious. There are also golden raisins involved, and Lord help trying to get all of that to fit in a name. But here we are, and trust me, this chocolate bark is going to be Thanksgiving hit.
This year, in my Southern family, I am in charge of desserts. And as much as I love to bake, I was eager to find a solution for the people, like me, who see a whole roasted turkey, sweet potato casserole with sugary pecans, buttered rolls and potato gratin and think- YES I WILL EAT ALL OF THOSE. And come back for seconds.
Have any of y'all taken this "Which TV Family Should You Eat Thanksgiving With?" quiz? You need to, find it here!: #gilmoregirls
So, by the time I get to dessert I am stuffed. To the brim. And despite my sister and I's argument that yes, there is indeed such a thing as a completely separate dessert stomach, sometimes you need a breather. Or, maybe you want to space out your eating- and need something sweet to keep your energy up while you are baking your booty off for your loved ones.
I picked this recipe up from Food Networks' awesome ratio for DIY chocolate bark. All you need is a pound of chocolate, a cup or so of toppings, and you are ready to sprinkle! Get creative, do what you feel, and I am pretty sure you will end up with a version of your own chocolate bark that will knock your guests' socks off.
And, you only need about 45 minutes of chill time for the chocolate to set and be ready to eat (I highly recommend taking that opportunity to have someone else do your baking dishes).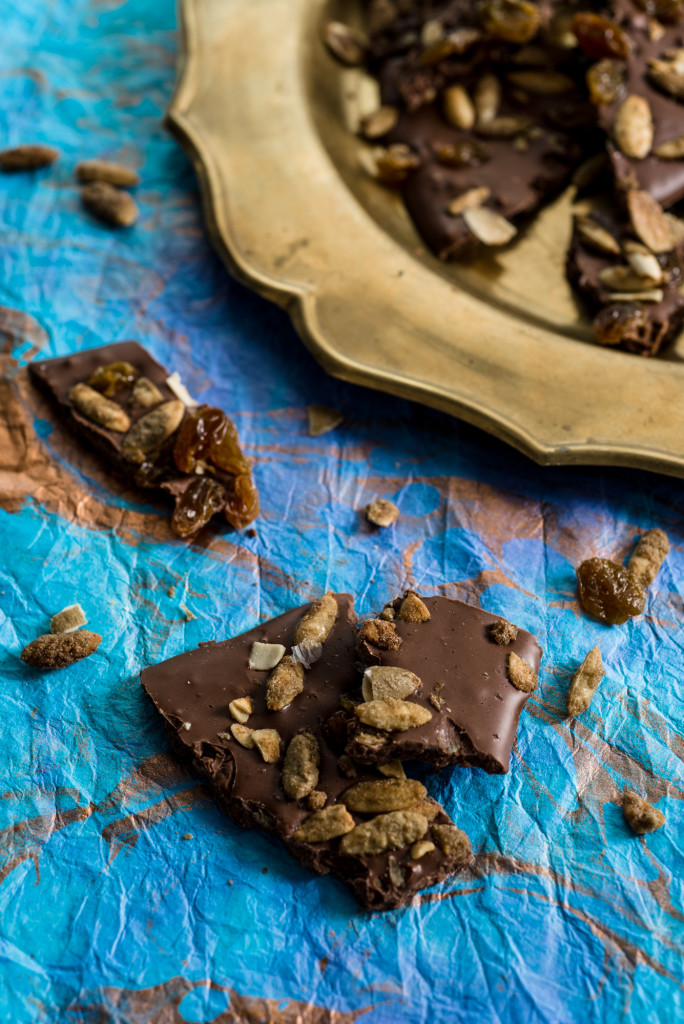 Pumpkin Spice Pumpkin Seed Chocolate Bark
(Recipe adapted from this awesome post on mix-and-match chocolate bark from Food Network)
16 ounces chocolate (I used a mix of milk, white, and dark; feel free to one type of chocolate, or mix types and flavors as you see fit!)
1/2 cup golden raisins
Coarsely grated sea salt
1. Chop chocolate into 1/2 inch pieces and set one cup of chopped chocolate aside.
2. Line a large baking sheet with aluminum foil, shiny side facing up.
2. Put chopped chocolate (aside from one cup) into a large glass bowl. Microwave chocolate for 30 seconds, then stir with fork or rubber spatula. Microwave for another 3o seconds and stir again with fork or rubber spatula (it will be chunky and that is totally ok).
3. Now that the chocolate is slightly melted, microwave for one more minute. Remove from heat and stir quickly, attempting to dissolve any remaining chocolate pieces. Now, pour about 1/3 cup of chopped chocolate and stir to combine. Repeat with the rest of the chocolate, and stir quickly until the chocolate is completely melted and the surface is smooth and glossy.
4. Pour chocolate into foil-lined baking pan, spreading with rubber spatula until about 1/4 inch thick.
5. Sprinkle evenly with golden raisins, then seeds, then coarsely grated sea salt.
6. Put baking pan into fridge to cool for about 45 minutes. Or, if your room is cool, and you aren't in a hurry to get your chocolate on, you can let it cool at room temperature. Break the chocolate into large pieces (it is the season of sharing after all) and enjoy!