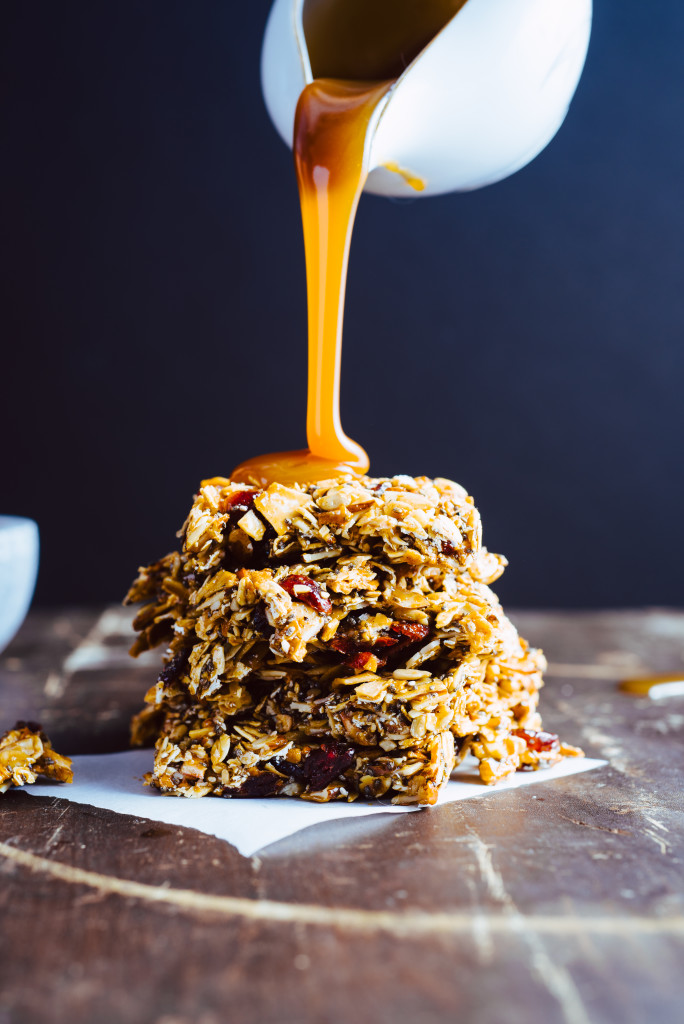 It's literally NOVEMBER 10.
November 10?! How did time FLY past this year? So quickly, so steadily. And here we are, marching towards Thanksgiving.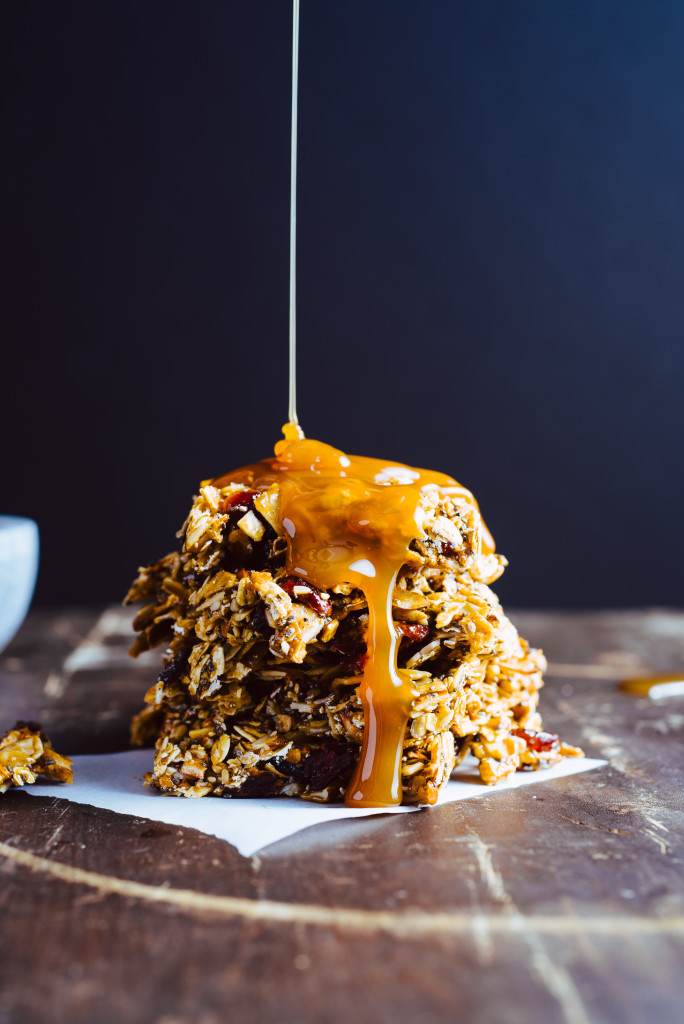 Since I know all of you most likely have food on the brain, these next couple weeks we will be highlighting recipes- and ingredients- that I think would be a FAB fit for your Thanksgiving table.
This week, we are all about some almonds! Almonds are not only full of healthy fats, protein, and magnesium, they are a super tasty way to add both a sweet and savory element to your Thanksgiving meal planning.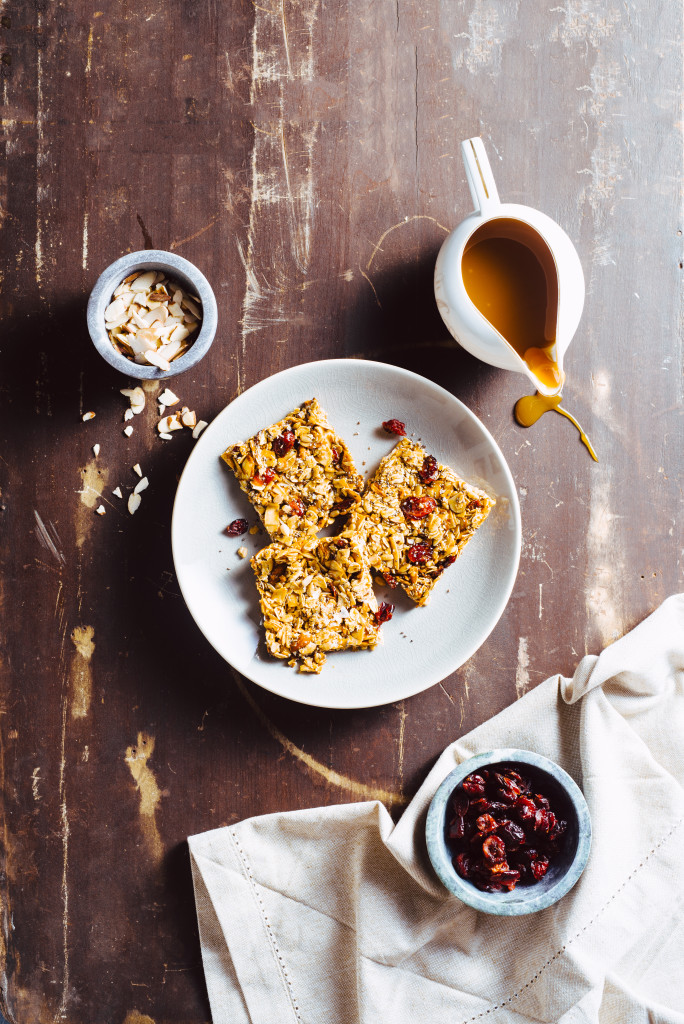 On the sweet side, these salted caramel almond bars are perfect for a pre-meal snack, or post-Thanksgiving dessert. They are perfect for everyone from your little one to your oldest guest in attendance. And, you can even crumble them up and use them atop roasted apples or creamy ice cream.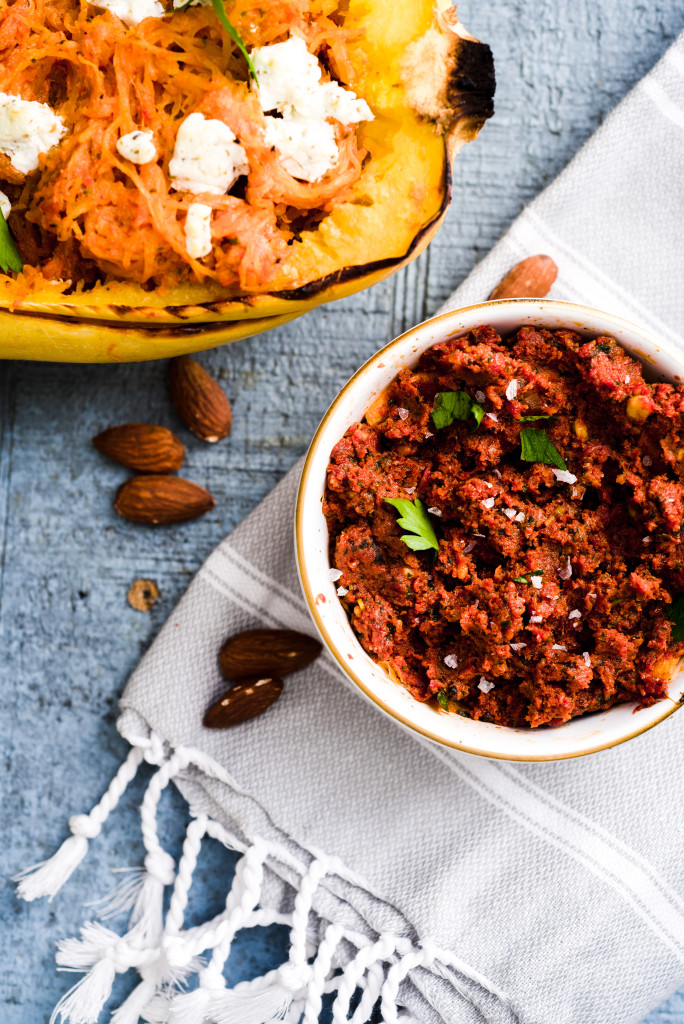 And for your savory needs, this sun dried tomato almond pesto was SO addictive that both Jake and I could not. stop. eating. it. And not only does it work for spaghetti squash, it's a perfect add-in for a pasta salad or used as a sauce for a leftover turkey pizza.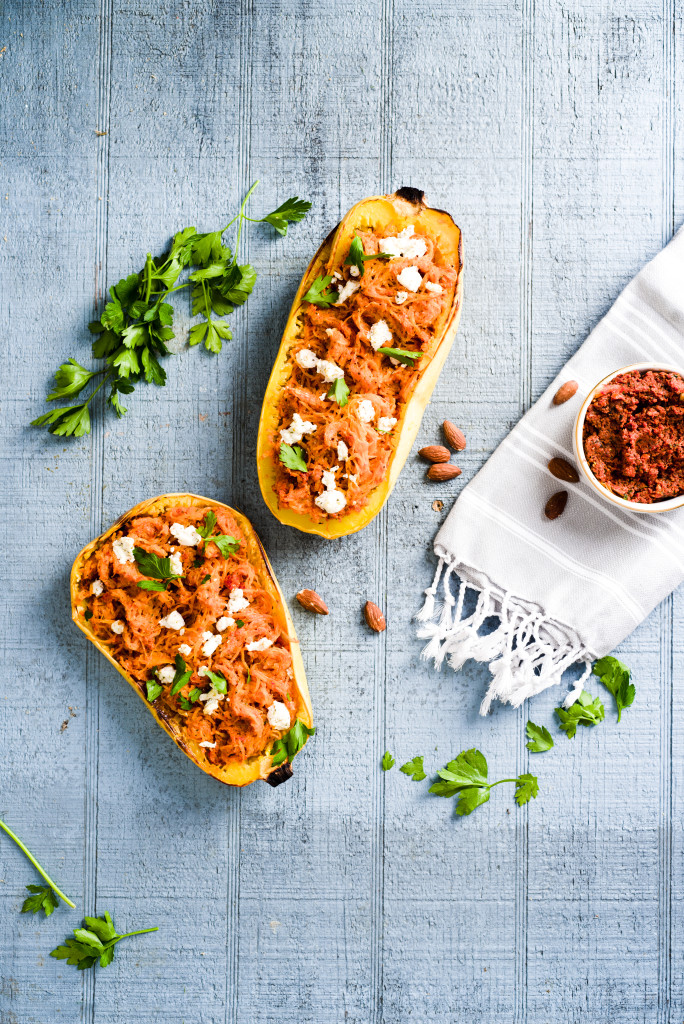 So, my lovelies. Here's to a month full of JOY, celebration, and all the fun and fabulous recipes that will make your holiday table special.  And as always, we are so grateful to partner with Birmingham magazine on these recipes.
Happy Friday!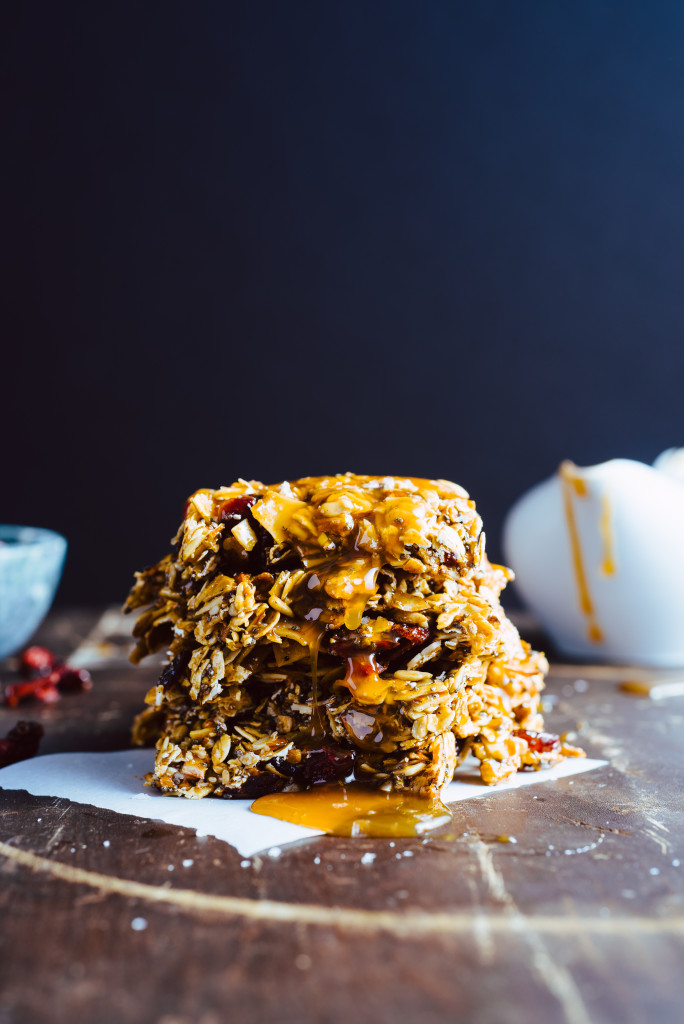 Salted Caramel Almond Bars
These no-bake, easy-to-assemble oat bars are packed with healthy ingredients, and the addition of salted caramel sauce adds a buttery, sweet richness just decadent enough for even the pickiest eater. A surprise hint of cardamom will leave your friends and family guessing the secret ingredient–and wanting another bar!
Yield: 9 bars
What You Will Need:
1 cup dried apple chips, chopped
1/2 cup sliced almonds
1/2 cup store-bought salted caramel sauce
2/3 cup old fashioned oats
2 teaspoon cinnamon
1/4 teaspoon nutmeg
1/4 teaspoon cardamom
1/2 cup toasted coconut chips, caramel sea salt flavor
2 tablespoons chia seeds
1/4 cup roasted, salted, seeded sunflower seeds
1/4 cup dried cranberries
Flaky sea salt, for topping
What You Will Do:
Grease an 8-by-8-inch baking dish and spray a rubber spatula with cooking spray.
Use greased rubber spatula to stir all ingredients (except sea salt) together in large bowl. Once the mixture comes together, is easy to stir, and all ingredients are fully covered in caramel, it's ready to spread. Top with flaky sea salt.
Spread oat mix into greased dish. Spray hands with cooking spray and press mixture into pan until even. Cover and put in fridge for at least 1 hour to set.
Cut into nine bars using a sharp-tipped knife and enjoy. Drizzle with even more caramel sauce and sea salt if you are feeling adventurous!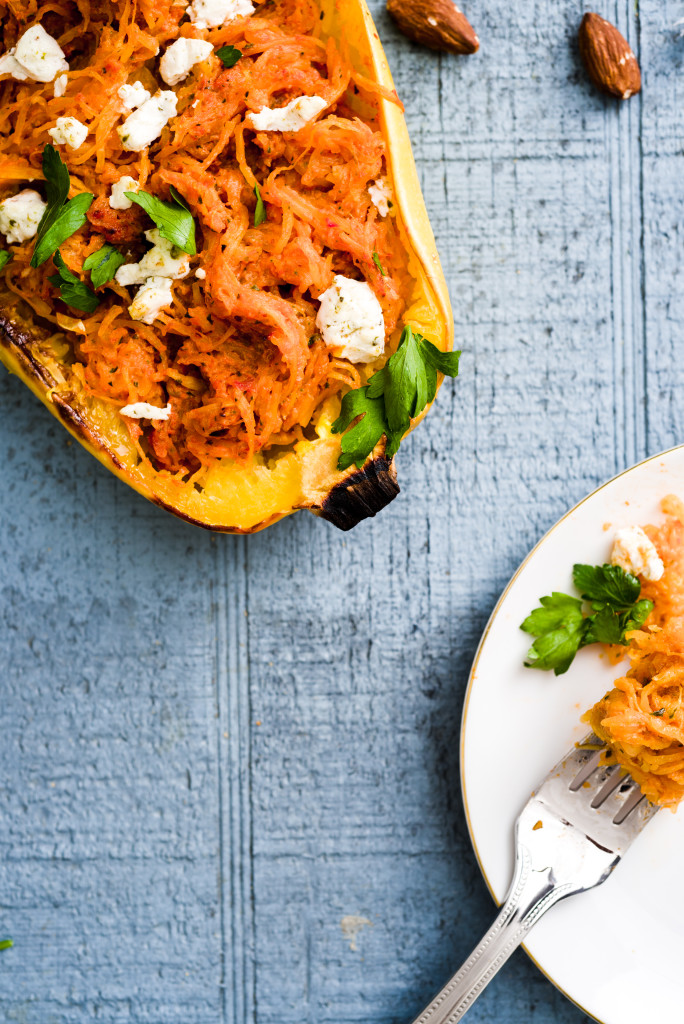 Sun-dried Tomato Almond Pesto with Spaghetti Squash and Goat Cheese
This pesto highlights the robust flavor of almonds by pairing them with zesty sun-dried tomatoes and creamy goat cheese. Combining the pesto with spaghetti squash creates a low-carb, filling option for vegetarians and carnivores alike. Pair the pasta with a green salad, and call it a meal!
Yield: 4 servings
What You Will Need:
1 large spaghetti squash, halved and seeds removed with a spoon
1 tablespoon olive oil, plus 1 teaspoon olive oil, divided
5.5 ounces julienned sun-dried tomatoes in oil, drained and oil reserved
1/4 cup roasted and unsalted almonds, chopped
3 cloves garlic, skins removed and crushed
3/4 cup fresh basil leaves, packed
2 ounces goat cheese
1 tablespoon, plus 1 teaspoon reserved oil from tomatoes
1/2 teaspoon salt, plus more to taste
Ground black pepper, to taste
2 ounces herbed goat cheese, for topping
Fresh parsley, for topping
What You Will Do:
Preheat oven to 450 degrees and spray baking sheet with cooking spray.
Drizzle spaghetti squash with 1 teaspoon olive oil. Place cut side down on baking sheet. Bake at 450 degrees for 45 minutes; let squash cool for at least 10 minutes.
While the spaghetti squash is roasting, assemble pesto. Put tomatoes, almonds, garlic, basil, regular goat cheese, 1 tablespoon olive oil, and reserved oil from tomatoes into the bowl of a food processor.
Chop in processor until almonds are blended to a fine grind and mixture comes together into a thick paste.
When spaghetti squash is done, shred into strips with a fork. Transfer "noodles" to a large bowl.
Stir in fresh pesto and 1/2 teaspoon salt. Taste and season with additional salt and pepper if desired. Put mixture back into spaghetti squash shells.
Turn oven to high broil.
Top squash with 2 ounces herbed goat cheese. Broil for 3-4 minutes, or until cheese turns a bit golden on the edges. Garnish with parsley and serve immediately.