GUYS. This could be the most exciting Wednesday I've ever had.
Today, this morning, I am so excited to put our first Luv Cooks full-length video into the internet stratosphere!
Shout outs for this project are absolutely due to my incredible husband. He not only wrote the musical score for this whole series, he edited these videos late into the night, and arranged the clips just perfectly (he shows me love and grace in countless ways). Also shout out to friends of ours for lending invaluable opinions to the reviewing process! We couldn't be prouder. I hope this first video will be a launching point for many, many more to come!
So, take this Wednesday, and be reminded of the fact that dreams DO come true. That things happen in our lives that are beyond our imagination or understanding. And for that, we take marshmallows, roll them sweet potatoes, pecans, and cornflakes, and bake their happy selves until they are lightly toasted. Let's raise a gooey treat to the fact that life is good- and dreams are worth pursuing.
Luv y'all!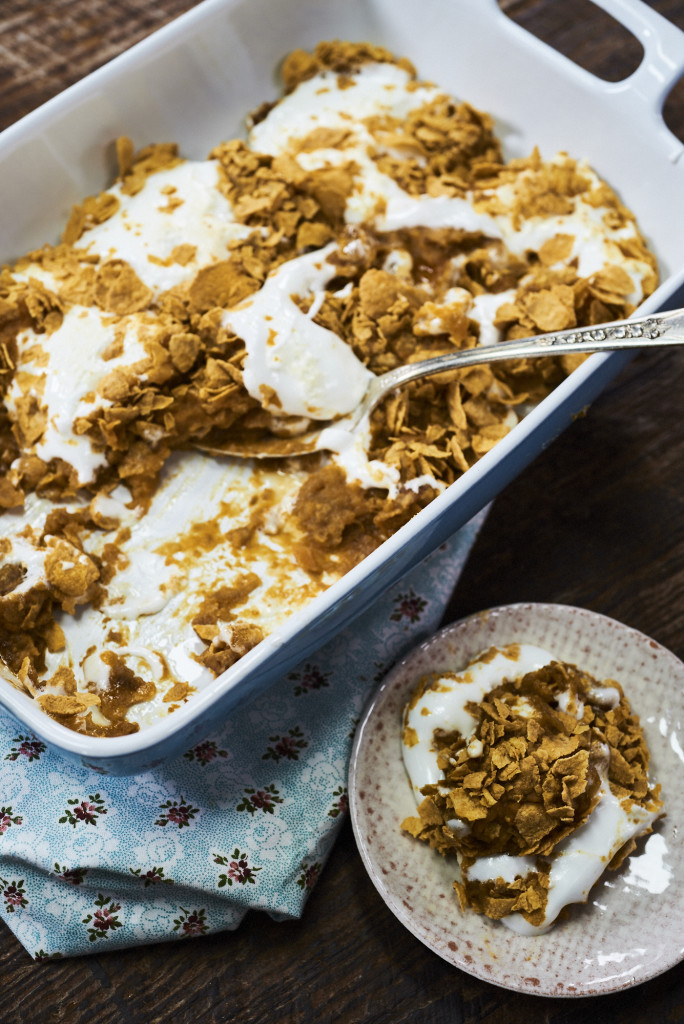 Sweet Potato Puffs by Faye House from The Nashville Cookbook
These easy sweet potato treats will be the hit of your next get-together! They take only a few minutes to throw together after you boil the sweet potatoes, and you get to use an immersion blender.
What You Will Need
4 large sweet potatoes (I like Plano Farms in Nashville; about 2.6 lbs)
4 tablespoons melted butter
4 tablespoons brown sugar
4 tablespoons heavy cream (I like JD Country Milk– their chocolate milk is LEGIT)
1 cup chopped pecans
5 cups cornflakes
Jumbo marshmallows (the big daddy kind- absolute biggest you can buy)
What You Will Do
Boil the sweet potatoes until they are tender. Preheat oven to 375 and spray a 9X13 baking pan with cooking spray.
Drain potatoes, then pour into a large bowl. Add the butter, sugar, heavy cream. Whip with an immersion blender until smooth. Wear large apron to guard against sweet potato splatters. Consider wearing a hair net because if, like me, you have long hair, it might end up on your ends.
Stir in pecans to the potatoes.
Pour cornflakes into a large bowl, then crush with your hands (#fun).
Dip jumbo marshmallows into the potato mixture, covering evenly. Now, roll the marshmallows in the cornflakes, then place into 9X13 baking pan.
Once the pan is full, bake for 15 minutes, or until the tops are toasty brown and the marshmallows have melted a bit. Enjoy immediately! (This is a now tater, not a later-tater!)