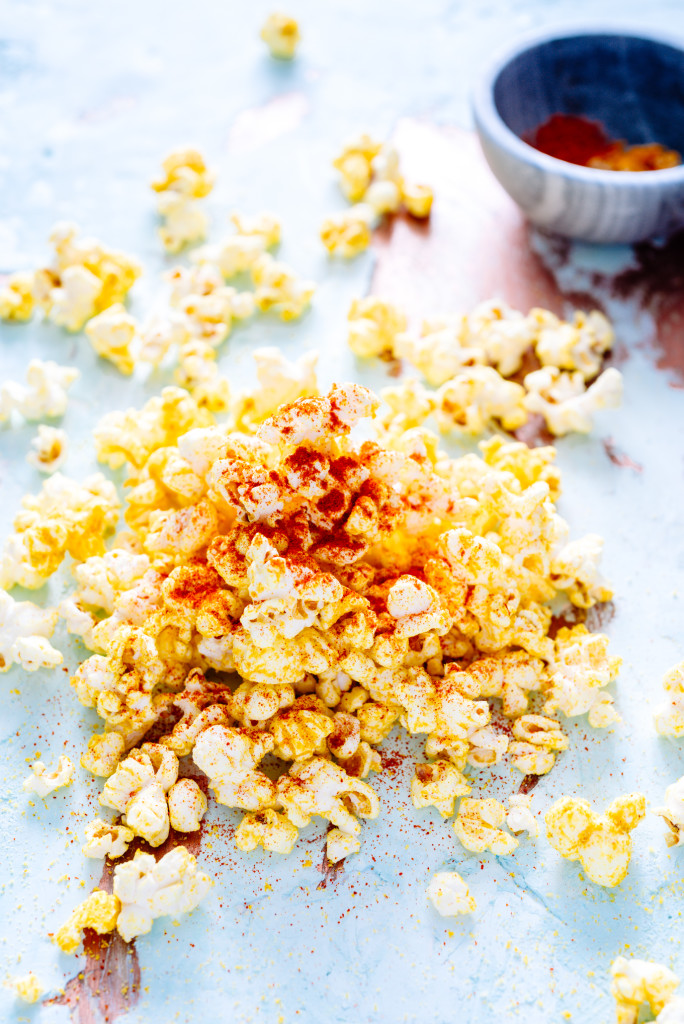 It's cheesy, it's vegan and it's AHHHMAZZING.
LET'S GET MOTIVATED!! ***
That's right, this week's recipe is fantastic. As in, so fantastic, that when I served it at a party recently my girlfriends could NOT get enough. Then my husband started eating it, I jumped in, and before we knew it our fingers were orange, popcorn crumbs were all over the floor and the bag was, sadly, almost empty.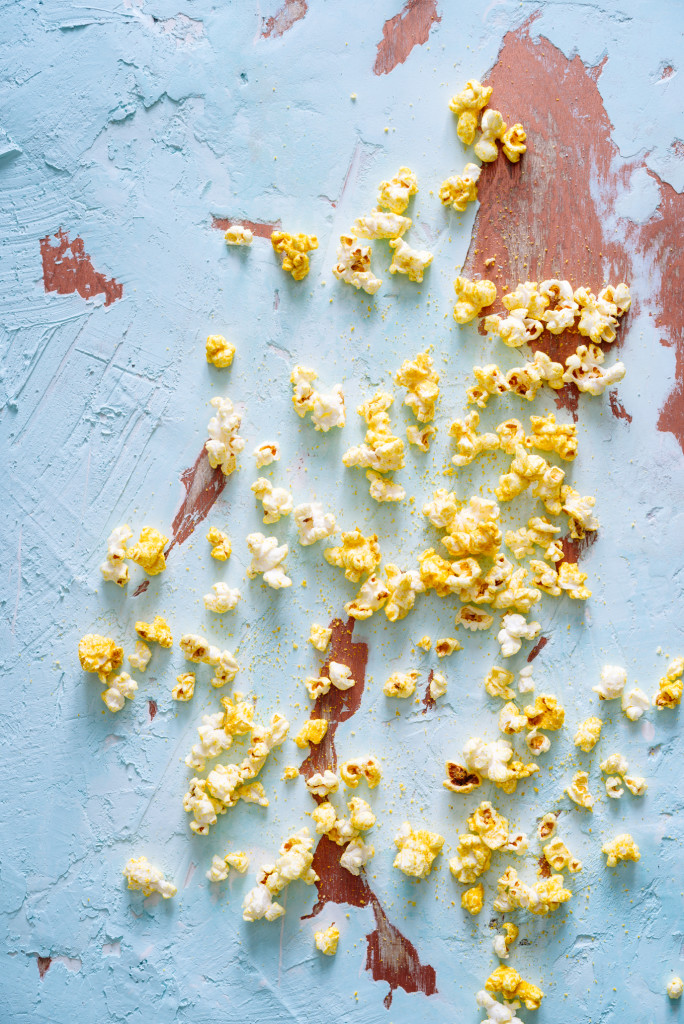 You see, I have a lifelong love of cheddar cheese popcorn. It all started with cheddar cheese balls. Do you know the kind I am talking about? They came (maybe still come?) in a blue can that you have to peel back the metal can opener layer to access (it's very hazardous, but I believe preserves the freshness).
I learned to be very careful at that stage- overzealousness as a seven year old can cause injury-in order to fully immerse myself in the glorious smell of pseudo cheddar cheese and the neon, powdery goo left all over my face.
It eventually escalated to the bagged version, of which I have a complete weakness for. Road trip snack? Cheddar popcorn. Movie night? I was that person who bought the microwavable popcorn, cheddar flavor. Youth group snacks? You guessed it.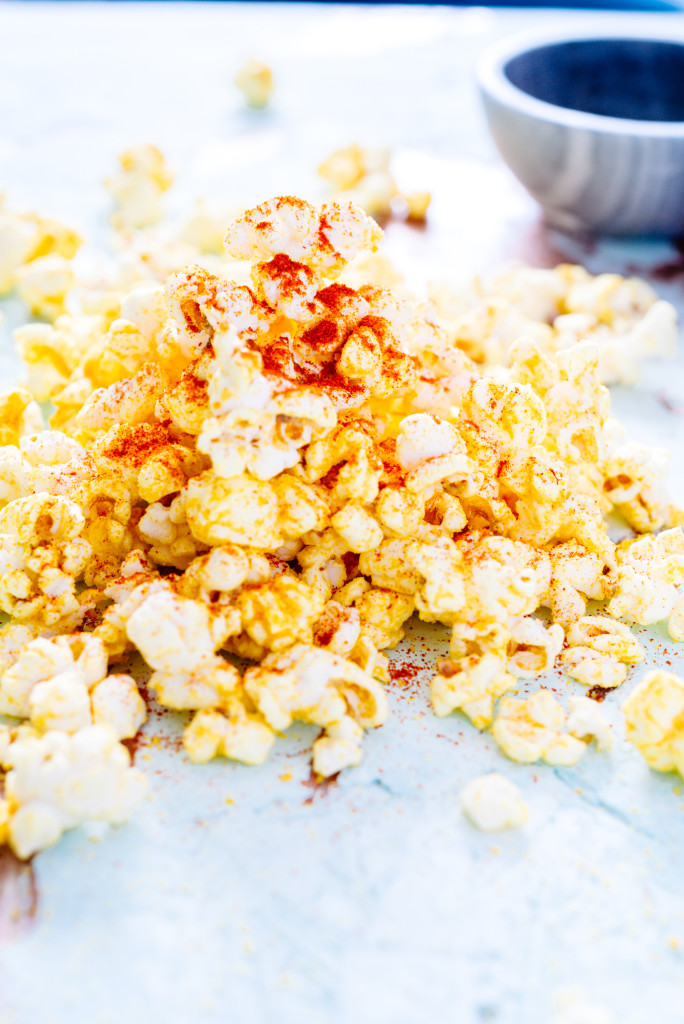 Oh, but NOW, the beauty of SkinnyPop. Not only do they have a White Cheddar flavor (which is delicious, trust me, I'm an expert;) ) but the Original flavor transforms beautifully if you are looking for another non-dairy cheddar option. Plus, you don't have to soak the raw cashews overnight to create that spicy cheesy flavor! In fact, I bet this cheese powder would also pair well with the white cheddar flavor- like a double hit of cheesy goodness!
This week's inspiration comes from Vegan Family Recipes. Vanessa is a popcorn GENIUS and this vegan cheese popcorn is totally crave-worthy. Plus, she has a TON more vegan recipes where this one came from-have you ever made vegan chocolate cake with vanilla coconut oil frosting?! I am intrigued!
For today's version, I just made a few tweaks to her original recipe, mixed in SkinnyPop, and added my own hit of onion, garlic,and cayenne. It's SO EASY, all you have to do is shake the homemade cheese powder up in the bag. Voila! Let the snacking begin…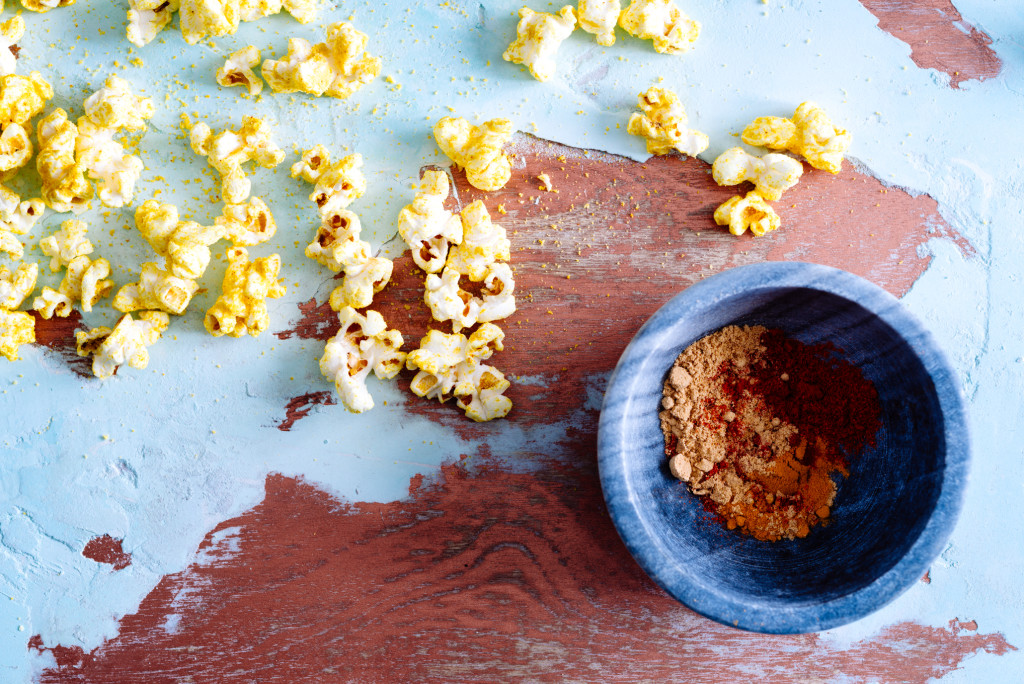 Vegan Cheesy Popcorn (Recipe adapted from Vegan Family Recipes)
This easy, weekday popcorn recipe is as simple as making the cheesy powder and tossing it in the SkinnyPop bag! Plus, NO overnight soaking of cashews to create a great, cheesy flavor!
What You Will Need:
1 bag SkinnyPop original flavor
⅓ cup raw cashews
1 teaspoon turmeric
1 tablespoon + 2 teaspoons (10g) nutritional yeast
2 tablespoons corn starch
¼ teaspoon cumin
1 teaspoon salt
1/2 teaspoon onion powder
1/2 teaspoon garlic powder
1/4 teaspoon cayenne powder
What You Will Do:
Make the cheese powder! Put cashews, turmeric, nutritional yeast, corn starch, cumin, salt, onion and garlic powder, and cayenne in the bowl of a food processor. Pulse until a fine powder forms- don't pulse too long or you will start making nut butter!
Open popcorn bag, then toss about 3/4 of the powder into the SkinnyPop bag.
Dance like you mean it and shake that bag up! Taste, and add more powder if you like! ENJOY!
***PLUS This week's Video: 5 Tips to STAY MOTIVATED!! Video points are outlined below for you A++ students who like to take notes and things of that nature.

Daily ritual-I have a ritual I do almost every morning: coffee+prayer. I meditate on my purpose for the day, think about what I want to accomplish, and talk to the Lord about my schedule. Taking time to center myself and focus on my purpose for the day really makes a difference! I've learned that my heart motivation actually matters more to me than the physical result of my labor. Granted, this mindset is still a work in progress, but a simple daily ritual helps me stay focused. Simply put: do something every day that centers you and reminds you of your purpose.
Beauty– Ingest beauty! I'm such a lover of beauty- magazines, flowers, art history books- all of them speak to me. Take in, feast, meditate on what it is that you want to project out into the world. I think Proverbs says that "As a man thinks in his heart, so is he." I ponder on beauty because it makes me feel like I am coming alive. Whatever that is for you- do something every day that makes you feel creatively alive.
Community & Friends– The best way I know to stay encouraged is to connect to my community. "No man is an island" rings true here. I want to be intentional about sharing what's going on in my life, but also about hearing what matters to the people I love. Maybe there is someone on your heart today. Check in, say hello, ask them how they are! You are NEVER alone. Sometimes when you are in a freelance or solitary work position it can feel UBER insular, but I promise, that's not the truth! You were made to be part of a bigger picture and bigger world- to impact the people around you.
Gratitude– I have to daily remind myself to stay grateful! I know when I am pursuing big dreams and passions (for me it's food styling, the blog, having a family) sometimes I become so forward thinking that I forget to be grateful for the moments I have now. Comparison can enter our hearts when we are thinking about the big picture, too- but comparison is the thief of joy!! Let's just forget comparing ourselves to other people because THESE are the moments we have;  they are a GIFT and they are beautiful.
Lists– I know this sounds super simple, but list-making really makes a difference. I love checking things off of a list! Granted, I am more of a type A personality, but if you run your own business, or simply don't have someone patting you on the back for productivity, a list holds you accountable and helps me feel accomplished. It's your way to say "Way to go SELF! I see the progress I did make today."