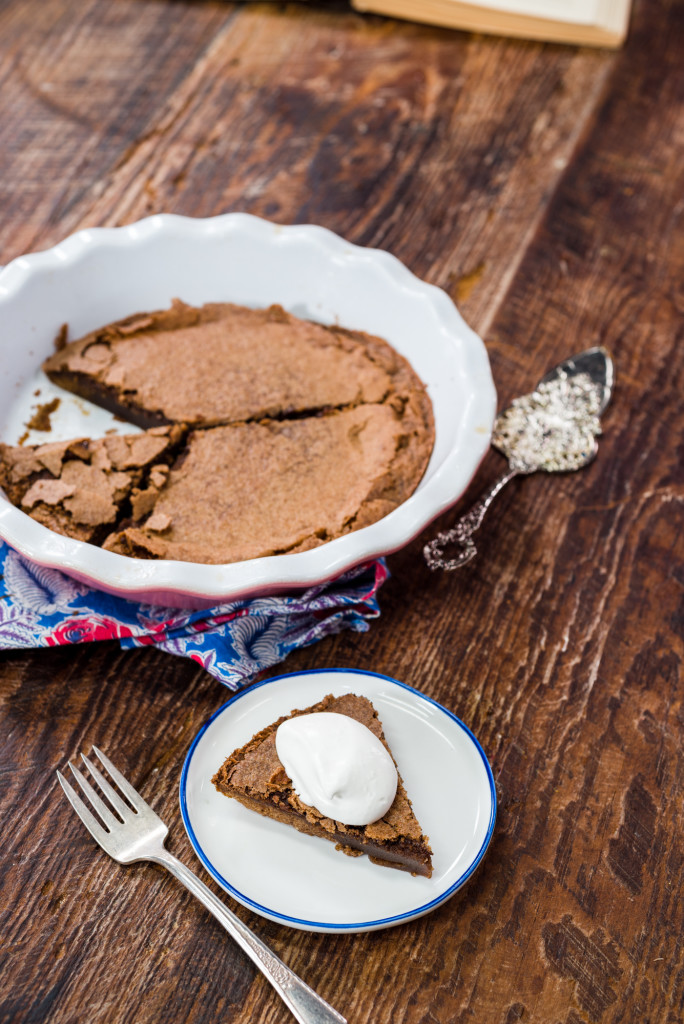 My friends!
Fall is (somewhat) in the air!
Ok, so for some of you this may be a slight stretch- including those of us that ahem, may live below the Mason Dixon line. The highs are still in the 90's, but hope springs eternal with 60 degree lows once the sun sets. We'll take what we can get.
There is something about cooler temperatures that makes me crave warm chocolate. This is not a new phenomenon-note ALL of my previous chocolate dessert posts-but a less-humid climate opens up all kinds of possibilities for the Southern sweet tooth. Turn on the oven and blast fudge-y batter at high heat? Why yes, I DO have the mental capacity to consider that idea. Gently simmer coconut milk on the stove and whisk in dark cocoa powder, sugar, vanilla, and a pinch of salt? Yes, I'll take that warm beverage, thank you very much.
So, today's post is a fantastic combination of oh-so-easy Southern dessert, fudge brownie-esque goodness, and the perfect vehicle for fresh whipped cream. It takes only a few ingredients and you are on your way to fudge pie glory.
Also, side note- which you will see in the video- the possible reason why this fudge pie is called Edelweiss Fudge Pie is because in the 70's Methodists took to singing the The Benediction (one of my favorite songs) to the tune of Edelweiss (from the Sound of Music, one of my favorite movies as child).
For your viewing pleasure:
My theory is that so many Methodists were having pot luck dinners on Sundays that the fudge pie served after the Benediction (at the end of service) became known as Edelweiss Fudge Pie. Just my theory, but I think it's a good one.

Alright y'all. Time to get out there, enjoy the fresh air, and bake up a pie to share with the people you love. Who knows, maybe it will inspire a round of "The Hills are alive…" karaoke.
Edelweiss Fudge Pie from The Nashville Cookbook
With only six ingredients, this is one of the easiest Southern desserts to whip up. It's, excuse the pun, "easy as pie!"
What you will need
1/2 cup (or 1 stick) butter
2 ounces sweet german chocolate, coarsely chopped
3 farm fresh local eggs
1 cup sugar
1/2 cup flour
1 teaspoon quality vanilla extract
freshly whipped cream, for topping, if desired
What you will do
1. Preheat oven to 325 and grease a 9-inch pie pan.
2. Melt butter and chocolate in a small saucepan over low heat. Allow to cool.
3. Beat eggs in a stand mixer on medium speed until foamy (this should take a few minutes). Beat sugar in gradually, on low speed, until well combined.
4. Add flour slowly to mixer, stirring continually on low speed, and using a rubber spatula to wipe down sides occasionally to make sure it is evenly distributed in the batter.  Add 1 teaspoon vanilla and stir until combined.
5. Add cooled chocolate mixture slowly to batter, stirring continually, until evenly distributed.
6. Pour into lightly greased pie pan. Bake for 30-35 minutes (checking at about the 28 minute mark for doneness; toothpick inserted in should come out clean).
7. Let pie cool for about an hour and top with whipped cream. Enjoy!