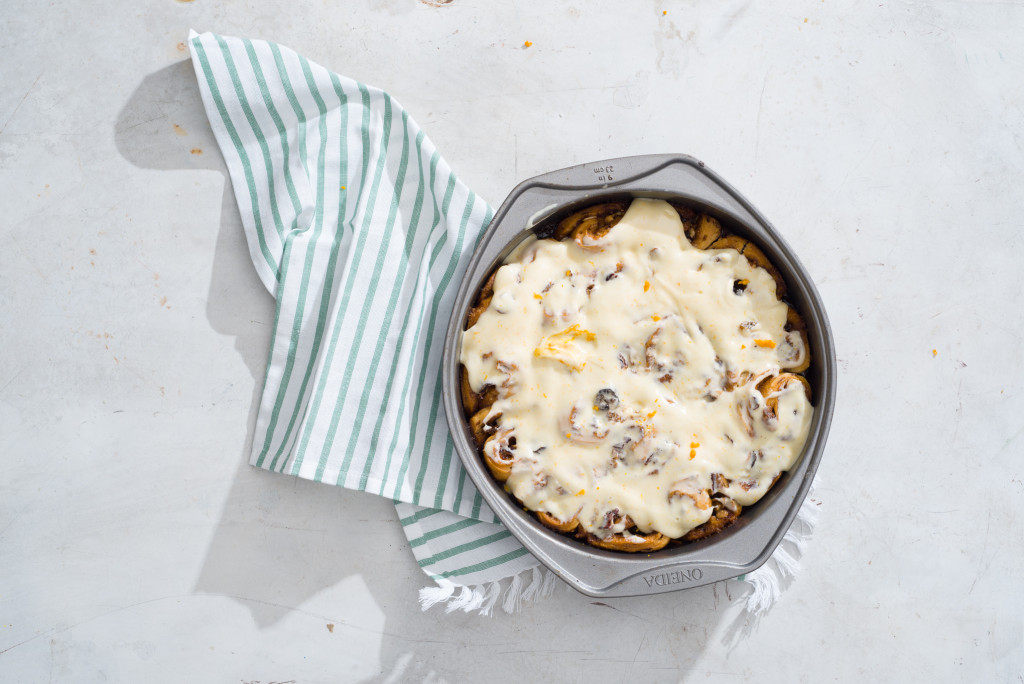 AHHHH fruitcake.
Ok right, I know, who ever says "Ahh, fruitcake! That's just what I am craving on a Tuesday, fruitcake."
Ok, I have never actually said that, but you know what? I think the idea of fruitcake– a sweet loaf of cake stuffed with nuts, dried and/or candied fruits, baked with lots of butter and soaked in liquor (I think namely rum and/or brandy?) sounds pretty fantastic.
So in theory, this idea sounds tasty, right? I think so. And what BETTER a vehicle for the idea of rum-soaked, buttered, dried fruit-and-nut delicacy than a cinnamon roll? Exactly.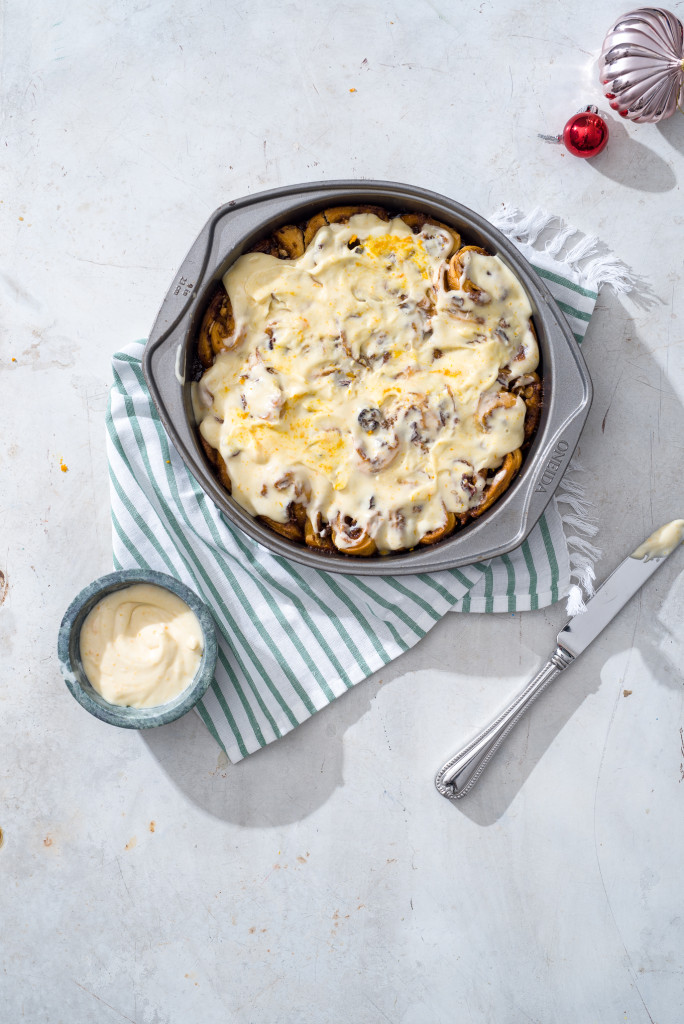 So today I am sharing with you recipe number EIGHT in our Twelve Recipes of Christmas- and another awesome one to share with those people who won't get out of their Christmas onesies long enough to help you in the kitchen. (I hear onesies can be quite flammable near an open flame. ;))
Alright my loves! Let's get to making those delicious holiday fruitcake rolls!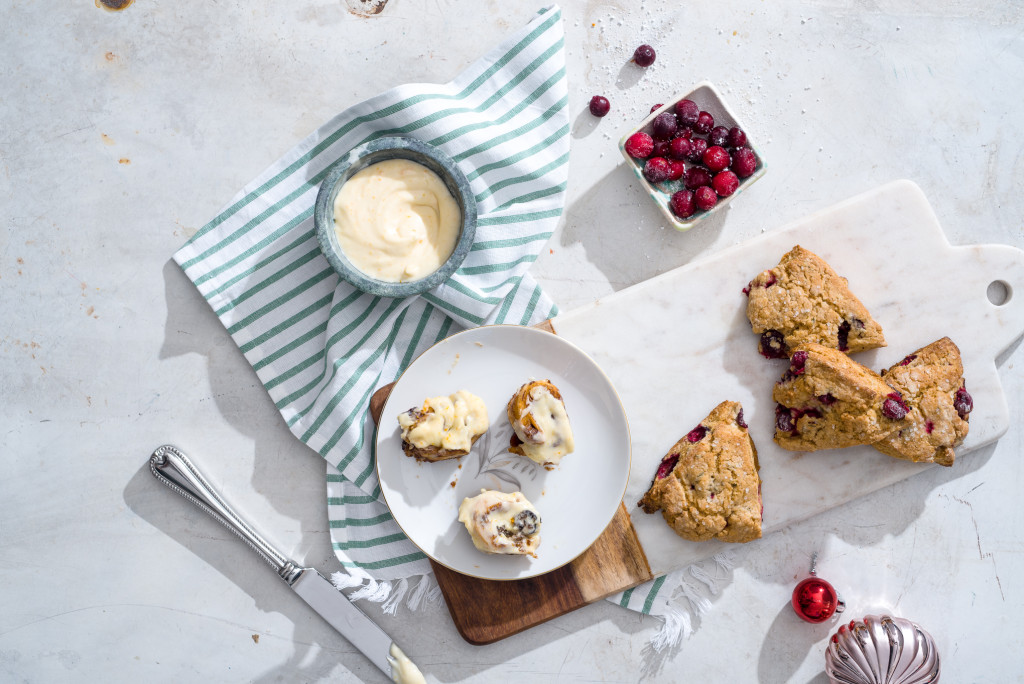 Mini Fruitcake Cinnamon Rolls with Orange Zest Cream Cheese Frosting
Here we update a wintertime staple! A classic cinnamon roll is filled with fruit and a bit of Tennessee honey whiskey to keep our version in line with the spirit-centric tradition of the original dessert. Serve it warm on a cold morning to rouse even the sleepiest of friends or family members. You can also find the recipe in the December issue of Birmingham magazine!
Yield: 16-20 mini rolls
For the rolls: What You Will Need
1 12.4 ounce package cinnamon roll dough (such as Pillsbury cinnamon roll Original)
2 tablespoons melted butter
1 tablespoon Tennessee honey whiskey
1 teaspoon cinnamon
1/4 tsp ground cloves
1/4 cup dark brown sugar
1/2 cup of mixed dried fruit (such as golden raisins, dried cherries, cranberries, and/or apricots) *
1/2 cup of mixed nuts (such as slivered almonds and/or finely chopped pistachios and pecans)
*You can also soak the dried fruit in hot apple cider for five minutes, then drain, for even more holiday flavor! You could also add some rum to that apple cider if your house guests are of the over-21 variety:)
What You Will Do:
Preheat oven to 350. Spray 9 inch metal pie pan with a generous amount of cooking spray, making sure to thoroughly coat the bottom and sides of the pan to prevent sticking.
Stir together melted butter, whiskey, spices and brown sugar.
Separate individual cinnamon rolls.
On a well-floured surface, press the seams of four rolls together. Use your hands to really get in there and warm up the dough so the main seam in the middle is pressed together, as are the sides- so you create a rounded, about 4 to 5 inch square of flat dough with no gaps between rolls. You can use a rolling pin to help flatten it too, but I like using my hands!
Spread 1/2 bourbon sugar mixture onto dough, spreading to almost the edges of the square.
Top with dried fruit and nuts, using about 1⁄4 total mixture. Don't overload the rolls or you can't roll them up, hah!
Roll into a log, using your fingers to continue to press the seams of the rolls together if needed. Then use a SHARP knife to cut it into 8-10 small rolls. A sharp knife makes slicing so much easier!
Repeat entire process with remaining 4 rolls.
Gently put mini rolls with edges touching in sprayed pie pan.
Bake for 20 minutes, or until tops are beginning to turn golden brown.
Once cooked through, top with cream cheese frosting and serve warm.
Orange Zest Cream Cheese Frosting
What You Will Need:
4 ounces cream cheese, room temperature
3/4 cup powdered sugar
2 ounces heavy cream
1 tsp vanilla extract
1/2 tsp orange zest (about the zest of one medium orange) plus additional zest for sprinkling
What You Will Do:
1. In the bowl of a stand mixer fitted with a paddle attachment, beat cream cheese, powdered sugar, heavy cream, and vanilla extract on medium speed for one to two minutes, or until smooth and creamy.
2. Stir in orange zest. Spread with a butter knife or offset spatula on rolls while still warm. Enjoy!!