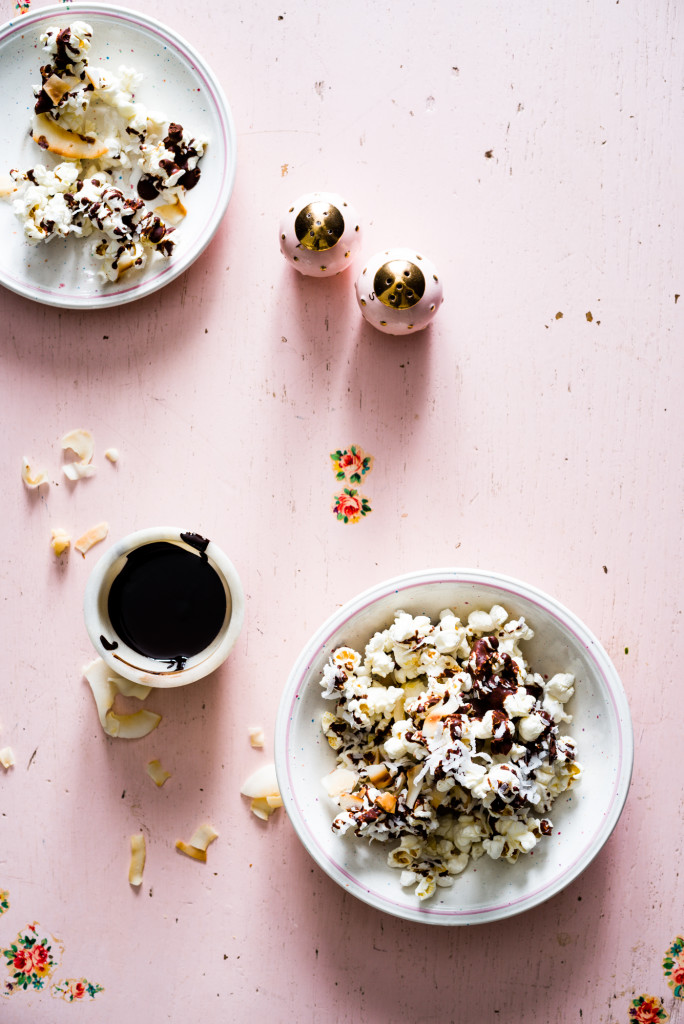 Hey, hey, hey- it's time for a popcorn party!
That's right, it's a brand new month, which means a brand new batch of POPCORN recipes are rolling out! This month, we'll have a gluten-free (#darkchocolate), vegan (#cheezz), and Southern fabulousness version, all involving the delicious, oh-so-wonderful original flavor of Skinny Pop.
This week I'm also sharing 5 ways to love people well with food! (Clue- #caffeine and a potential fruit basket is involved in this video).
I mean, who knows what could happen on Luv Cooks this March? Nashville spring is in the air, one daffodil is blooming in our yard, AND Jake and I have been out back scraping plaster off surfaces to prepare brand new looks for y'all. Did I mention we used copper spray paint?
I know, impressive.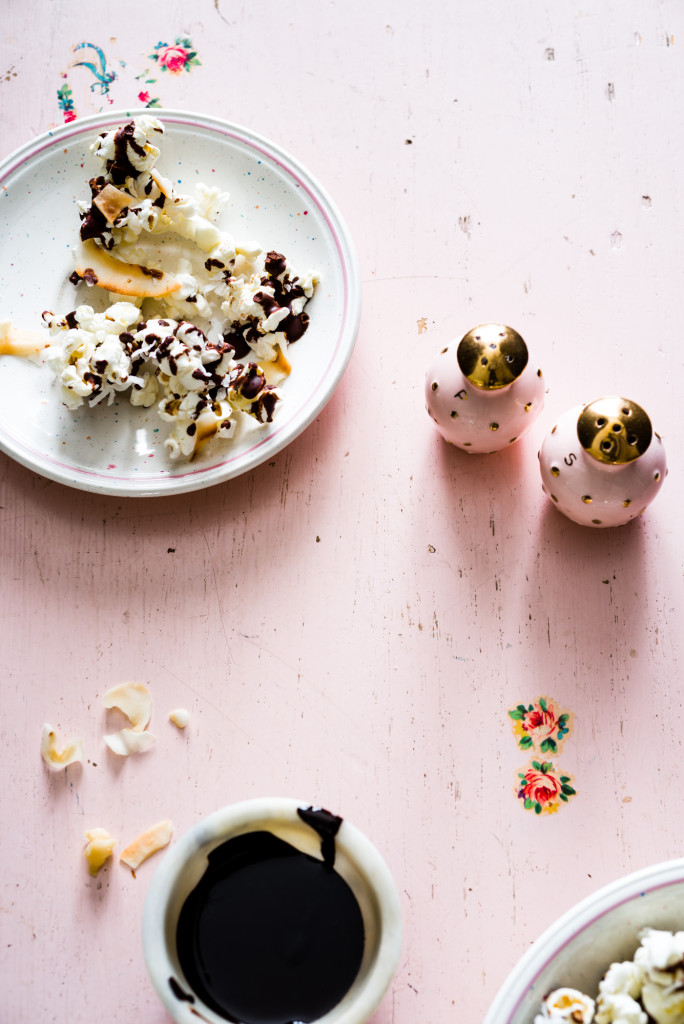 Going along with the wave of this fresh creativity, I briefly considered making each of these posts about reliving my popcorn memories. However, I realized these posts would be few and far between as they revolve around one of three topics: 1. My father's passionate speech on the lack of actual lard in our movie theater popcorn; 2. My husbands fear of cracking his tooth on kernels at the bottom of the bag; 3. The time I almost caught our kitchen on fire (well, one of several times) trying to make kettle corn.
And instead of re-telling the horrific story of torching sugar in a paper thin, hand-me-down aluminum pan on a gas flame, all-the-while attempting to "SAVE THE CORN!" by shaking the pan vigorously, coughing on smoke and rushing the pan to our front porch in Alabama, I decided to forgo that story.**
This week's recipe is way sweeter and WAY simpler than my kettle corn fiasco thanks to the beauty of Skinny Pop! My idea for these posts started when Skinny Pop's team reached out to me about a potential popcorn post collaboration. I was quick to enthusiastically tell them about my collective love for the brands they represent (have y'all had Oatmega bars? They are ahhhmazing). Never one to shy away from passionate opinions on snack foods, I was also happy to tell her that we needed to make a collaboration work!
So, here we are with this month's focus, and recipe. It's party time, and, in true Luv Cooks fashion, I have already taste-tested each of this month's variations on my friends. Every single one got a thumb's up!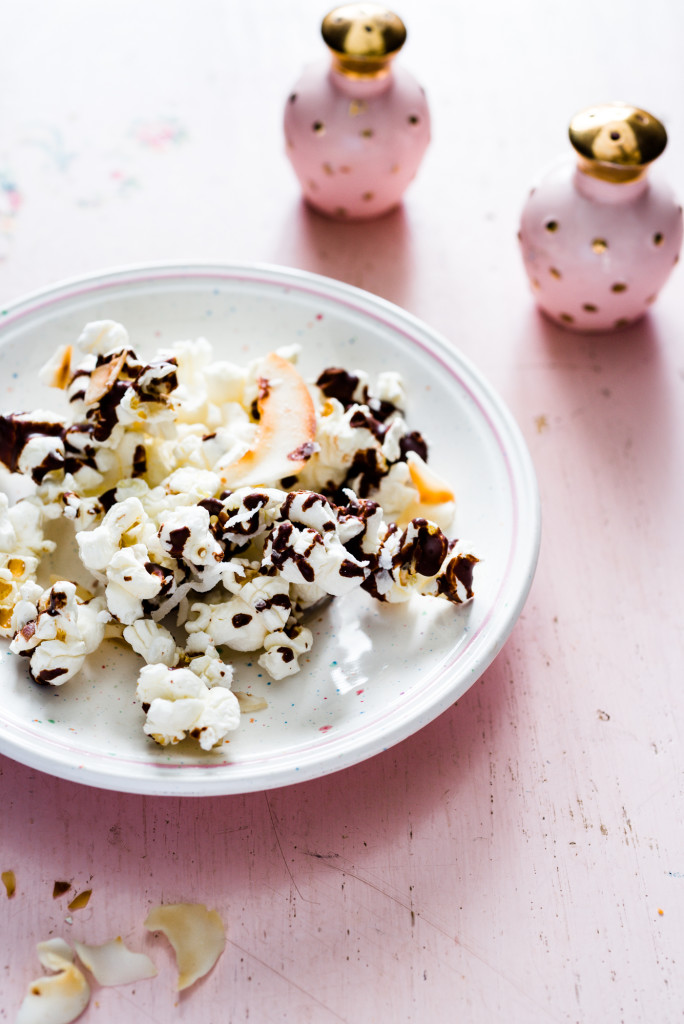 I also want to mention the inspiration for this chocolatey goodness, the UBER fun blog Salty Canary. I took Andrea's chocolate and coconut popcorn recipe and tweaked it just a tad. Y'all- Andrea is precious and a genius attorney. Her site is so colorful, has all sorts of shades of pink, and I couldn't help but stumble upon her cookie milkshake roundup. Those iced animal cookies, oh my gosh, surely those are Paleo? 😉
This is the easiest, girls night/Emmy night/date night popcorn I've ever done (thank you Andrea, you popcorn genius!!). All you need is a bag of Skinny Pop, dark chocolate with a bit of oil, a microwave, and bagged coconut. DONE.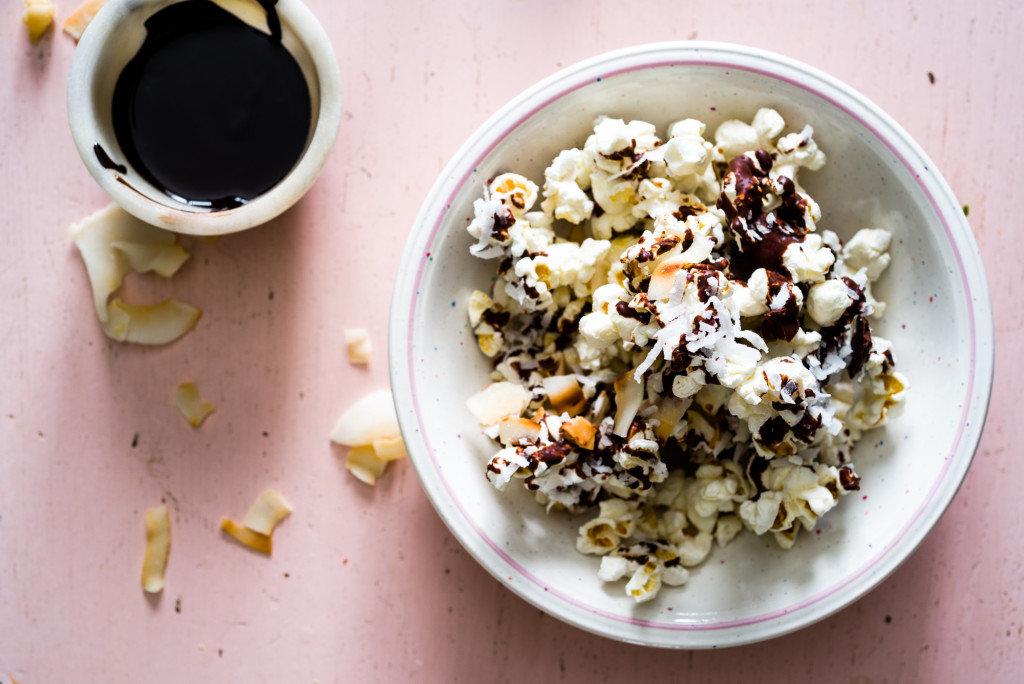 Gluten Free Salted Chocolate and Coconut Popcorn (Recipe inspired by Salty Canary!)
This easy, quick weeknight-or special occasion- recipe is perfect for a girls night, family night, or just you-and-Netflix night. In fact, the only cooking step involves a microwave. Score!
What You Will Need:
1 bag Skinny Pop, original (4.4 ounces)
1 3.5 ounce Lindt 70% dark chocolate bar, broken into large pieces
1/2 teaspoon vegetable oil
1/3 cup shredded sweetened coconut
1/2 cup toasted coconut chips*
A few pinches coarse sea salt
What You Will Do:
Line a large rimmed baking sheet with parchment paper.
Spread entire bag of Skinny Pop evenly across parchment.
Melt the dark chocolate and vegetable oil for 30 seconds in the microwave on high. Stir. Microwave again at 15 second intervals until smooth.
Drizzle chocolate on popcorn in an excitedly sporadic fashion. Top with sweetened coconut and coconut chips.
Sprinkle with sea salt and allow chocolate to harden at room temperature. Enjoy!!
*You can either sprinkle the coconut right out of the bag onto your popcorn, or toast it to your liking in a small sauté pan on medium heat. Just watch the coconut so it doesn't burn! Like kettle corn, it can turn on you in an instant. #flashbacks
**I believe that there is actual footage of this wreckage in the recesses of ancient Instagram posts. If you do go on this search, please be aware that I had no idea what I was doing with Instagram back in the day. Actually I still don't. Hah!