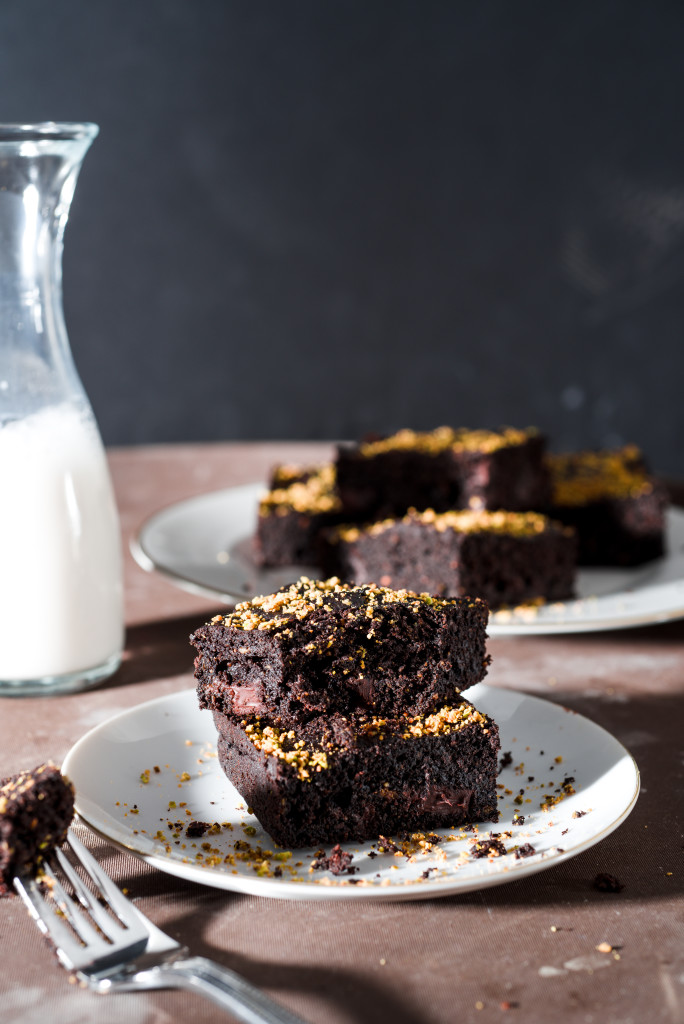 Lovely fall people! PRAIISEEEE the LORD it has ARRIVED!
I am almost 100% sure that every single Southerner has taken a deep breath in the FULL realization that fall is actually a season and does actually exist in the lower parts of the U.S.
Sweet! And speaking of sweet, this week's recipe is one of my faves!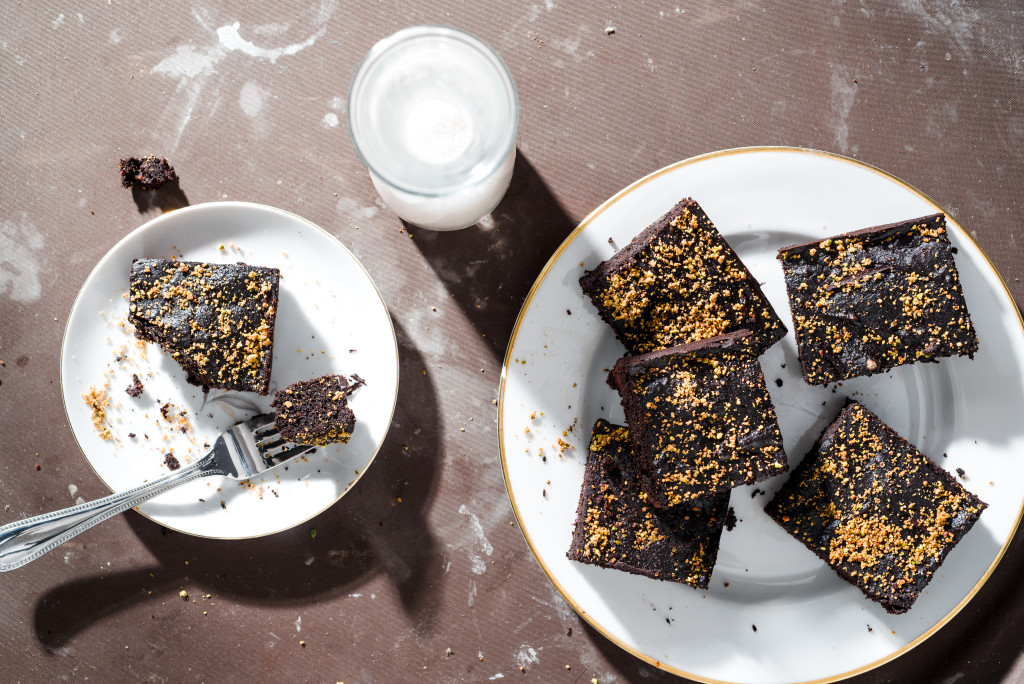 Y'all know my love of brownies (see my MONTH of brownie posts in February) but I had yet to feature one full of vegetables, AKA cauliflower. You see, cauliflower is low-carb and lots of Paleo types enjoy eating it. I enjoy eating wheat. SO in an effort to fuse both worlds, I landed on a ground cauliflower + spelt (wheat-free) flour hybrid that is full of dark chocolate, fudgey goodness.
Plus, if you use dairy-free chocolate chips, it can totally fit in both of those categories.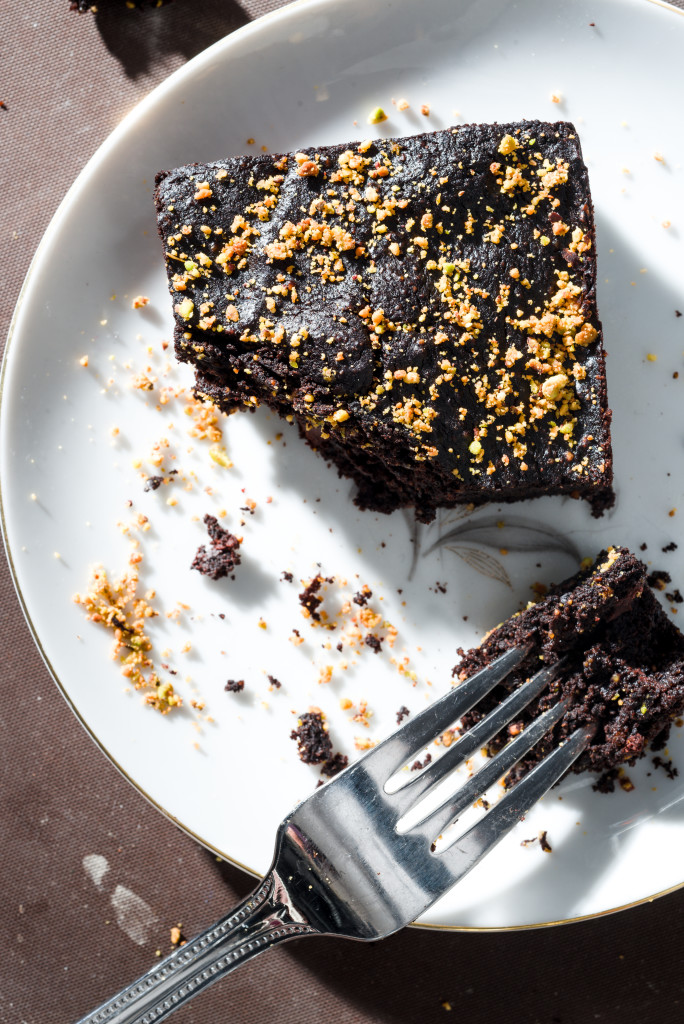 Also, as we move into the next three months that are left in this year- I've had it on my heart to start thinking about finishing the year well. What does that look like?
For me, it means taking a breath. Focusing on all of the beautiful things our Creator has made for us to enjoy right now.
I'm feel like I am finally growing as a woman to be able to trust Him, and believe with all my heart that just as He causes the fall leaves to release from their branches, He also is whispering into me a change of seasons, a change of purpose, and a newness of rest in Him.
So, lovely readers, take a deep breath. I wish I could pour you a glass of cold milk (here) or hot chocolate (further North), serve you a brownie, and catch up- all the while anticipating a beautiful fall just around the corner.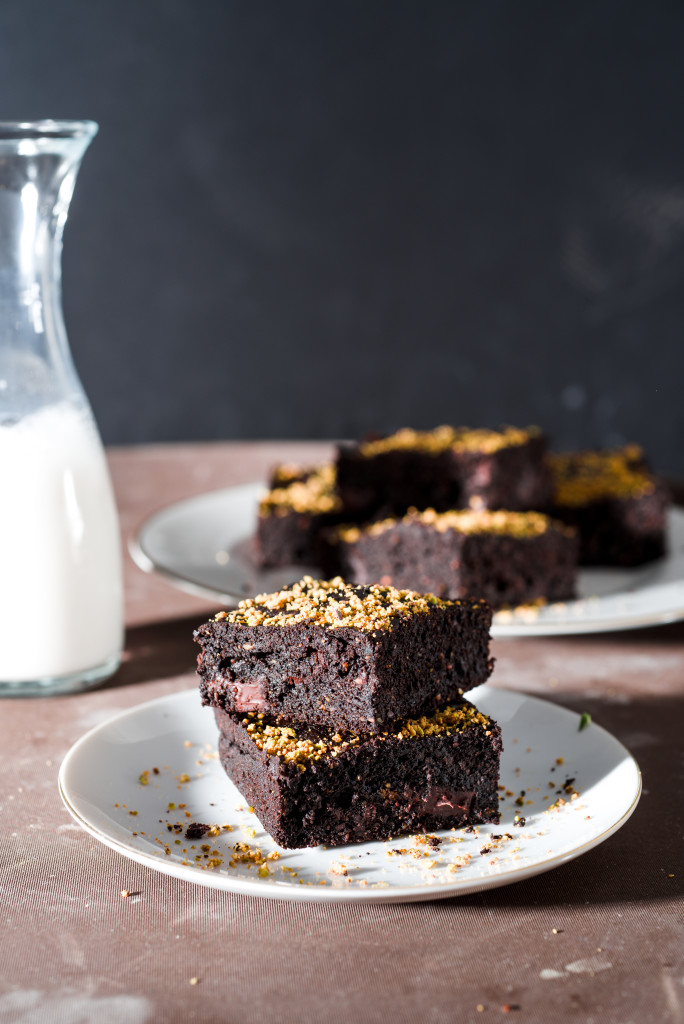 Dark Chocolate Cauliflower Brownies with Pistachios
These brownies are made with spelt flour (an ancient, wheat-free flour higher in protein*). They are dense, fudgy and decadently rich with the addition of melted dark chocolate.  Your friends and family probably won't even know they contain cauliflower! For the full recipe you can also click Birmingham mag's site here.
Yield: 9-12 brownies
What You Will Need
1 cup cauliflower florets (5 ounces)

1/2 cup unsweetened or unsweetened vanilla almond milk

1 tsp vanilla

3.25 ounces 70% dark chocolate, melted and cooled slightly ** (dairy free chocolate would work great too)

1/4 cup melted coconut oil

3 eggs

1/2 cup coconut sugar

1/2 cup unsalted and roasted pistachios, ground in a food processor until finely ground and no large pieces remain; reserve 1 tablespoon for topping

1/2 cup dark chocolate cocoa powder, spooned and leveled

3/4 cup spelt flour, spooned and leveled

1 teaspoon baking powder

1/4 tsp salt

2/3 cup dark chocolate chunks or chips** (dairy-free chips could work here too)
What You Will Do
Preheat oven to 350. Grease an 8 by 8 inch dark metal brownie pan with olive oil cooking spray.

Puree cauliflower, almond milk and vanilla extract in blender until smooth.

Add in melted dark chocolate, coconut oil, and eggs and blend until smooth, about 30 seconds.

In a bowl, whisk together coconut sugar, ground pistachios, cocoa powder, spelt flour, baking powder, and salt until evenly combined.

Stir cauliflower mixture into dry ingredients until just combined (avoid over-stirring the batter). Stir in dark chocolate chunks until distributed.

Pour batter into dark metal 8 by 8 square baking pan; smooth top with spatula to evenly distribute batter.

Bake for 30 minutes, or until a toothpick in the center comes out clean.=

Remove brownies from oven. Place on cooling rack, and sprinkle with remaining tablespoon of ground pistachios. Allow to cool completely before removing from pan.