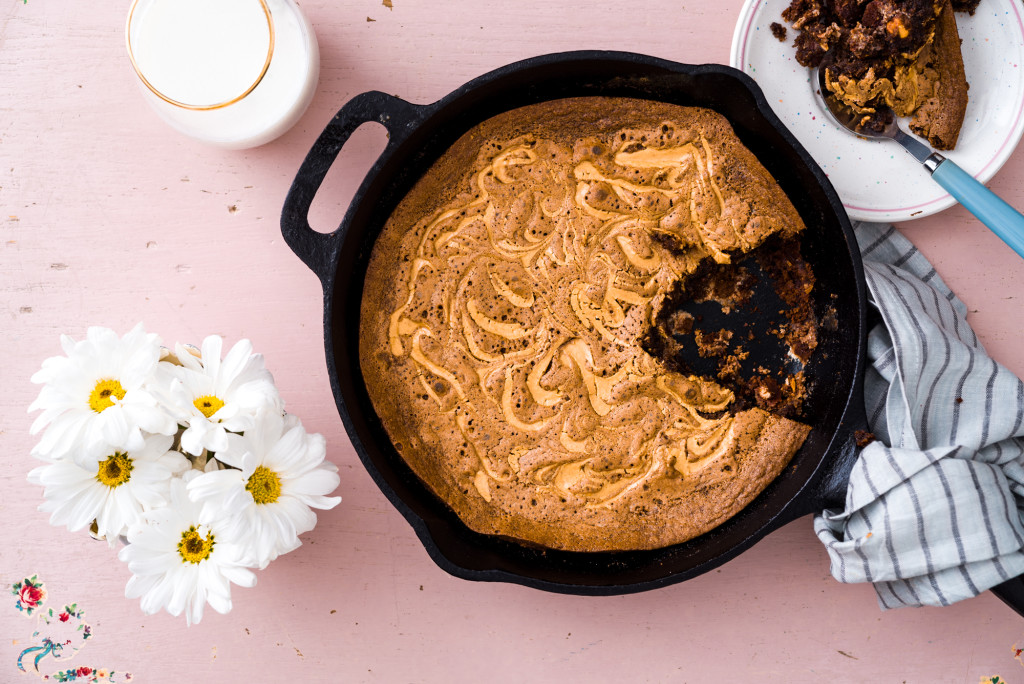 Morning my lovelies!
I hope your week has been full of joy and fabulousness. Mine has been a bit crazy, as my husband threw his back out yesterday, our dog had to go to the vet and have an X-RAY OF HIS STOMACH because he swallowed our bathroom drain, my husband's favorite baseball hat, and the back end of two of my razors, and our dishwasher almost fell out of the wall.
Yep! I know what you are thinking, bless our hearts! Praise the Lord we made it!
Now, as part of this month's one recipe four ways series, it is finally time for me to give you a full-throttle indulgent recipe that is the epitome of comfort food. If you've had a stressful week (#puppies #hubbies #life) then this is the PERFECT way to unwind. Baking is my stress therapy, and these brownies, along with a glass of white wine and Jane the Virgin episodes- that's a pretty perfect wind down on a Friday night.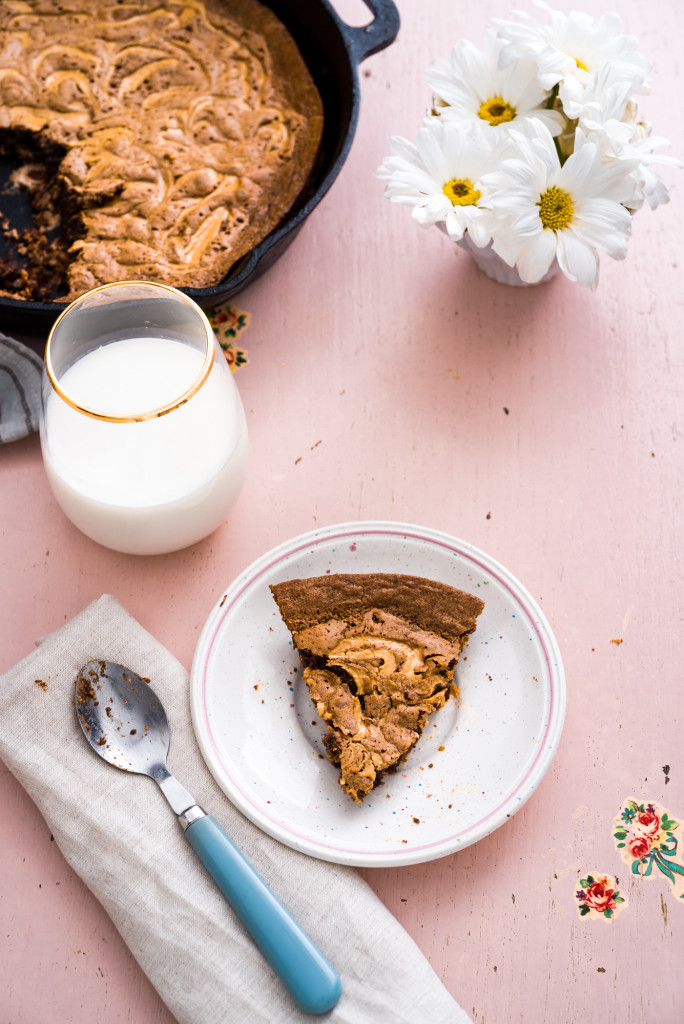 Also this week I discovered the awesomeness of BAKING in my cast iron skillet. Cue childhood drama and/or a bit of a back story on my relationships with cast iron skillets:
Growing up in the South, one's relationship with the cast iron skillet was, and still is, a status symbol. Inevitably, you invite your neighbor/Southern friend over to eat at your house and, very politely, albeit inconspicuously, said person would start to wander around your kitchen, eying your cookware, looking for your skillet- only to judge it's state of readiness to fry a piece of bacon or chicken at a moment's notice. Seasoned and ready to go? You obviously know your way around a biscuit.
Rusted and/or hidden from site? Good luck with your future.
But a great cast-iron skillet is a bit like having a puppy. It requires a good amount of care, training, and persistence to function at peak performance.*
CUE Bigbsy (our puppy) and I's YouTube video here!
That's why baking in a cast iron skillet is pure brilliance. I first learned about all the reasons why this is awesome from Serious Eats' J. Kenji Lopez-Alt, and his book The Food Lab. This has become my BEST cooking and food styling resource- it is one of the best purchases I've made in my career as an at foodie girl boss. I highly recommend it.
Kenji explains that cast iron's specific heat capacity is lower than aluminum (what some cookware is made of) and because it is so dense you get double the amount of heat retention (for the same size pan). Which means- the pan DOESNT COOL DOWN when you add food to it. Other pans may drop in temperature up to 300 degrees, but cast iron should stay at about it's original temp. In other words, your cornbread, pies, rolls, even brownies- get a crisp, evenly browned crust around the batter. Also, if you have an ahem, older…. oven like myself it's ability to maintain heat even when your oven temp fluctuates is awesome. It ensures that even if the temp sways, your dark, fudge brownie crust will not.
These are all great things! However- here is the trick with cast iron. Until a great layer of seasoning has built up in your pan, things (baked goods, eggs, vegetables) will stick to it. So you have to take lots of care, especially when baking, to make sure the surface of your pan is properly greased.
And this leads me to this week's recipe from @thekitchn. This is why their team knows what they are talking about and are brilliant in baking. They understand a Southerner's pride in their cast iron skillet and the science of proper lubrication on the cooking surface. In their gluten-free skillet brownies, you melt the butter in the cast iron skillet, THEN use that butter to prepare the pan's surface and stir into the batter. Perfect.
So, in the spirit of all things warm and Valentinesish (yes, that is a word), I want to encourage you to whip out your cast iron pans this weekend as  they are the BEST way to feed your guests a bunch of brownies while they are still hot.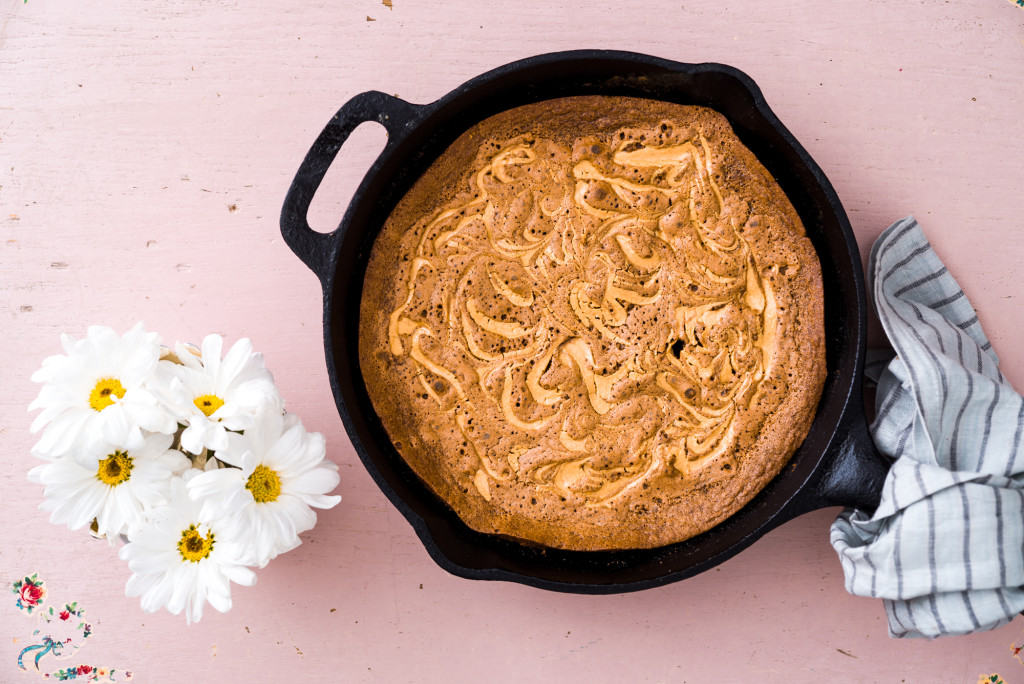 In fact, choose to invite those people over who may be eying your cookware, looking for a skillet. They'll be surprised to find that you thought ahead- and, at the end of the meal, pulling your skillet brownies out of the oven pretty much qualifies you as a cast iron rock star.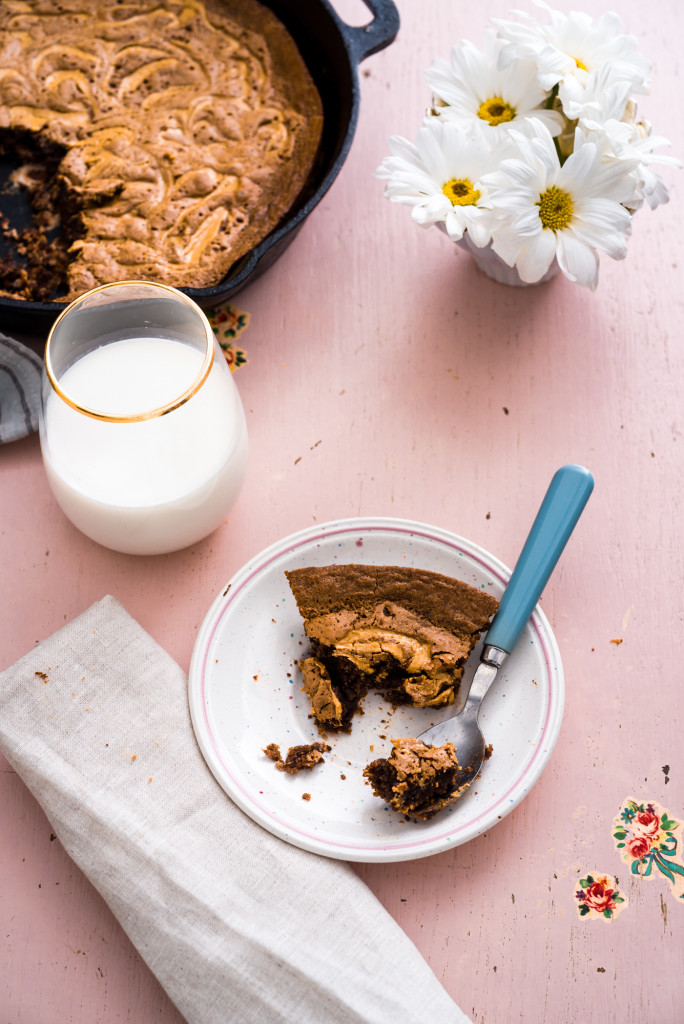 Peanut Butter Swirl Skillet Brownies (adopted a bit from The Kitchn Speculoos-Swirl Brownies)
This brownie is amazing on two levels: first, it utilizes a cast iron skillet for baking, which ensures an evenly crisp brownie crust and fudgy center. Second, the bake time is around the 35 minute mark, and you can wow guests at the end of the meal with a dessert everyone can dive into.
What You Will Need:
8 tablespoons (4 ounces) butter
1/4 cup unsweetened cocoa powder
1 cup light brown sugar
1/2 teaspoon salt
1 teaspoon vanilla extract
2 large eggs
1/2 cup almond flour, sifted
3/4 cup peanut coffee nut M&M's (Any M&M will do, but the coffee flavor is fun here. If you are concerned about gluten contamination, you could do the standard M&M just in case!)
2 heaping tablespoons peanut butter (Nutella or almond butter would be awesome too)
What You Will Do:
Melt the butter in an 8- or 9-inch cast iron skillet over a medium heat.
2. Pour the melted butter into a large mixing bowl, leaving a film of butter on the pan (make sure you swirl the butter around in the pan to evenly coat the surface and a bit of the sides).
3. Whisk the cocoa powder into the bowl with the butter. Add the sugar, salt, and vanilla, and whisk until well combined.
4. Whisk in the eggs, one at a time, then sift in almond flour through a strainer (this avoids lumps). Whisk well. Fold in the M&M's.
5. Pour the batter into the pre-greased cast iron skillet.
6. Melt the peanut butter on high for 30 seconds; stir, then 15 more seconds, until it is runny. Drop dollops of the melted nut butter over the top of the pan, from around the rim to the center of the brownies. Using the pointed tip of a steak knife, gently swirl the speculoos into the brownies, running the knife lengthwise and crosswise, and making swirls too- really any way you feel!
7. Bake for 30-35 minutes. Test the brownies by inserting the tip of your steak knife into them to make sure the tip comes out clean.
8. Either serve the brownie in scoops to your guests and top with ice cream, or allow to cool completely before cutting into wedges and eating. ENJOY!!!
*This example, and all of the verbiage on cast iron cooking and science, taken from The Food Lab!! Can't say enough about that book!