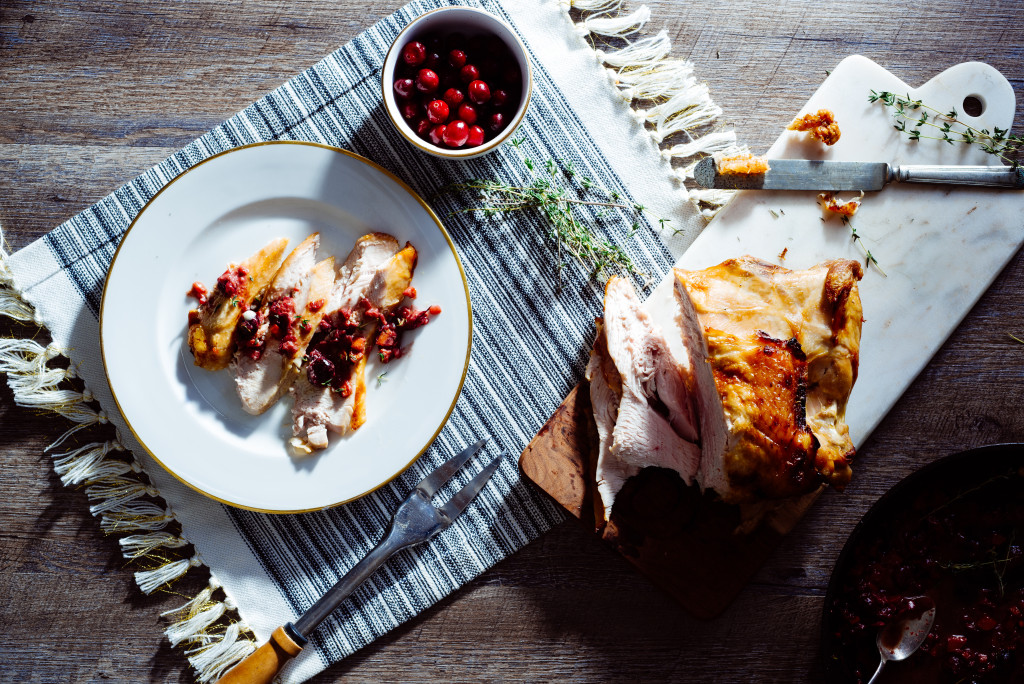 Lovelies!!
It's the big week of Thanksgiving and at Luv Cooks I am ABUZZ with all the fun cooking that is about to go down around me. From turkeys to taters to desserts with my mother-in-law, oh my gracious how FUNN!
BUT I also realize that it can also be super stressful and intimidating to even begin thinking about cooking a huge meal like Thanksgiving. So, I've landed on sending you guys easier versions of the typical whole shebang– and we will start with this roasted turkey breast.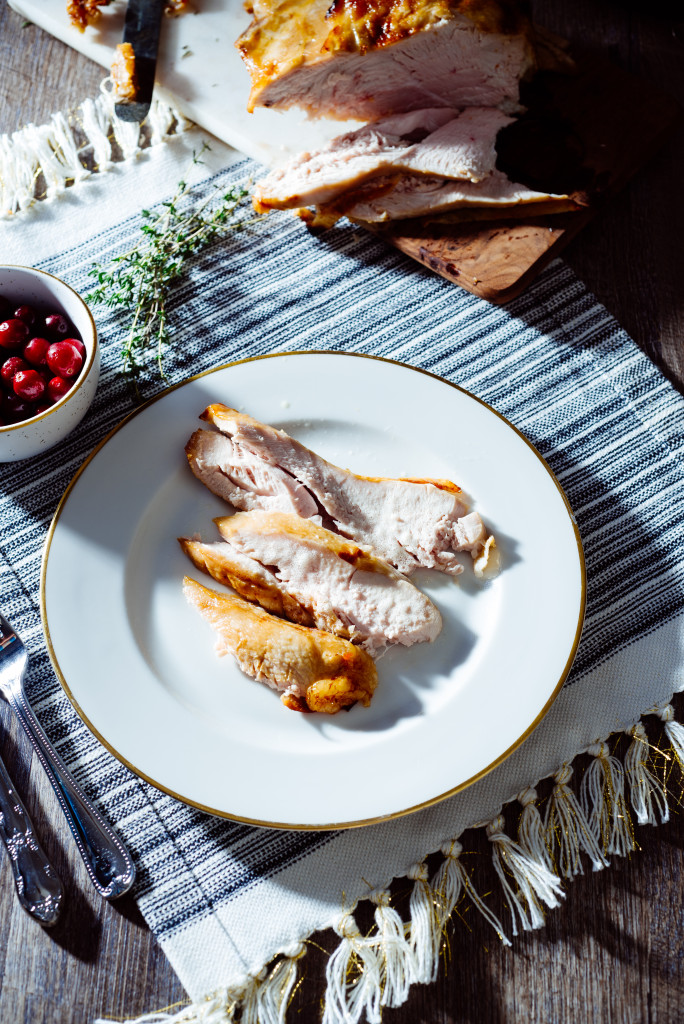 The beautiful thing about roasting a turkey BREAST as opposed to a whole bird is that the cooking time is shorter, the process is easier, the cost is less, and all you have to do is set aside some time ahead to salt and dry-brine the bird ahead of time.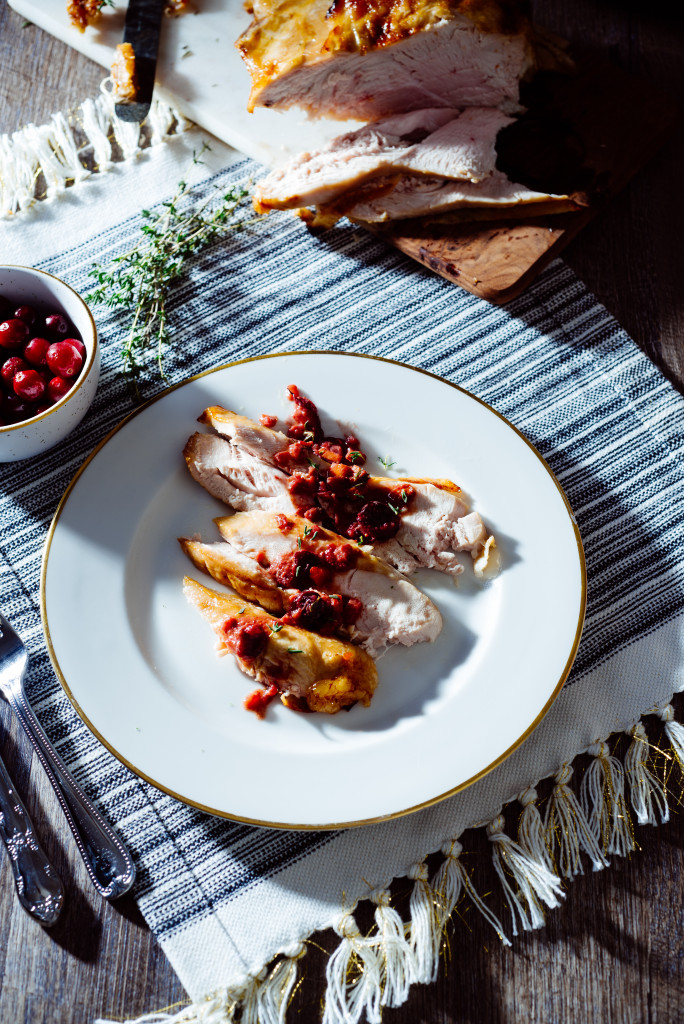 And what I also love about this recipe is that you use the pan drippings from the turkey in the cranberry pan sauce, tying all of the flavors together. If your local supermarket doesn't have whole cranberries, they should be in the frozen fruit department!
So go ahead and buy that turkey breast, keep it in the fridge, and on Wednesday salt/sugar it up! And make sure you don't cover the turkey after you salt it (also called dry-brining); it needs to breathe in the fridge to get that crispy skin!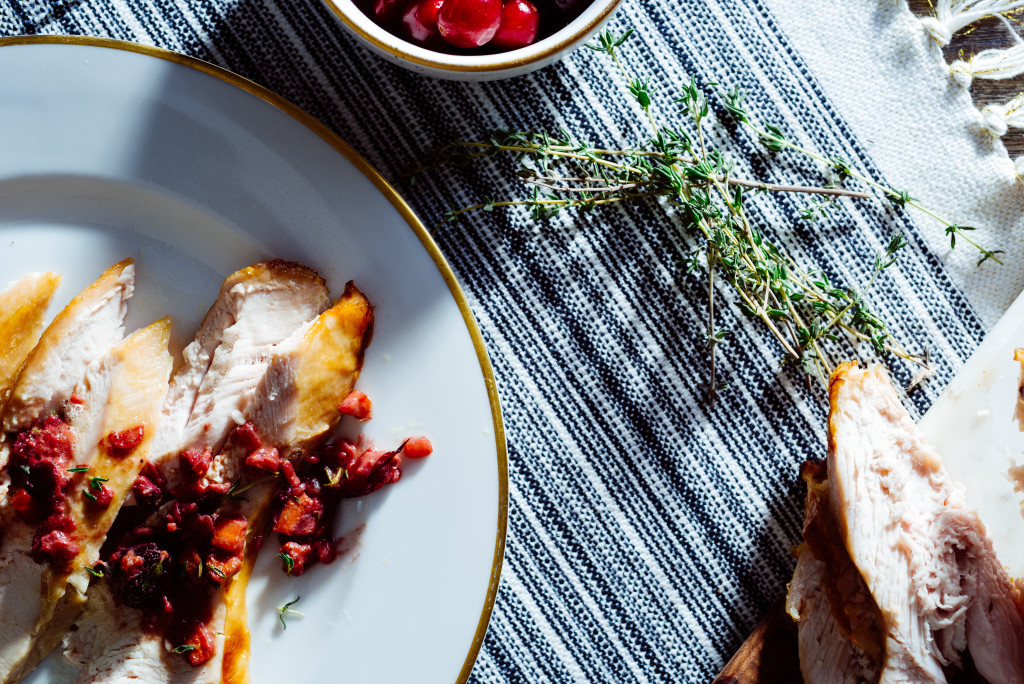 Roasted Turkey Breast with Thyme and Cranberry Pan Sauce
Dry-brining this turkey breast overnight is an extra step, but getting beautifully-crisp skin and tender breast meat is well worth the effort! Using the meat drippings in the pan sauce along with whole cranberries creates even more bright flavor for a Thanksgiving mainstay. You can also see this full recipe in Bham mag!
Yield: 4 hearty portions or 6 light portions
What You Will Need:
1 1/4 teaspoons salt, divided
1 teaspoon dark brown sugar
Around 2.2 pound bone-in turkey breast half, patted dry
1 tablespoon olive oil
1/4 cup finely-chopped sweet onion
1/4 cup diced carrot
1/2 cup whole, frozen cranberries
1/2 cup white wine
1 teaspoon fresh thyme leaves
2 tablespoons salted butter
1 to 2 teaspoons Dijon mustard, depending on preference
Salt and fresh cracked pepper, to taste
What You Will Do:
Combine 1 teaspoon salt and brown sugar in a small bowl.
Run your fingers under turkey skin to loosen it from breast meat.
Rub salt and sugar mixture under turkey breast skin.
Place turkey on wire baking rack over 9-by-13-inch glass casserole dish and put in fridge overnight. Do not cover turkey.
Remove turkey from fridge; preheat oven to 450 degrees.
Rub turkey with 1 tablespoon olive oil and lightly salt with remaining 4 teaspoon salt.
Put turkey in oven on rack over casserole dish.
Bake turkey for 35-40 minutes, or until meat registers 165 degrees. Check temperature at 30 minutes; if top is becoming too brown, cover with aluminum foil.
Remove turkey from oven; tent with foil to rest while you prepare the pan sauce.
Working carefully, gently pour 2 tablespoons meat/oil juices from baking dish into saute pan. Bring heat to medium, and add onion, carrot, and cranberries. Saute until softened, stirring occasionally, about 5-6 minutes.
Once berries begin to burst and onion is softened, add cup white wine. Scrape up meaty bits that may have developed in the pan; add thyme leaves and stir until much of the wine evaporates, about 1 minute.
Remove sauce from heat; whisk in salted butter and Dijon mustard. Season with salt and pepper if desired. Serve with turkey.
Tips:
A 1-cup serving of whole cranberries contains only 50 calories, 4 grams of sugar, and almost 5 grams of fiber.
Dry-brining the turkey helps to season the bird more deeply and create a crispier skin. The turkey can be brined for up to 24 hours, so it's a great step to do ahead of time.
When seasoning the turkey after dry-brining, go lighter on salting the skin since the bird has been pre-salted. Also, make sure you leave room for the turkey breast to "breathe" in the fridge; covering it with foil or plastic wrap inhibits this process.
Oiling the skin of the turkey breast keeps it moist and creates a more even, beautiful browning effect, perfect for the grand presentation moment at the table!