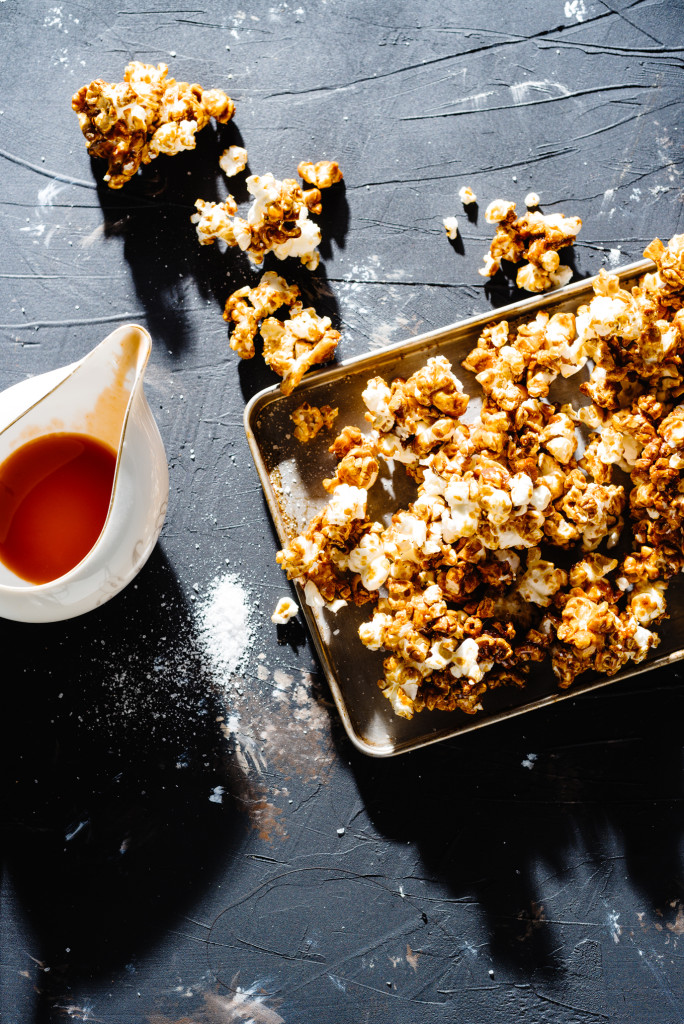 안녕하세요!
Those symbols translate to "hello!" in Korean. Why, you may ask, am I greeting you in Korean when clearly this week's recipe is about as American as they come?
So glad you asked!
Because this week, I want to encourage us all to get outside of our collective foodie comfort zones (and languages). After finding this week's spicy popcorn recipe from The Whole Bite (and her FANTASTIC tip about cooking spray in the bowl before you toss the popcorn and caramel sauce), I knew that it was going to be a different type of week for the blog. One where I challenged myself to do something a bit wild. To stray from the more straightforward recipes of the past two weeks and go on a bit of a culinary adventure into SPICY CARAMEL. You heard me- spicy, buttery, caramel, sauce.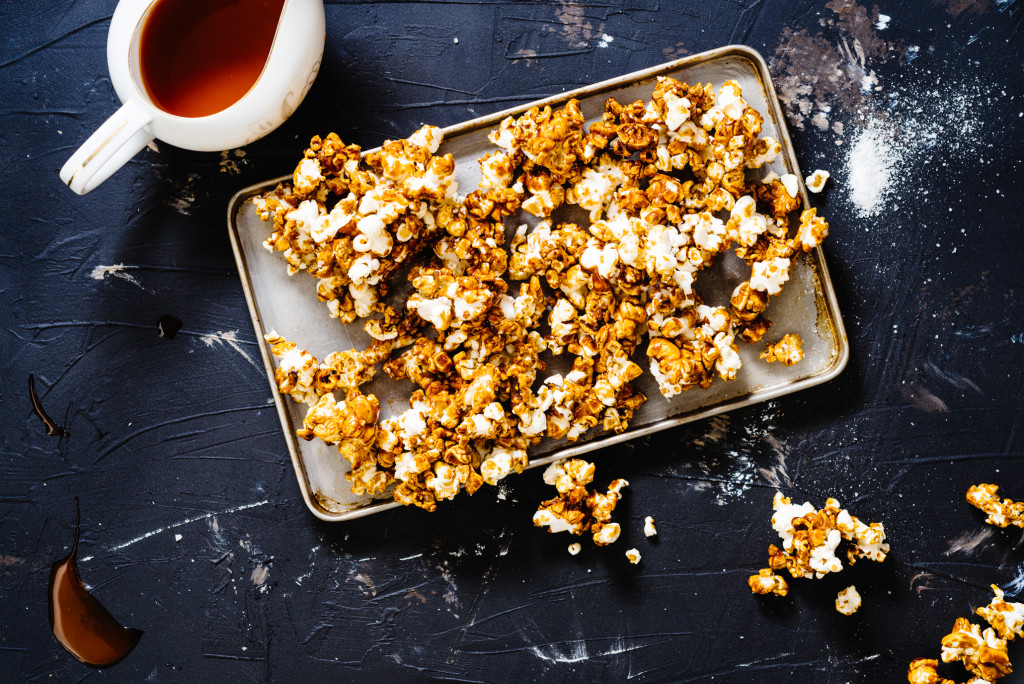 The revelation of adding hot sauce to caramel caught me so off guard- and inspired me so much- that I knew I had to make it. It also kicked me into a adventurous food mood that I have yet to shake. Jake and I made kimchi chicken thighs twice this week. I've visited two Asian restaurants that embraced such fantastic flavor (Chiang Mai sausage and Sambal chili paste at one; life-changing kimchi, fried rice cake and jjampong at another) I couldn't help but be inspired.  I'm going out for pho tonight.
Must. Have. Flavor.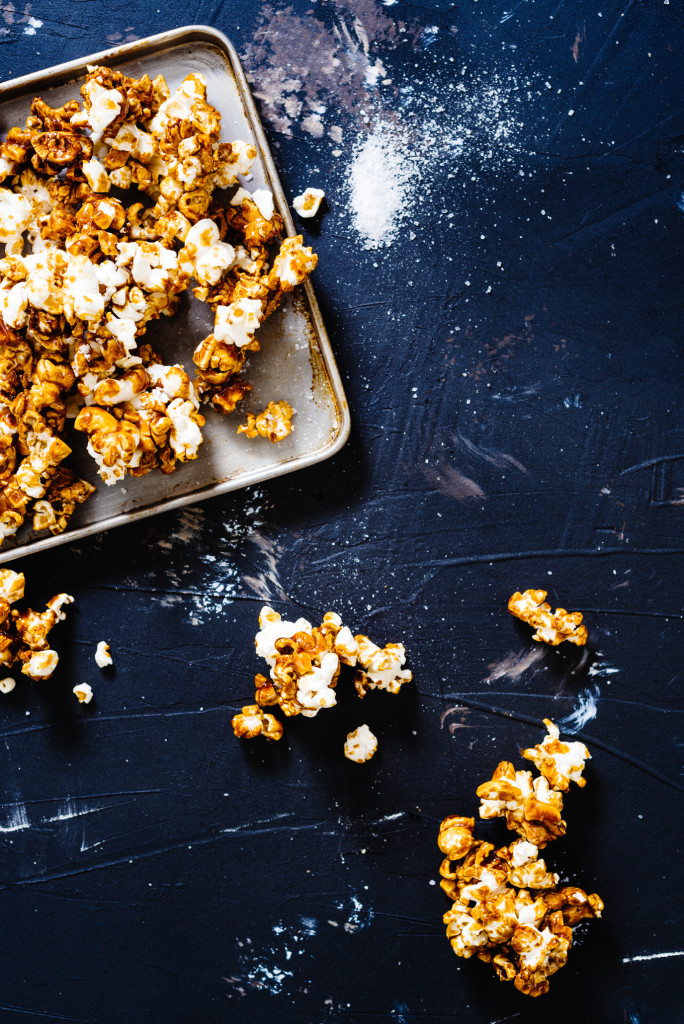 In the spirit of adventure, I want to challenge each of YOU to experience food in a new light this week. Just like SkinnyPop embraces all kinds of flavors with their popcorn (helloooo dusted dark chocolate and jalapeño), I would love to see us all embrace new flavors on our plate.
Also speaking of food adventures, as I promised in my video, here are my Top 5 Ethnic Food Spots in Nashville:
1. The Woodlands At the Woodlands, you can experience both a piece of paper masala dosa the size of a small shark and chana datura, a fried bread the size of a sting ray, with, oh my word, all the paneers and curries. Plus, every food photo on Yelp makes my mouth water. Tip: Order everything! Seriously, I've never eaten anything at Woodlands I didn't enjoy.
2. VN Pho  One of the older ladies who owns VN Pho once gave me the LAST egg custard roll she had for FREE even though it was meant for her cousin; she just wanted me to taste it (or, I was so enthusiastic about dessert I may have scared her a little). Either way, the family that owns VN, and the people who work there, are the sweetest and you will love them. Tip: Life-changing beef & seafood pho!
3. Sichuan Hot Pot and Asian Cuisine If you are in the mood for a steaming bowl of broth with a large pork bone anchoring the center, topped with lamb, mushrooms, taro, lettuce, onions, more mushrooms I can't identify and the most delicious Asian sauce selection I've encountered in Nashville, then this is your spot. Plus, you get to control the heat and length of time you add ingredients to the broth- each table has burners for every two seats-ensuring that you will a.) most likely burn your tongue, but b.) it will be completely worth it.  Tip: Use ALL the sauces!! Seriously, get a round tray and pile those little bowls up.
4. Bajo Sexto: My husband and I had the most relaxing afternoon we've had in a long time at Bajo Sexto- and didn't intend to. In fact, we were there shooting food photos of the restaurant, but in a wild turn of events, had about an hour between places to go. So, we sat down, drank a Mexican Coca-cola, and enjoyed the tastiest roast chicken, fried fish taco and beet salad I've had. OH MY WORD that pollo!! Crispy, salted skin with salsa pasilla-I crave it still.  Tip: Order the baja fish taco. Actually, order three.
5. Korea House: Oh, Korea House. When our neighbors invited us to join them for a date there, I had NO IDEA how worth it the line we stood in was. Not only have I been eating on my spicy seafood stew for three days because I don't want the flavors to end, their hot sake, potato pancake and pickled cucumbers were addictive. Tip: Arrive early; order #40 with a side of bimbibap.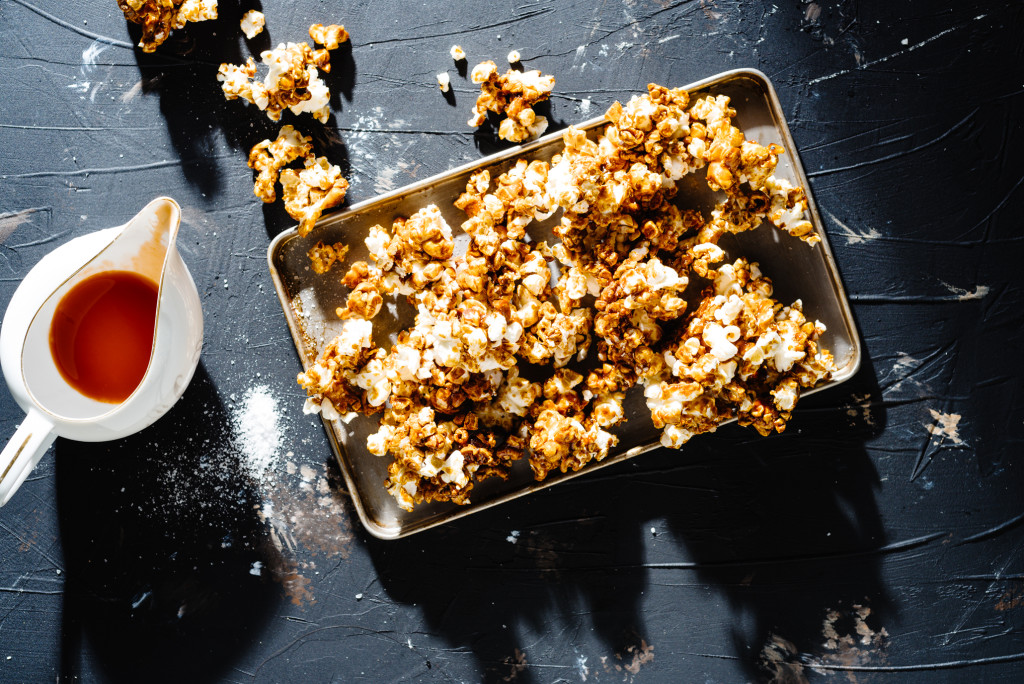 So, I issue you all, my awesome readers, a food challenge this week. Make this fantastic, spicy buffalo wing inspired popcorn. Follow it up with a flavor-filled trip of your own. And if you do make the ambitious adventure a reality, I want to hear ALL about it in your comments below.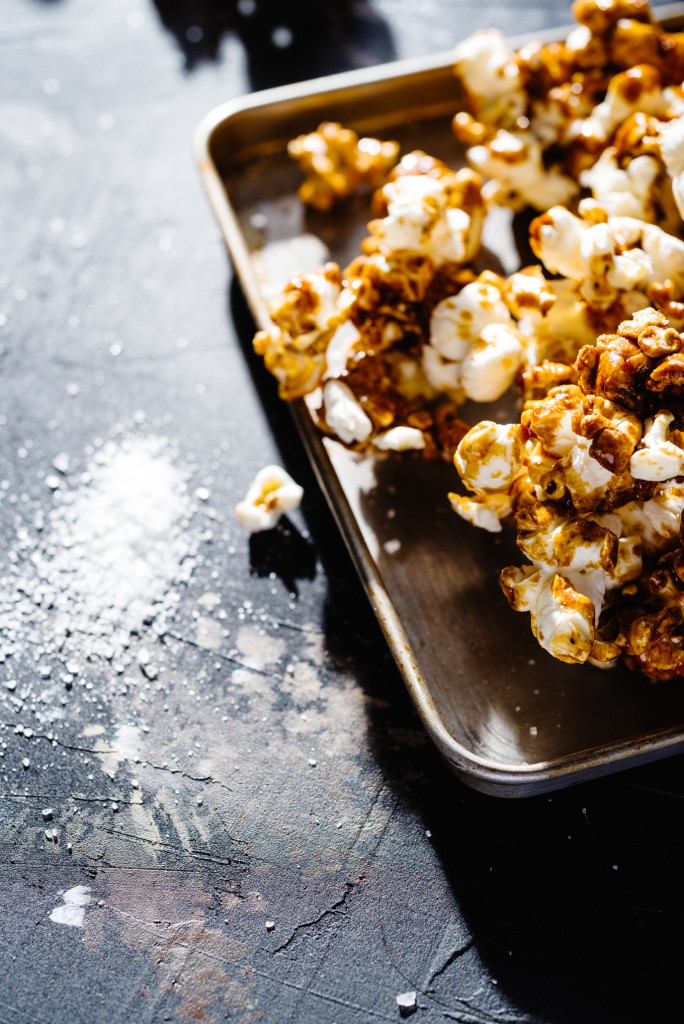 Spicy Buffalo Wing Popcorn (Recipe from The Whole Bite, which was originally adapted from BonAppetit.com)
This simple caramel sauce is delicious; all you have to do is watch it closely to make sure it doesn't burn. Also, Chelsea's tip about making sure you spray the bowl with cooking spray before you toss in the caramel is a must- as is her tip about washing the bowl soon after you use it! Lastly, make sure you also have all of your ingredients prepped and ready to go. I don't want anything to stand in the way of your popcorn joy:)
What You Will Need:
1 4.4 ounce bag SkinnyPop, original flavor
3/4 cup sugar
1/4 cup hot sauce (I used Texas Pete)
3 tbsp. unsalted butter, cubed
1 tsp. salt
1/4 tsp. chili powder
1/2 tsp. baking soda
What You Will Do:
Preheat the oven to 300. Line a rimmed baking sheet with parchment paper.
In a saucepan over medium-high heat, bring the sugar and 1/4 cup water to a boil, stirring with a wooden spoon to dissolve the sugar. Boil 10-12 minutes, swirling the pan occasionally until the caramel takes on a dark amber color. *Make sure you watch this process; I wasn't paying attention and let mine get a bit too brown. It was still yummy though!
Remove the caramel from the heat and stir in butter and hot sauce with a long wooden spoon. Don't be alarmed when it starts to bubble and foam! That's a good thing! Return to the heat and boil 3 more minutes (or less if you are like me and cooked it a bit hot on the front end).
Remove the caramel from heat and stir in salt, chili powder and baking soda.
Working quickly, pour hot caramel over popcorn and toss to coat. Spread popcorn into an even layer on prepared baking sheet and bake 20-25 minutes until dry (the caramel will not be hardened).
Let cool (DONT TOUCH IT!!) at room temperature, then break it up into large clusters.  Seriously, don't touch it until it's cooled or your fingers and tongue will burn off.
ENJOY!!