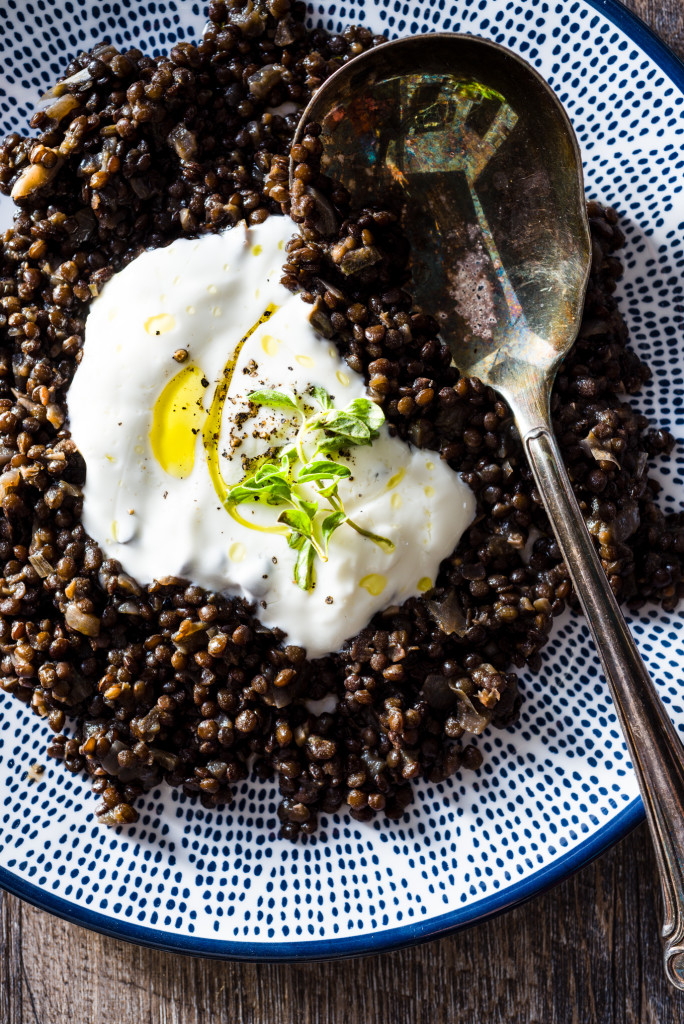 Imagine you are on a really expensive yacht. Waves crash into the side of the perfectly white exterior as the sun shines down on your face. A breeze blows through your hair, and, a bit parched from the warmth, you reach for a glass of icy cold Champagne. A waiter passes by with a tray of shiny black caviar on a crispy crostini, topped with bright green herbs.**
**It should be noted, as part of this fantasy, you are all perfectly tan, just worked out with your personal trainer and your mascara is TOTALLY still on your face.
"I've never been a huge fan of caviar," you think to yourself, "But I'll give it a try." The moment the crunch hits your lips you realize- this gleaming substance isn't caviar at all! It has a much subtler flavor with a hit of spice and an olive oil richness. No pungent fish flavor-no gumminess- it's just, well, nice.
Welcome to the world of beluga (as in caviar-esque) lentils! Known for their texture (as opposed to the creamier mouth feel of other lentils), these black lentils are perfect for appetizers and salads because of their heft. They also, when cooked correctly, have a shiny gleam to their exteriors, much the same as caviar (but for a whole lot less money).
That's why this week we are all about some lentils!!
Fun Beluga Facts! 
The best cooking ratio is 1/2 cup lentils (rinsed) to 2 cups filtered water.
Prep yo' lentils! Rinse the lentils thoroughly (remove any weird looking bits that may have congregated bag), combine them with water, add salt, and bring to a boil. Simmer for 30-40 minutes covered, with the top slightly askew to release steam.
Flavor these legumes in all kinds of ways! Try adding Asian spices, kombu (seaweed), salt + pepper at the beginning of the cooking process.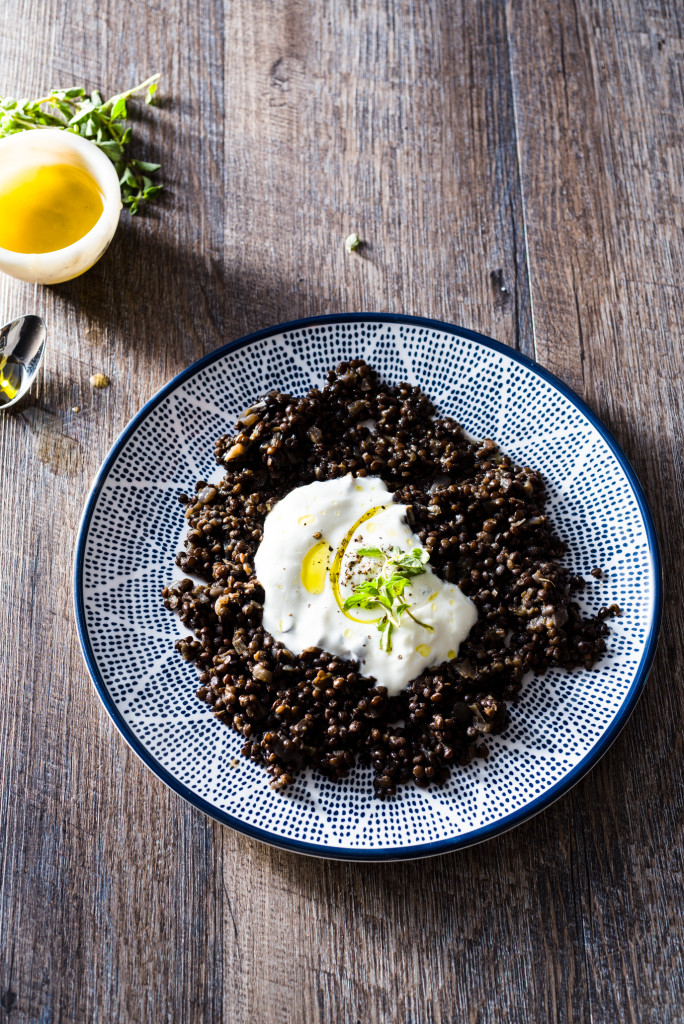 Keep tasting!! Once you reach the 30 minute mark, check to see if the lentils are done. They should have a bite but not leave a starchy aftertaste in your mouth. If they need more time, keep them simmering!
Finish the lentils by topping with yogurt (like our recipe), olive oil, herbs, etc.
Belugas also go great with fish! (Speaking of caviar…)
So, this week let's break out our most luxurious of circumstances (for me, it's my plastic pool in the back yard with our dog Bigsby) and umbrella cocktail, and enjoy the luxury that is belugas!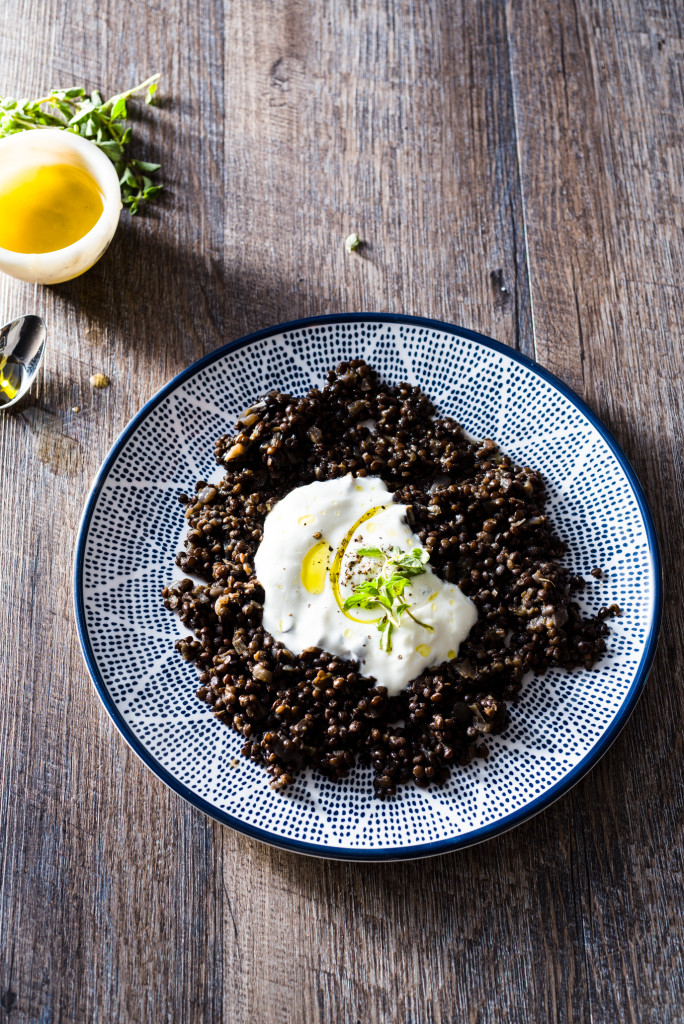 Beluga Lentils with Yogurt, Olive Oil and Oregano (Recipe modified a bit from Bon Appetit's Spiced Black Lentils with Yogurt and Mint)
This recipe blew me away with it's deliciousness! The amazing flavor you get from toasting the powdered spices and mustard seeds brings these flavors to life. I was so addicted to these lentils that I drove around eating them out of a plastic tub in my Prius. 
Serves: 4-6 as a side
Time: 50-ish minutes
What You Will Need:
½ teaspoon ground coriander
½ teaspoon ground cumin
½ teaspoon whole mustard seeds
2 tablespoons olive oil plus more
1 small onion, finely chopped
2 cloves garlic, finely chopped
1 cup black beluga lentils
3 cups (or more) low-sodium vegetable broth*
1 teaspoon red wine vinegar
Kosher salt, freshly ground black pepper
1 cup plain Greek yogurt
fresh oregano, for topping
Heat rimmed saute pan on medium heat. Add olive oil and spices; stir frequently, toasting for about one minute. This should smell pretty tasty!
Add onion and garlic and cook until just softened, stirring frequently again!
Add lentils and broth; bring to a boil, cover slightly, then reduce to low heat. Cook for 30 minutes, and taste to see how they are doing. Mine took about 50 minutes to reach the texture I liked.
Once done, add in the vinegar, salt and pepper to taste.
Serve warm, topped with Greek yogurt, a drizzle of olive oil, and fresh oregano leaves. YUM!!!
*I realized that I labeled this recipe as vegetarian, but when I cooked these I used Trader Joe's chicken stock. So you can do whatever you feel here!