Tofu is FUN, and so are leftovers!
Ok, here me out.
Part of being a food stylist means I am oftentimes left with some of the craziest leftovers. Normal, wonderful people have ketchup and chicken breast and maybe a stray Chinese take-out container in their fridge. I have quail eggs, bonito flake puree and beluga lentils.
And you know what I realized? That's kind of awesome. I mean- I am the first to admit that I hate leftovers past two days old. Spaghetti on day 3? It reminds me of my days at the Samford (university) cafeteria and let's just say- I can't go there (spaghetti, day one; manicotti, day two; shepherds pie, day 3; sloppy joes, day 4….you see where this is going).
But weird, random ingredients piling up in my pantry and/or fridge that haven't been cooked yet? We can work with that.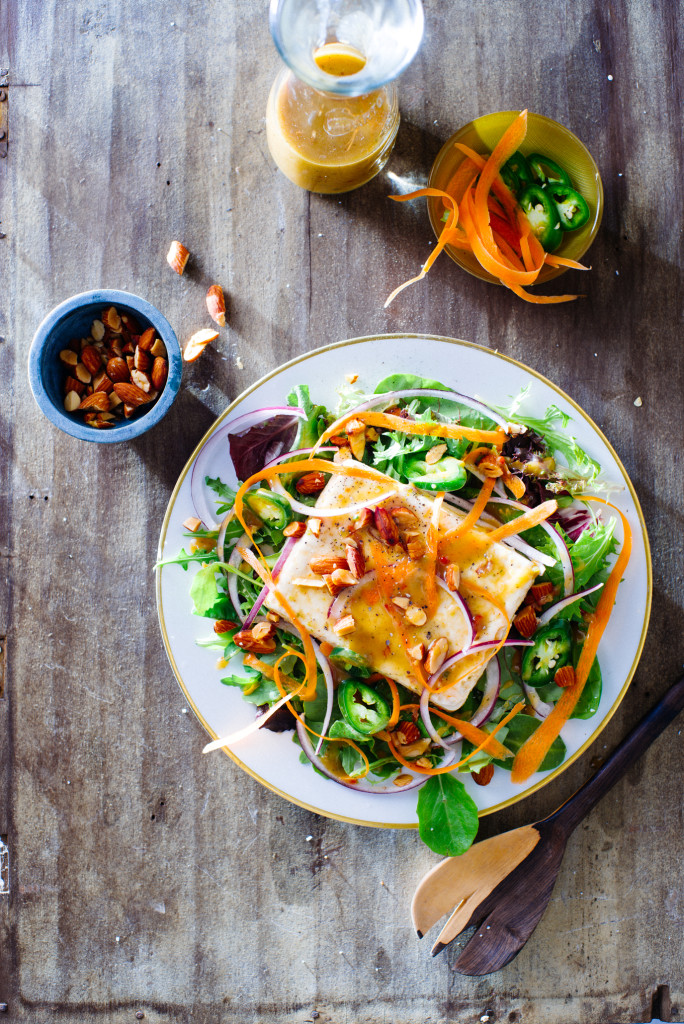 Which brings me to this month's focus- vegetarian recipes that attempt to use what I already have on hand. I'm thinking that if this goes well, I may just capitalize on it for months to come- highlighting some of the cool shoots I've been working on and sharing with you the ingredient leftover recipes. Let me know if this interests you!
On to tofu.
My inspiration for this salad came from my current favorite cookbook- Tokyo Cult Recipes– and their tofu salad. I noticed that the tofu they used was raw- as in not fried, roasted, or stir-fried- just all by it's lonesome, right there on top of raw salad greens and veggies. My tofu-hesitant self was thrown. But also intrigued…so here's what I learned.
Tofu 101: Huge shoutout to this article by the Kitchn for the helpful info! I highly recommend checking out the post if you are interested in learning more!
Tofu is a staple of Asian cuisine. Lots of people in Asia are super healthy. So I interpolate some connection there.
Tofu is made of soybeans and called bean curd! The difference in the two types of tofu comes from how much water is pressed out of the curd.
The more water you press out of tofu, the firmer it becomes and the longer it takes to cook. No water pressed = silken tofu; water pressed out=regular tofu.
Silken tofu is a beautiful thing; light and creamy, it ranges in texture from extra soft to medium to extra firm. It's perfect for smoothies, puddings, salad dressing and sauces!
***BAKING TIP ALERT*** Silken tofu can be used as an egg substitute in baking!
Regular tofu is also a beautiful thing. I used it in this spicy sweet tofu stir fry and it's easier to take on the flavors of what you are cooking when you work with regular tofu. To keep it crispy and light, it helps to press even more water out of the tofu before cooking using a cast iron skillet and lots of paper towels (which you can read more about in that recipe).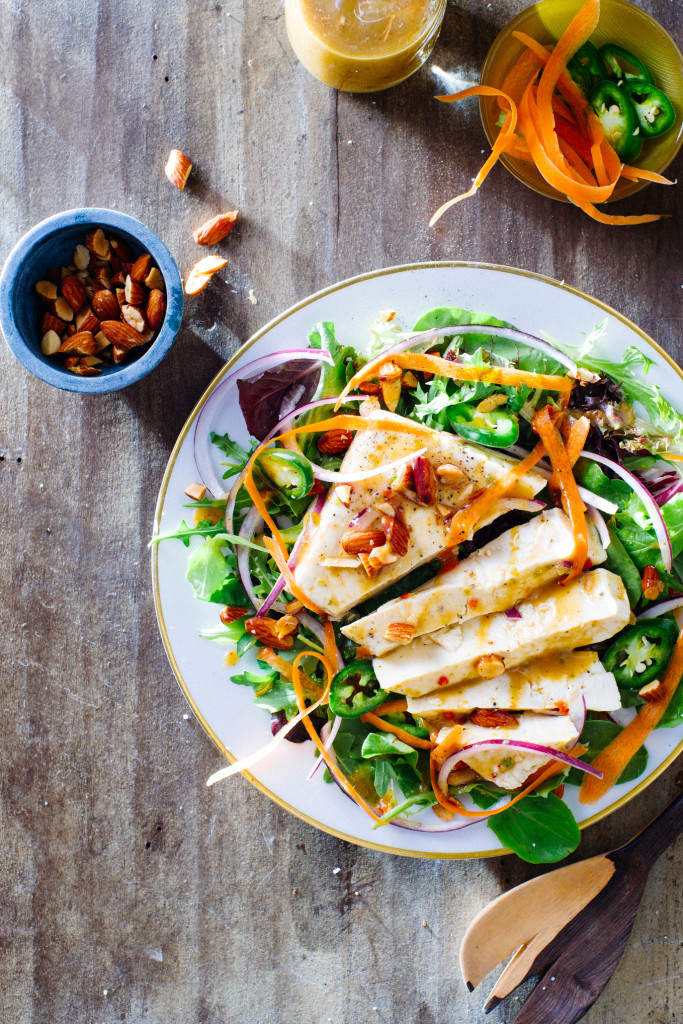 This week's recipe uses silken organic tofu from Trader Joe's as well as the Trader Joe's Spicy Peanut Vinaigrette (which I dig). It's SUPER simple to put together, will sincerely impress your vegan and vegetarian dinner guests and leaves you with leftover tofu to eat the next day that tastes EVEN YUMMIER.
Here's to tofu love- and never being intimidated by leftovers!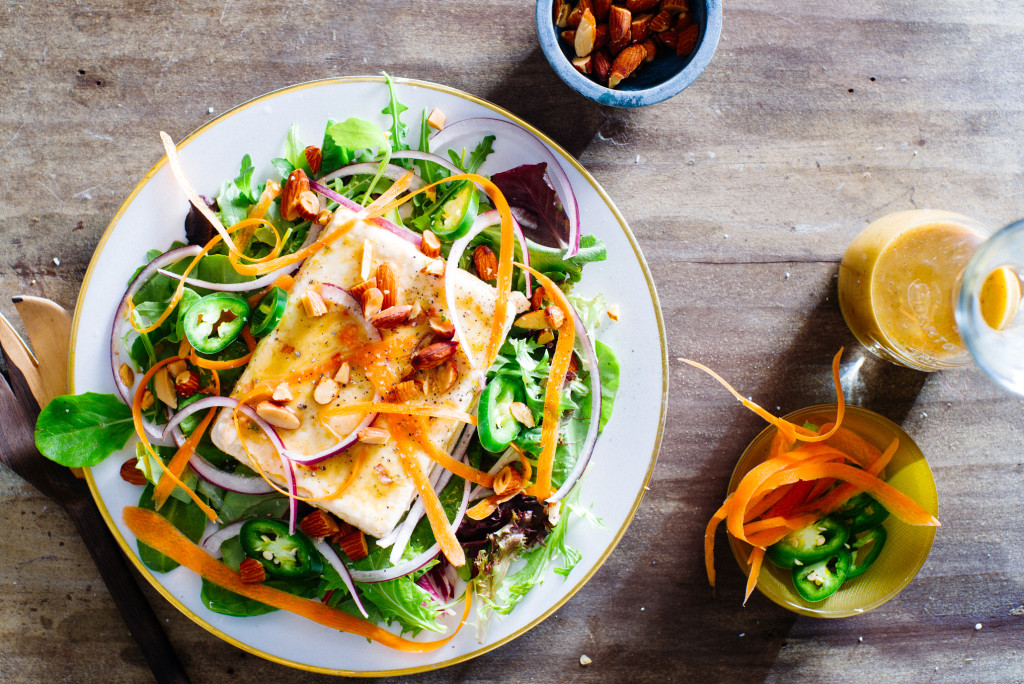 Spicy Tofu Salad with Peanut Vinaigrette (Recipe inspired by Tokyo: Cult Recipes Tofu Salad)
The only prep required in this recipe is marinating the tofu overnight in a pre-made, spicy peanut dressing. Once the tofu is marinated, just assemble your veggies, soak the red onions if you want less of a bite, and voila! Lunch!
Serves: 6
Time: Overnight marinating plus 15 minutes assembly time
What You Will Need:
19 ounces organic silken tofu, drained and cut in half lengthwise (so it forms two thinner planks)
1/2 cup Trader Joes Spicy Peanut Vinaigrette plus additional for drizzling
5 ounces organic mixed salad greens
1 carrot, peeled then thinly shaved into ribbons with a vegetable peeler
1/4 cup roasted salted almonds, roughly chopped
1/4 red onion, thinly sliced and soaked in cold water for 30 minutes
2 jalepenos, sliced
salt and freshly cracked pepper, to taste
What You Will Do:
Pour 1/2 cup dressing over tofu halves in 8 by 8 inch baking pan, making sure to coat the top and sides of the tofu well with dressing. Cover with plastic wrap and put in fridge overnight.
When you are ready, assemble the salad! Create a bed of salad greens, then top with one or two tofu planks. Add carrot ribbons, almonds, red onion, and jalepenos.
Right before serving, drizzle with additional dressing to taste. You can either serve the tofu plank(s) whole and allow guests to slice, or go ahead and slice it into pieces for easy serving.