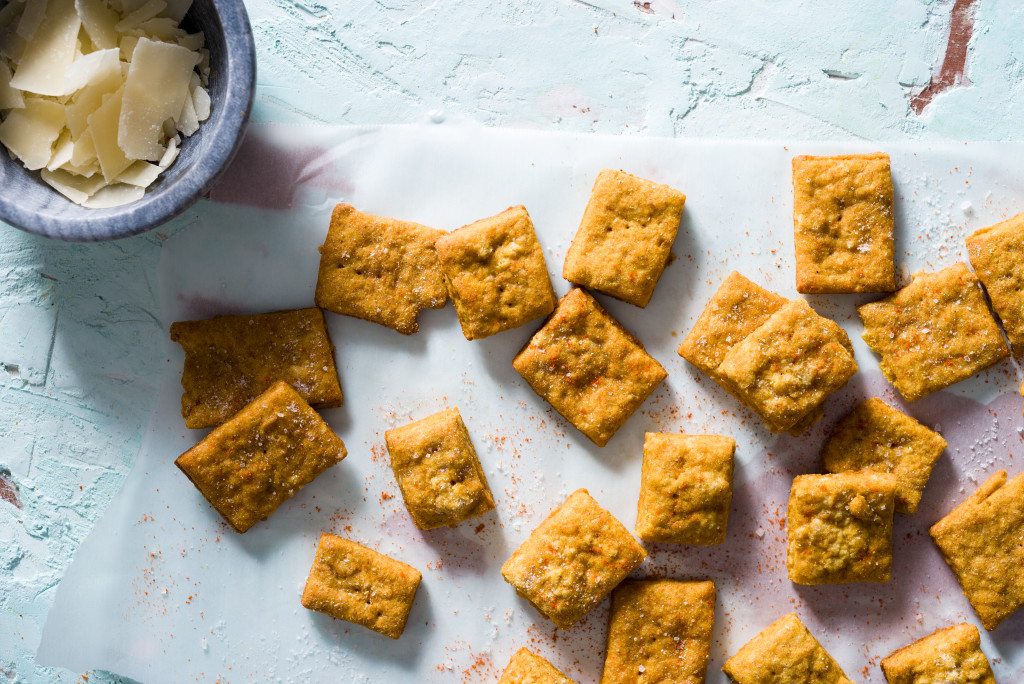 Imagine this: you are in an exotic market in India. Color fills your vision as you scan the crowd; eager vendors call to you, and the smell of pungent spice quickly hits your breath. It's exciting, and you eagerly anticipate tasting, seeing, and experiencing the flavor and energy that is all around you.
You walk towards an enthusiastic vendor, eyeing the mountains of brightly hued powders displayed in woven baskets in front of her. A bright orange one catches your eye, and you bend over to smell. It's pungent and sweet, a bit peppery with a hint of citrus. You scoop a heaping spoonful into your bag, hand the salesman a few coins and head home to uncover it.
**********************************************************
As much as I want that story about India and an exotic spice market to be part of my actual life experience, for now we'll chalk that up to food fantasy! But the appeal of turmeric is real. Ever since I first discovered the spice a few years ago while trying out a vegan queso dip recipe, I wanted to learn more- and figure out what was up with ALL the articles filling my news feed about it's benefits.
As you can see in the video, while the pronunciation of turmeric- and circumin-threw me for a bit of a loop, the health benefits of turmeric really are AWESOME. It's great for your brain, anti-free radical, and can be a preventative measure in your diet against diseases. But I needed help figuring out what to put it in. So….Let's discuss what to cook with turmeric:
*Egg scrambles and frittatas: Superfood Fritatta
*Roasted veggies (especially root vegetables, cauliflower, and potatoes): Roasted Cauliflower with Turmeric and Cumin
*Rice! Colorful Vegan Turmeric Rice
*Sauteed greens- like kale, collards and cabbage: Scrambled Tofu with Collards and Turmeric
*Soups: Golden Turmeric Chickpea Chicken Soup
*Smoothies Golden Milk Turmeric Smoothie
*Golden Milk! Just click here for Wellness Mama's recipe:)
Also, one last fun fact: PEPPER activates turmeric! I learned to add about 1/2 teaspoon ground black pepper to 1/4 cup ground turmeric. The pepper adds a bit of spice to the turmeric as well- YUM! Huge shout out to this article from the Kitchn about turmeric that helped make that list!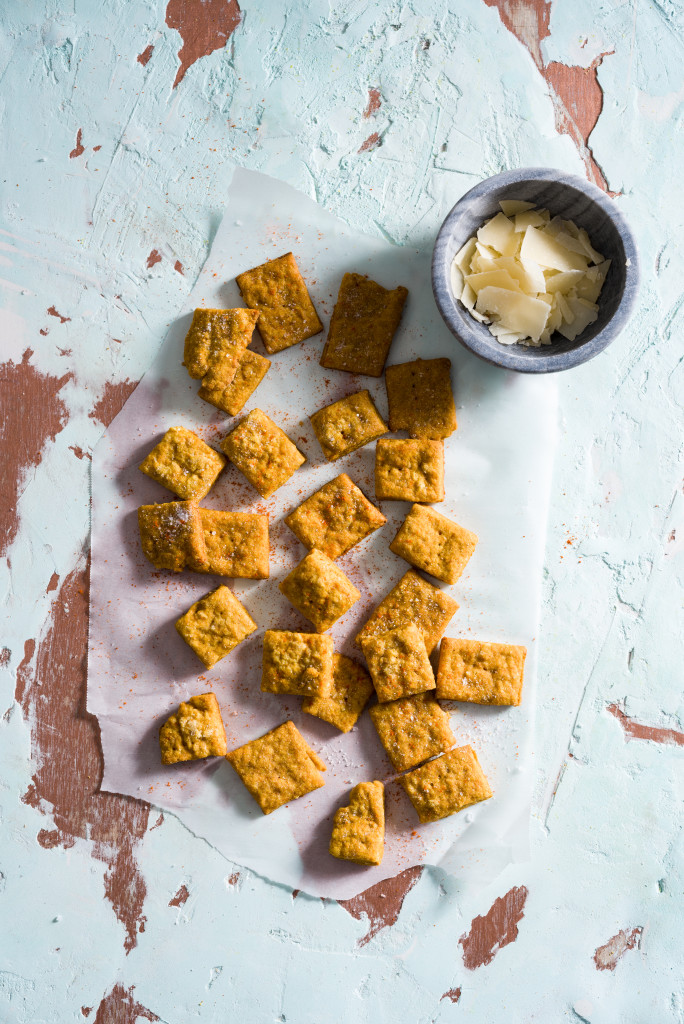 This week's recipe features turmeric in a super fun way– cheesy whole wheat turmeric crackers!! I don't know about y'all, but there are days when this thought- "Oh my gosh, CHEEZ-ITS!!" consumes my brain. Especially with a Coca-cola- yessssss, please.
But this recipe is EVEN tastier than a processed cheese cracker and has healthy turmeric, paprika and parmesan cheese, which we all know is a winning flavor combo in a baked cracker. Healthy snacking=WIN WIN WIN.
Alright! Let's stir up that turmeric, and eat those health benefits my friends! Loving people with food and nutrition, yessss pleeeaseee!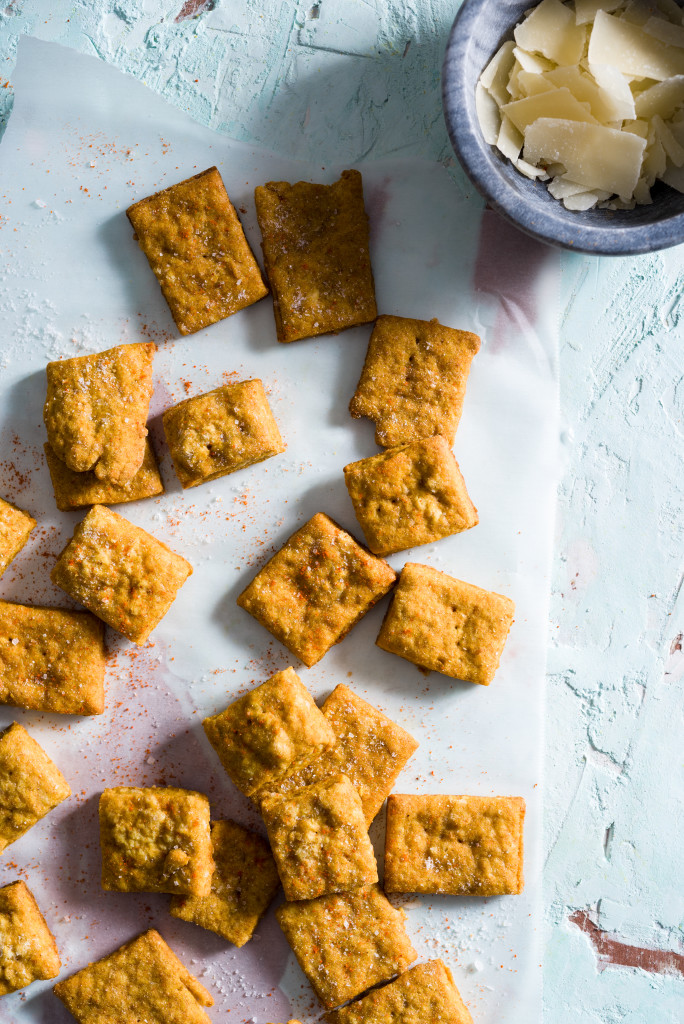 Cheesy Turmeric Whole Wheat Crackers (Recipe from food52 with the substitution of whole wheat flour by me)
This easy, baked cracker is addictive (my husband and I downed a few bags of them all on our own!) Healthier than a traditional processed cheese cracker, these guys are not hard to make and bake up a bunch of squares! Plus you can add more cayenne if you are feeding a spice-friendly crowd.
Time: Probably about an hour!
Yield: LOTS of crackers! Enough to feed a small party of 8-10.
What You Will Need
1 1/3 cups whole wheat flour

2 

teaspoons baking powder

2 

teaspoons white sugar

1 

teaspoon salt

3/4 

teaspoon ground turmeric

1/4 

teaspoon cayenne (you can add more here for more kick!)

2 

tablespoons nutritional yeast (you can buy this in bulk online or at your local healthy foods store)

3/4 

teaspoon ground paprika

1/2 

teaspoon garlic powder

1/2 

cup grated Parmesan cheese

1 

cup heavy cream

1 

egg

2 

tablespoons water

Coarse salt, for sprinkling
What You Will Do
Preheat your oven to 375°F (190°C).
In the bowl of a food processor, pulse together the flour, baking powder, sugar, salt, turmeric, cayenne, paprika, nutritional yeast, and garlic powder. Add the parmesan and pulse to combine.
With the machine running, add the cream in a steady stream, then pulse until the dough comes together in a ball.
Transfer to a lightly floured surface, then divide in half. Keep one half in the refrigerator while you work.
Roll the first half into a rectangle, about 1/4-inch thick. You can make the crackers thicker or thinner, depending on how crispy you want them. You'll just need to keep an eye on the baking time and take them out as soon as they start to brown.
Using a pastry wheel or pizza cutter or sharp knife, slice the dough into small 1-inch squares. Transfer them to a parchment-lined baking sheet (you can transfer the dough first then cut them if that's easier).
Whisk together the egg and water and lightly brush the egg wash over the tops of the crackers.
Poke holes in each cracker with a fork if you are feeling motivated; sprinkle with coarse salt, and bake for about 15 minutes, or until they start to brown around the edges. Remove from the oven and let cool—they'll crisp as they sit. Repeat with the second half of dough.
ENJOY the cheesy turmeric-y goodness!