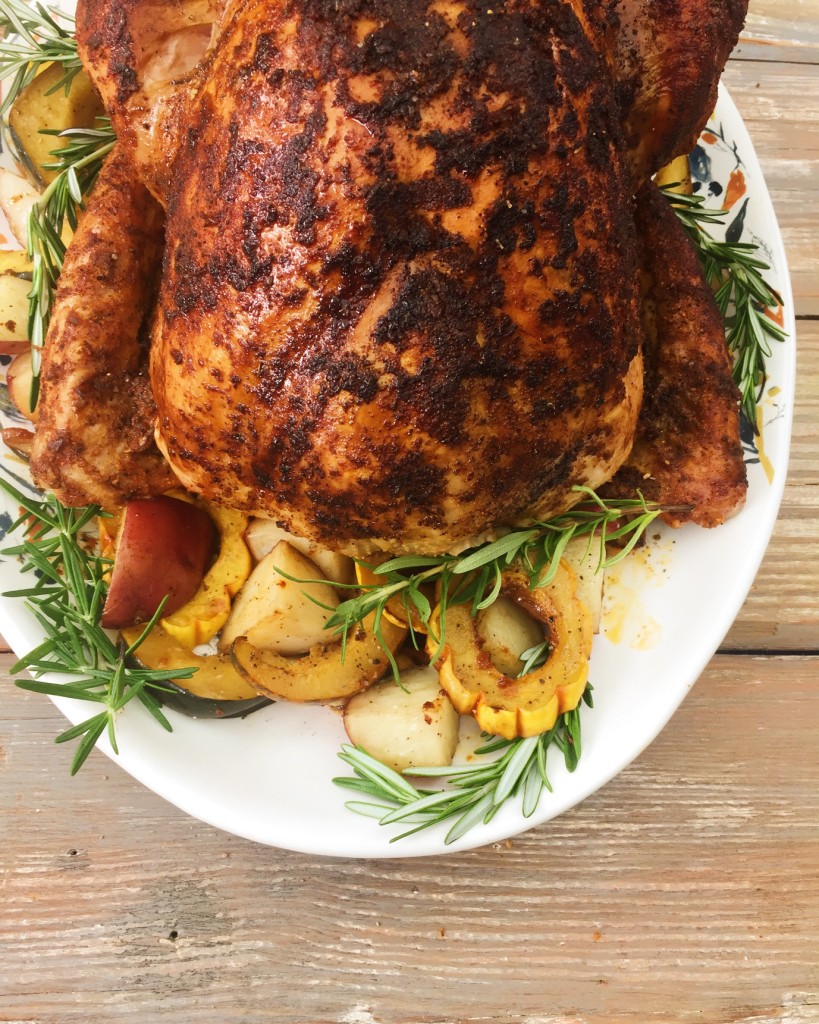 Y'all! The day is ALMOST HERE!!
If you are like me, you are pretty much giddy with happiness. Pumpkin + turkey + cranberry = JOY.
In honor of the best of holidays, here is my Top Ten List of the essentials- from coconut oil to the back buddy- you MUST HAVE to thrive this week.
NUTIVA Organic Coconut Oil, butter flavor : This stuff is the jam. Literally. I put it IN MY COFFEE (gasp, it's so flipping good); schemear it on toast for breakfast; stir it into quinoa to make it taste yummy; and pour it, melted, over popcorn. #yes
2. Libby's Pumpkin Puree: The gold standard of all pumpkin purees. Others get a gold ribbon compared to Libby's blue! It's perfect, adds moisture to baked goods and is flawless in a smoothie. They even breed their own line of pumpkins so this tastes good. USE IT IN YOUR PIE or else. 😉
3. Kerrygold Salted Butter: Y'all. Y'all. The. Best. Butter. I love using the salted version as part of a brown sugar crumble on fall apples; in Salted Brown Butter Rice Krispie Treats; melted between stacks of warm chocolate chip pancakes.
4. Sun Warrior Chocolate Protein Plus Powder: Oh my geez. I LOVE this stuff. As you know, the holidays involve LOTS of activities and require your energy in a big way. This is the BEST to fuel you in the mornings in a Smoothie or as an afternoon snack!. This brand also sent me a brand new box of protein powder after I spilled mine all over the floor. Love them.
5. Sorta Awesome podcast. Y'all!! These ladies!! I absolutely adore them. This podcast is the perfect pick-me-up, stress reliever and hilarious distraction in the midst of cooking craziness. In the past week alone I learned from this podcast why you should take a bath surrounded by glow sticks, who makes the best spaghetti sauce and a natural remedy for travel anxiety (yes, it's legal).
6. The Back Buddy: Speaking of stress reliever- get those kinks out y'all!! There is nothing like standing on your feet all morning cooking and lifting that hefty turkey, only to realize that your feet hurt and your shoulders are in knots. This is like the Lord's gift to sore muscles.

7. Equal Exchange Panama 80% Dark Chocolate Bar: The most delicious dark chocolate bar I've ever had. It's rich and roasty, with a hit of sweetness at the end. Nutritionally I think it probably saves your life. So good! And money from this bar goes to help the farmers who made it!

8. Dark roast coffee: Perk up everyone!! It's 6 a.m. and time to put that bird in the oven. You know what you need? COFFEE. And dark roast is my fave- particularly Peet's brand. It's easy to find on Amazon or at your local grocery store. AND it's super amazing with #1 on the list stirred in. Whole beans preferred:)

9. Yoga by Adrienne– I just discovered Adrienne on YouTube (after finding out about her via Sorta Awesome). She is great!! Her "strength" workout is one of my faves because she pushes you (you are definitely doing some toning) but it's not so hard that you swear off the workout forever (uhhmmm, maybe I've done that a time or two). Anyway- you are bound to need some alone time over the holidays so roll out that mat.
10. Natural Calm supplement. THE BEST WAY TO FALL ASLEEP. I know, I know, you have been up late watching Gilmore Girls and are now so wired on sugar and coffee that you may be awake for another 6 hours. Have no fear, Natural Calm is here! It is one of my favorite products to gently and naturally help you wind down.
Alright you Thanksgiving warriors! I hope you have the best time cooking, laughing, loving, and snoozing this week. Blessings my friends!