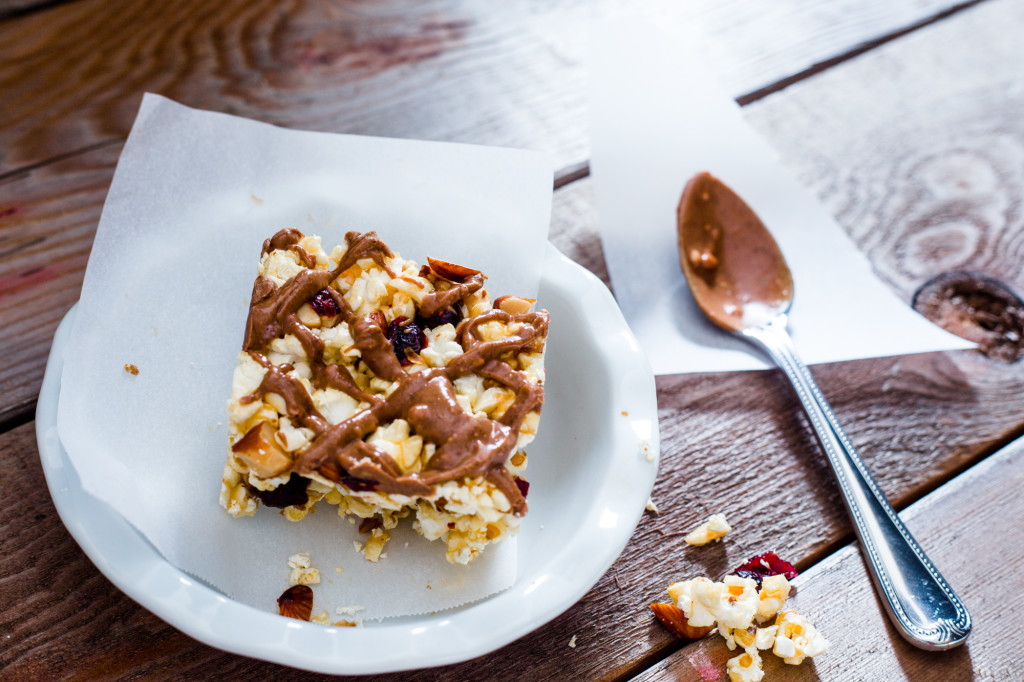 Did you ever make popcorn bars as a kid?
For our family, popcorn bars were akin to the joy experienced by Christmas stockings and dibs on the front seat of the station wagon. In fact, my best memories with them bring me back to my mom. I remember cool Friday afternoons, when the weather smelled like roast leaves and I couldn't help but be beckoned inside. A quick sprint from the school bus drop-off landed me exactly where I wanted to be- with my momma in the kitchen.
The original pop corn ball recipe we made came from my grandmother- she loved to make these- but her version was more of a hybrid kettle corn variety. Laden with butter and sugar, they were delicious, but probably also left my mom with kids hopped up on marshmallows (this effect, however, I don't quite remember). An incredibly hard-working nurse, my mom was a trooper to say the least for letting us imbibe.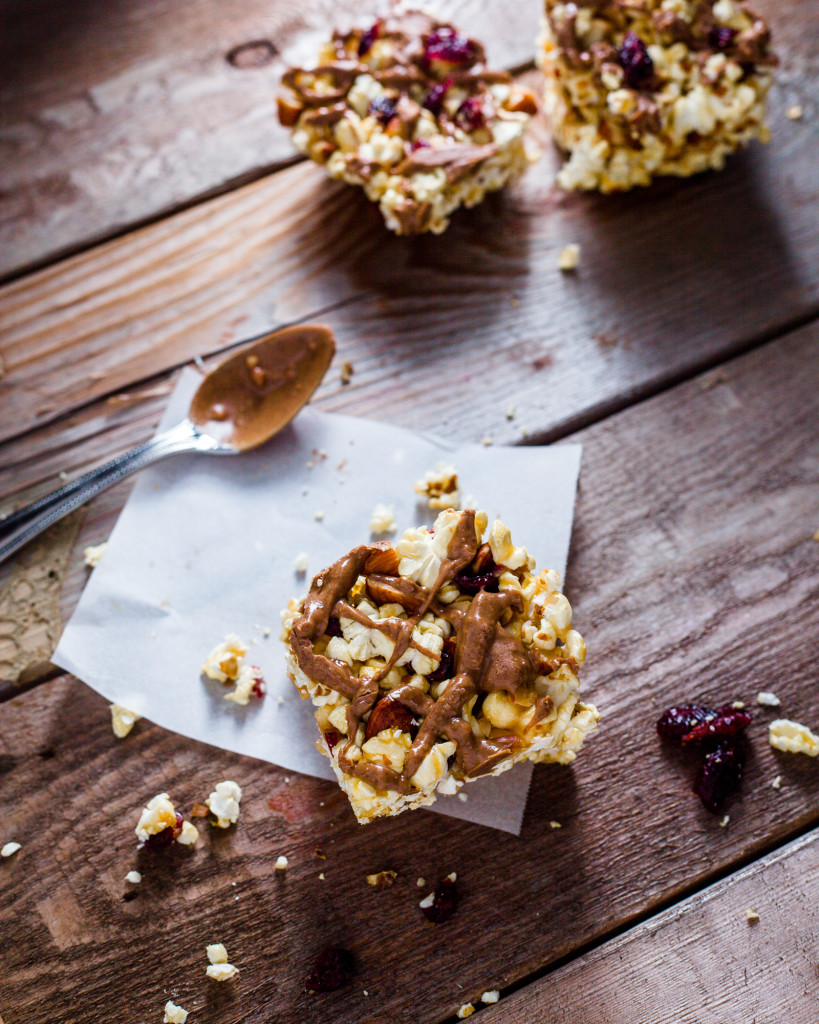 This barred version is my spin; a take on the traditionally sweet treat, but lightened a tad with honey and coconut oil instead of butter. The real star, though, is the ever delicious combo of salted almonds with popcorn. Almonds, I discovered, are naturally awesome- high in vitamins B and E, calcium, iron, and fatty acids. They can even balance your digestive system, aid the nervous system, and provide extra energy to boot! For someone like me, a long devoted peanut butter addict, this introduction to a nut butter topping  that I dig (and can substitute for peanut in recipes if I choose) and provides a nutritional boost- my kind of bar.
Plus, these bars' roasty, salty-sweet taste is dynamite delicious, easy to make, and an excellent road trip snack, as my husband and I tested out a few weeks ago. Just doing what we can for the recipes.
So pop some corn, buy some great quality almonds, come inside from the cold, and get ready for some fun memories in the kitchen.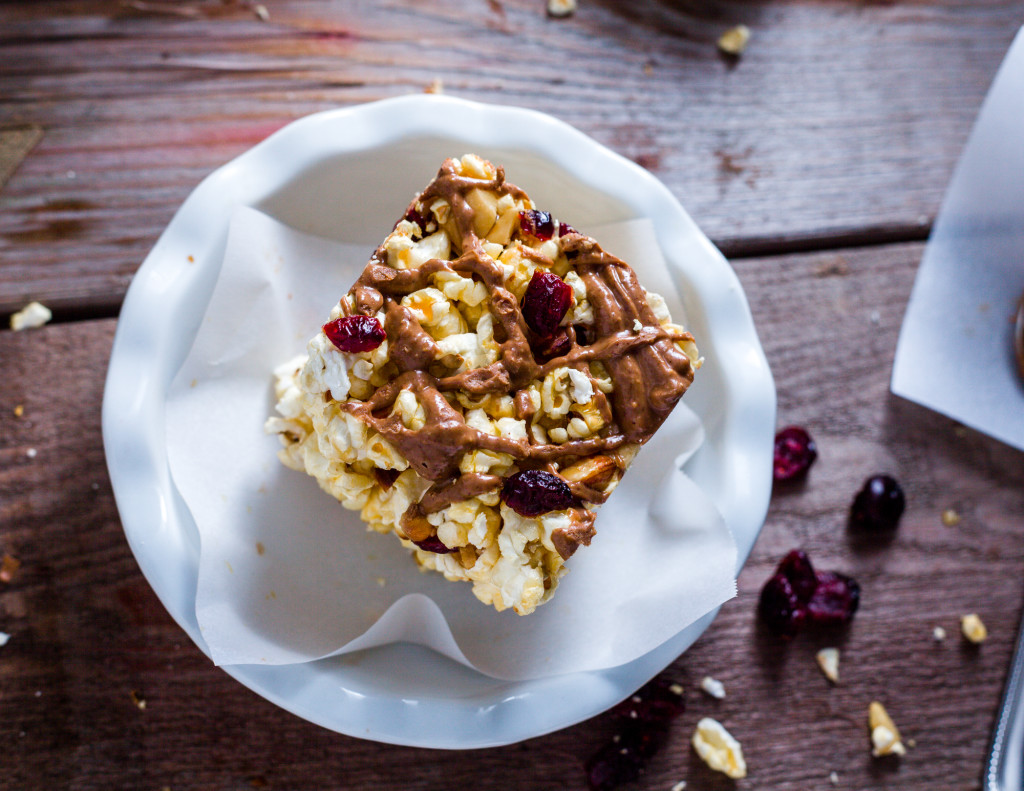 Almond Cranberry Popcorn Bars with Almond Butter Drizzle
What You Will Need:
10 cups popped popcorn (I like the canola oil variety)
1/2 cup good quality honey
2 tablespoons coconut oil
1 cup coarsely chopped roasted, salted almonds
1/3 to 2/3 cup dried cranberries (or dried fruit of your choice)
2 tablespoons almond butter
1.75 ounces chocolate of your choice (I used hazelnut milk chocolate for this recipe)
What You Will Do:
1. Grease an 8 by 8 inch square pan with cooking spray.
2. Combine popcorn, coarsely chopped almonds, and dried cranberries in a large bowl.
3. Bring honey and coconut oil to a boil in a medium saucepan over medium heat. Once the edges are boiling, continue to boil for three minutes (it will foam up pretty well, and that's ok!), stirring occasionally.
4. Once ready, take the honey syrup off of the heat and pour directly over the popcorn mixture (if you let it sit in the pan, it might burn). Use a large spatutal to evenly coat the popcorn, nuts and cranberries with the syrup, making sure to watch your hands (this mixture is hot), and scrape all of the syrup and nuts/cranberries that might have floated to the bottom of the bowl up and through the mixture.
5. Once combined, pour mixture into greased pan and press down with hands. It will look like a lot of popcorn, but just keep pressing until it is flat and even.
6. Heat chocolate in a glass bowl in the microwave on high for 45 seconds. Add two tablespoons almond butter, then heat in 15 second intervals, stirring after each interval with a fork, until chocolate is melted and evenly combined.
7. Use a spoon to lightly pour mixture in a criss cross pattern over the bars. Put in the refrigerator to cool for at least 15 minutes.
Enjoy!