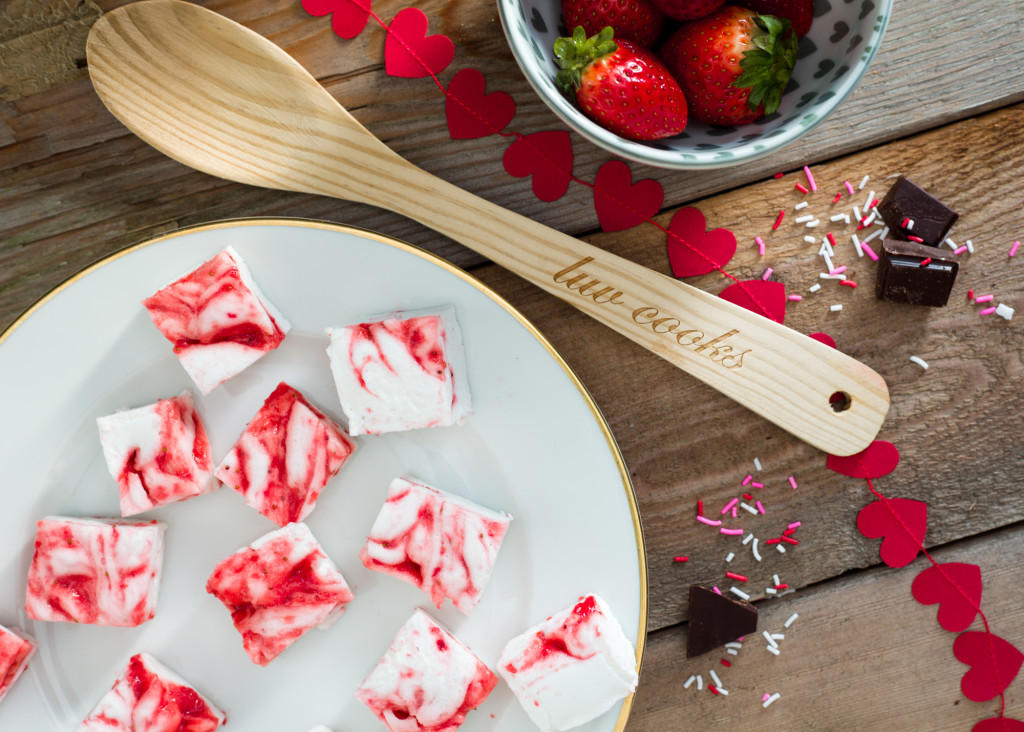 For readers of
The LovingKind
, you are, I am sure, well aware of how amazing
Mattye
is. She is a creative, a dreamer, a designer, a card-making extroidinare, and the BEST baker of gingerbread cookies I have ever met.
She's also incredible at love. You know, the kind of care that decorates said gingerbread cookies for a certain friends' post wedding party with a royal icing dress and accompanying bow-tie clad gingerbread man. The kind of hutzpah that feels so strongly about leadership that she is willing to step out of her comfort zone and give her talents on behalf of countless people through creative ministry. The kind of joy that squeals in delight over a candle and/or tray that she knows will make a friend's new home just perfect for her. That kind of love.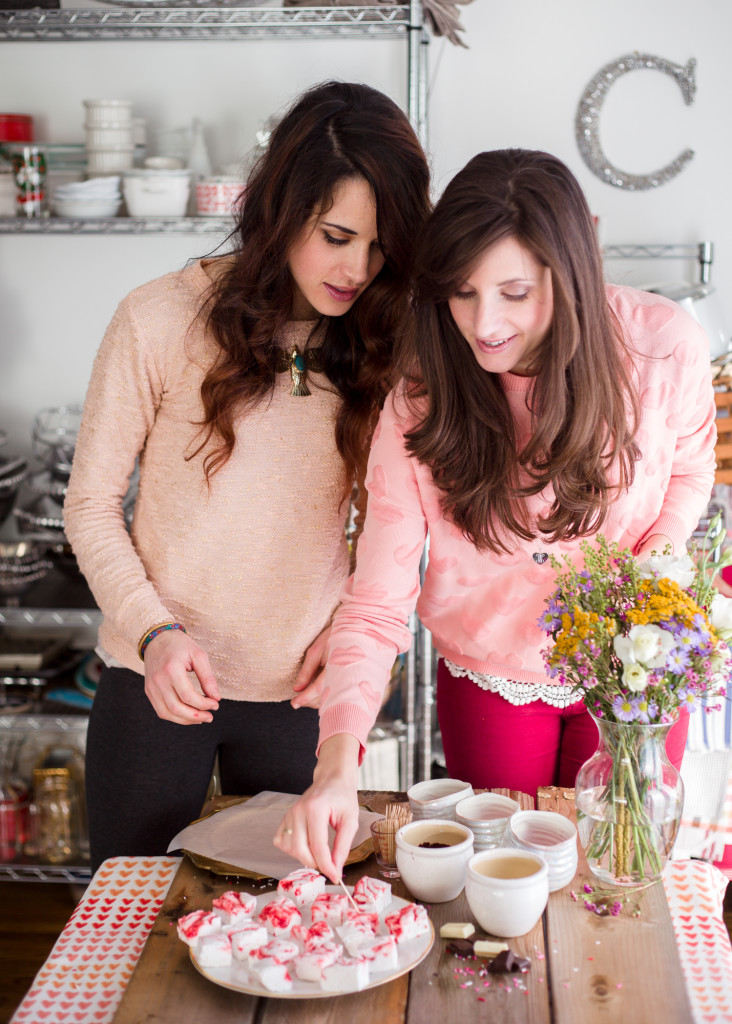 And this week, the week of the day of love, I am so excited for y'all to hear from Mattye on how we can best celebrate those special moments with the ones we love- marshmallows and all. Take it away Mattye!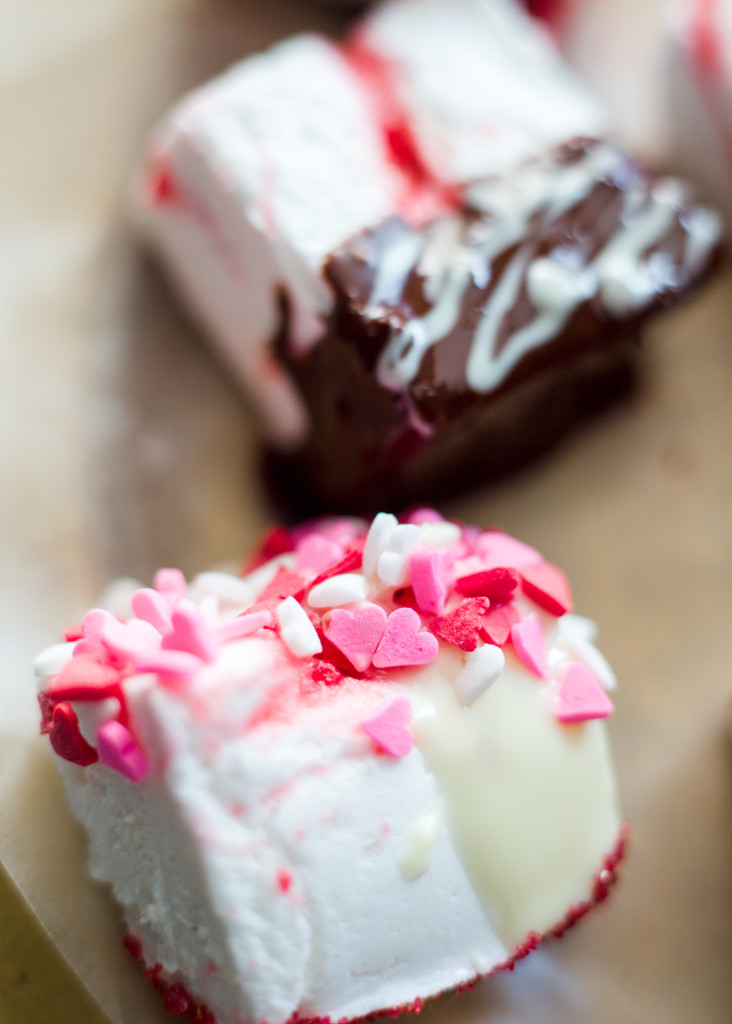 I love to celebrate. From big life moments to everyday ones, I believe celebrating is one of our greatest opportunities to enjoy life and make it meaningful.
I looked up the word "celebrate," and Merriam-Webster had a couple definitions such as, "to do something special or enjoyable for an important event, occasion, holiday, etc." and "to praise (someone or something): to say that (someone or something) is great or important."
But, perhaps my favorite definition was this one: "to mark by festivities or other deviation from routine."
It's the "deviation from routine" that makes celebrations so enjoyable and special. When we take a moment to change our routine and say "you are special," "this moment is important," or "I'm grateful," our environment changes and people are happy. As a believer in celebration, and I want to keep finding ways to be a better celebrator! In fact, one of my 2015 goals is to celebrate well (#33).
This got me wondering, what keeps us from celebrating well? I think the answer is that we often overlook chances to celebrate because we are intimidated, assuming we have to create an over-the-top expression for it to be a celebration. Additionally, as is so easy to do, we simply get so caught in our everyday flow, that we just don't take the time to think about celebrating, much less to actually do it.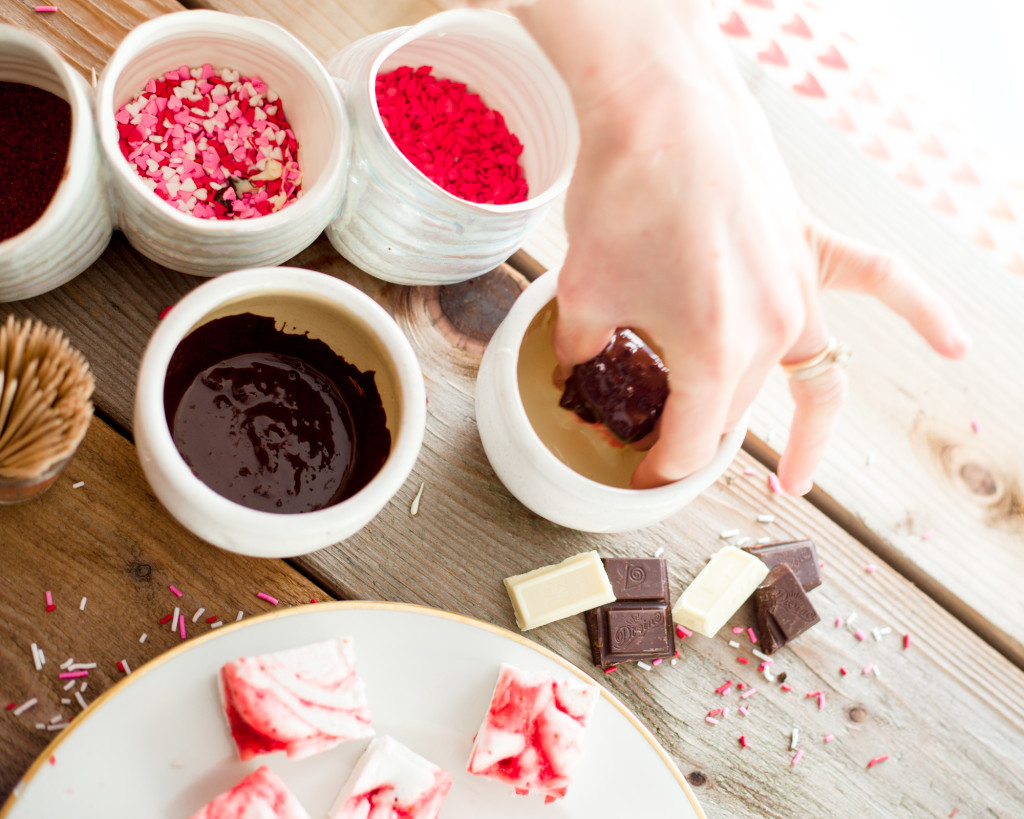 So, as Valentine's Day, my favorite holiday, approaches, I wanted to share some thoughts with you to help make celebrating feel doable. And of course, Callie and I collaborated to share a fun, Valentine treat with you to inspire you in your own celebration of love this year! I hope the ideas I'm going to share will help you view celebrating in a new way, and make you realize that YOU can be a great celebrator!
There are so many ways to make moments, days, and people extra-special, and here are some that I practice, and want to continue doing more and more!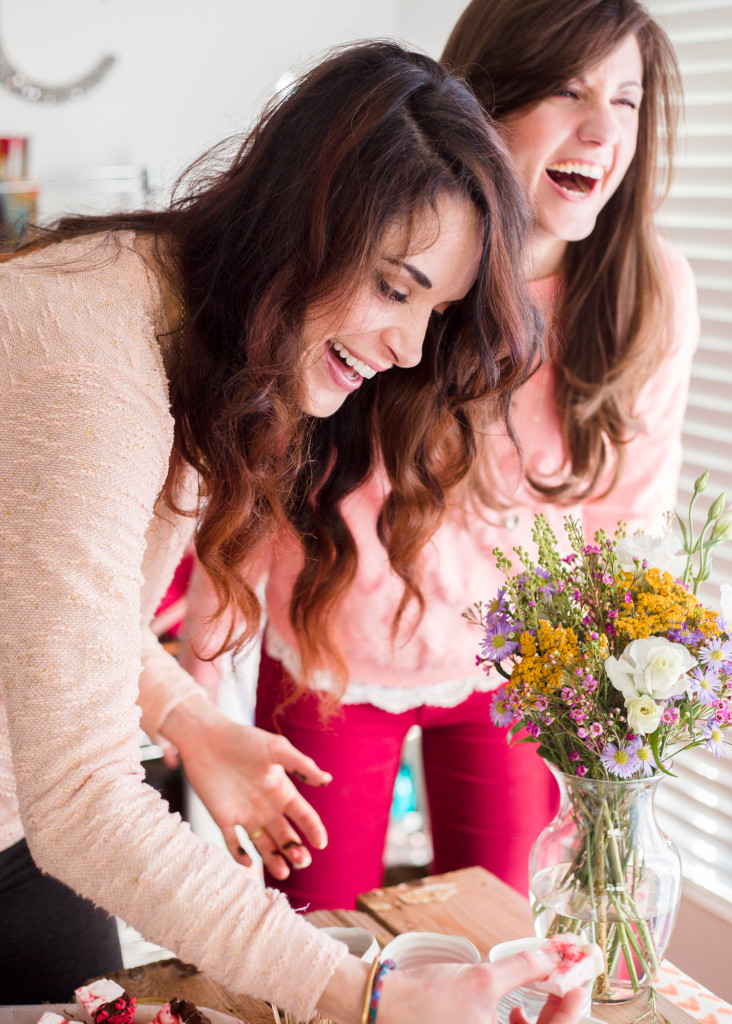 1. Mark your calendar
The first step to celebrating well is to know what you want to celebrate. Marking your calendar for birthdays, holidays, and special occasions, is a great way to say "this is important," which lays the foundation for making a heartfelt celebration happen. In the midst of your planning, don't forget to leave room for spontaneous and everyday celebrations along the way! This could be anything from sending a note to a friend to say "I'm celebrating our friendship," to baking cookies to celebrate that it's Friday!
2. Dress for the occasion
As you can see in the photos in this post, I embrace this idea wholeheartedly in my Valentine-heart sweater and love-red pants! Whether you're putting on your favorite dress for a date with your husband, wearing your favorite team's colors, or covering yourself in hearts for Valentine's Day, a great way to celebrate is to dress for the moment! Show people that you are excited and grateful through a celebratory ensemble.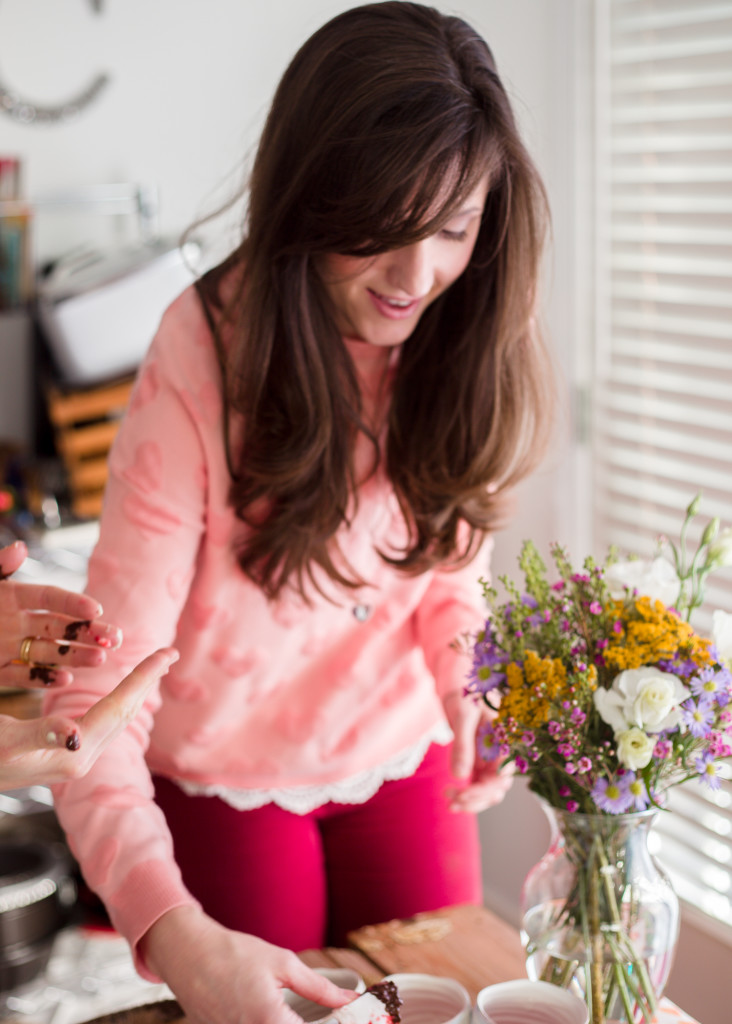 3. Give a card
If you spend a few moments in the TLK Shop, you'll see how much I adore greeting cards! Whether creating them or giving them, cards are one of my absolute favorite ways to celebrate what matters. A card is a simple, yet extremely thoughtful way to celebrate the moments and people you love! Whether it be a note to say, "I'm thinking of you," a "Happy Birthday" card, or a "Congratulations" for a special milestone or accomplishment, handwritten cards are like mini celebrations in an envelope!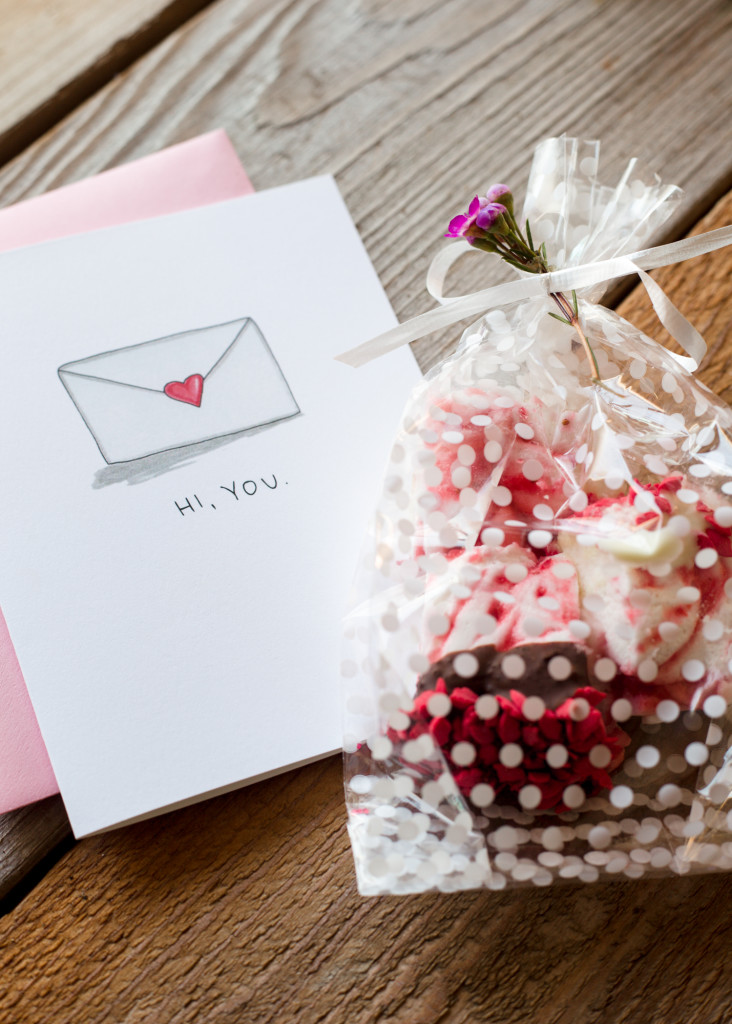 4. Make treats to enjoy and give
Just like the strawberry marshmallows we're sharing with you today, a special treat is a tasty way to celebrate life! I love our strawberry marshmallows because they reflect the color of the holiday, and by dipping them in chocolate and sprinkles they feel whimsical, special and handmade. If you're unsure about giving the homemade marshmallows a go, you can buy marshmallows and just do the chocolate and sprinkle dipping by hand! Last year for the launch of The LovingKind,which was on Valentine's Day, I created goody bags to give out to friends with a tag introducing The LovingKind and with a handwritten note. This treat not only celebrated the holiday, but also an exciting launch! I had so much fun giving them and seeing people "deviate from routine" and enjoy a moment of celebration with their treat!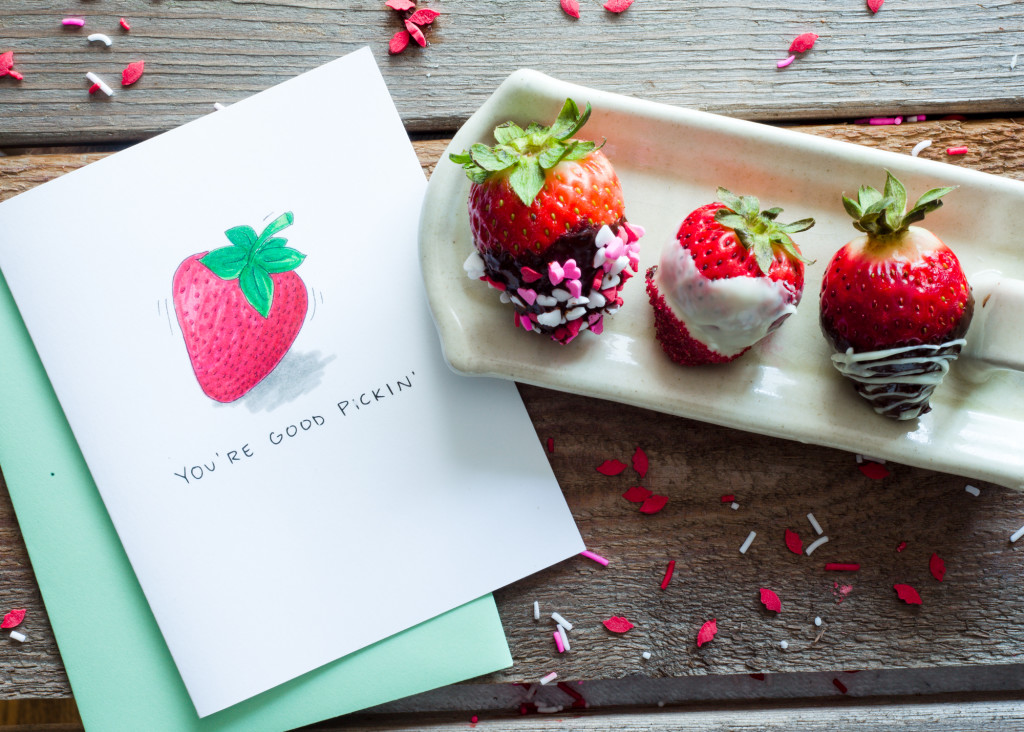 5. Gather people
There is nothing like the energy of people gathered together for a celebration. From my wedding reception, the biggest celebration of my life, to our low-key Christmas cookie swap we hosted this year, when gathered with others, there is a special feeling in the air of "this matters." If you want to gather with others and plan an elaborate menu, gorgeous decorations, and a guest list two miles long, go for it—it sounds amazing! But just remember, it's the heart behind the celebration that matters most. So, be confident that with the right heart, you can have just as meaningful moments with people around a pot of your favorite homemade soup as at an event trimmed, decked, and covered with all the fixin's you can dream up!
6. Decorate
This is the area I am working on and hope to keep getting better at because I love when I enter people's homes and can feel the spirit of celebration. If your entire home feels like too much, just pick one room or just go for the front door! One of my friends, Blaine Taylor, always has something on her front door celebrating the current season, and it makes me so happy every time I pass her home! Putting festive items around you and others just makes the space feel special and it's a reminder to celebrate.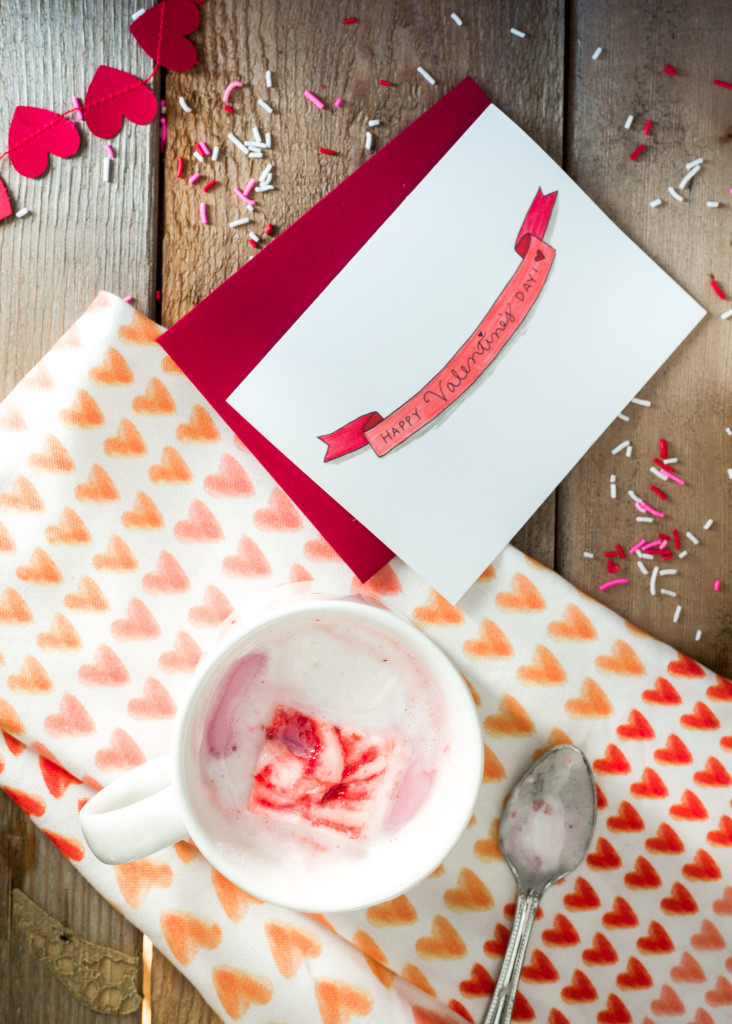 Friends, I hope today you've found new ideas, and the heart of your inner celebrator has been encouraged or rekindled. In 2015, I hope you find yourself celebrating more and enjoying this precious life you've been given. Happy Valentine's Day!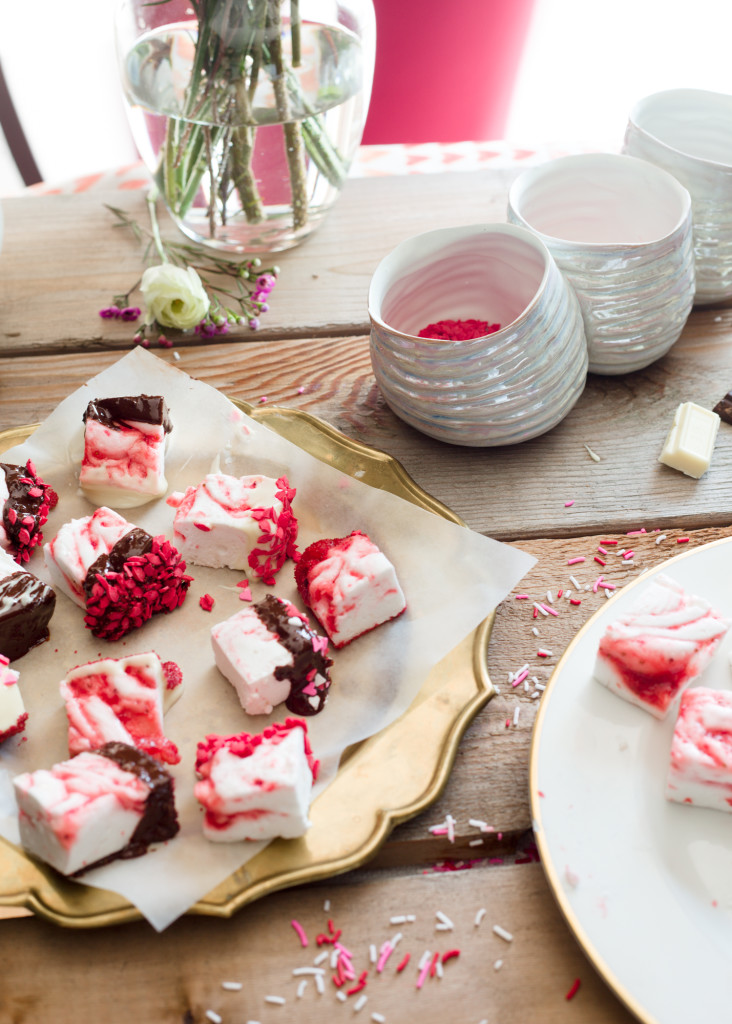 Strawberry Swirl Marshmallows
What you will need for the marshmallows:
1/2 to 1/4 cup confectioners' sugar
1 cup cold filtered water, divided
2 tablespoons plus 2 1/2 teaspoons unflavored gelatin
2 cups granulated sugar
1/2 cup light corn syrup
1/4 teaspoon salt
2 large egg whites
1 teaspoon vanilla
1/2 teaspoon almond extract
For the strawberry swirl:
1 pint fresh strawberries, halved and tops removed
1 tablespoon sugar
What You Will Do:
1. Spray the bottom and sides of a 9×13-inch baking pan well with cooking spray. Scoop about ¼ to ½ cup confectioners' sugar into the pan and toss the sugar around to coat the top and sides of the pan, discarding extra sugar.
2. In a large bowl, pour ½ cup cold water over the gelatin. Let it sit for a few minutes to soften.
3. Put halved strawberries and sugar into a blender to sit while you prepare the marshmallows.
4. In a heavy saucepan, cook the granulated sugar, corn syrup, remaining ½ cup water, and salt over low heat. Stir the mixture with a wooden spoon until all of the sugar is dissolved. Increase heat to medium, and bring the mixture to a boil. Cook without stirring the mixture reaches 240 degrees on a candy thermometer. Remove pan from heat, and pour sugar mixture over gelatin mixture (don't worry if you now have a gelatin dome- just keep blending), stirring until dissolved.
5. Beat mixture with a mixer on high speed until fluffy and tripled in size, about seven to ten minutes. Once it gets so sticky that your beaters aren't really working anymore- stop there!
6. In the bowl of a separate stand mixer, beat egg whites until stiff peaks form, about 2 minutes. Beat in vanilla and almond extract.
7. Add egg white mixture gently into the sugar mixture with your wooden spoon until combined and still fluffy.
8. Pour the mixture into prepared pan, using an oiled spatula (or spoon) to spread the mixture evenly.
9. Make the strawberry puree: Blend the strawberries in blender until smooth.
10. Use a wooden spoon to dallop 3/4 cup strawberry puree in center, then corners of pan. Using a toothpick, make a pretty swirl pattern, gently combining the strawberry puree with the marshmallows.
11. Chill in the fridge for a few hours and up to a day. I found it helpful to spray a piece of plastic wrap with cooking spray, then stretch it over the top of the marshmallows.
12. To remove the marshmallows, run a knife around the edges of the pan. Cut marshmallows in to a grid of your desired size. Use a spatula or knife to remove. Enjoy!*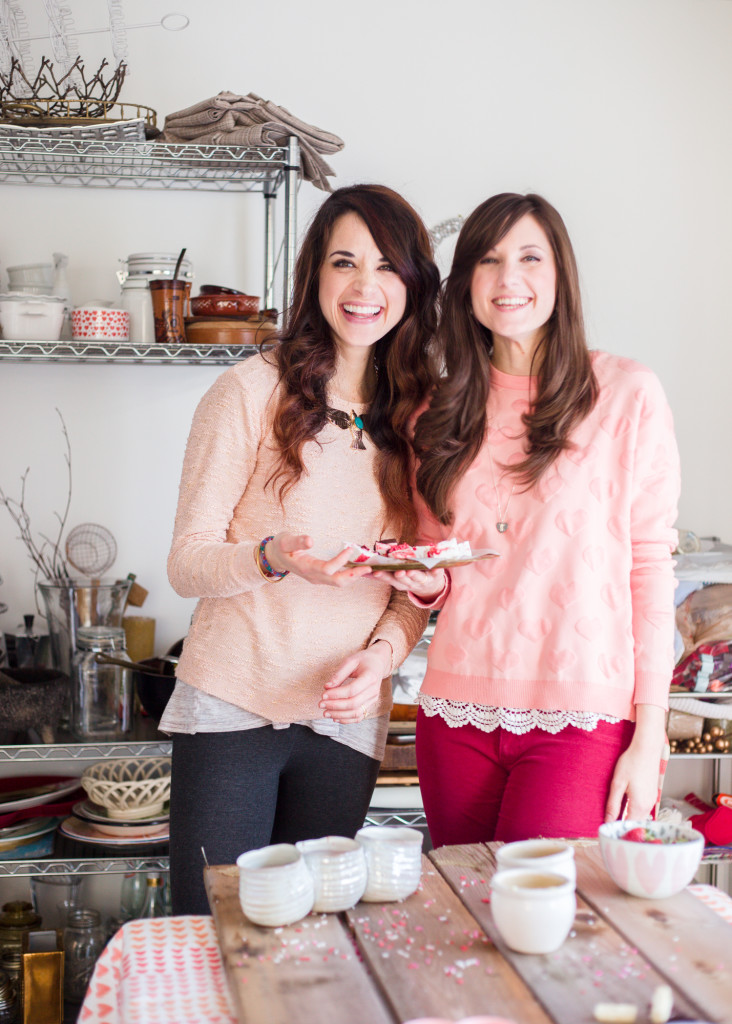 *As you can see, Mattye and I fully embraced the celebratory nature of Valentine's Day treats with a fun white and dark chocolate dipping station! All you need is some melted chocolate and festive sprinkles. We melted a Divine ginger chocolate bar and white baking chocolate. Once dipped, sprinkle the mallows to your heart's content! This is the one case where double-dipping is officially allowed! :)Let the taste-testing begin!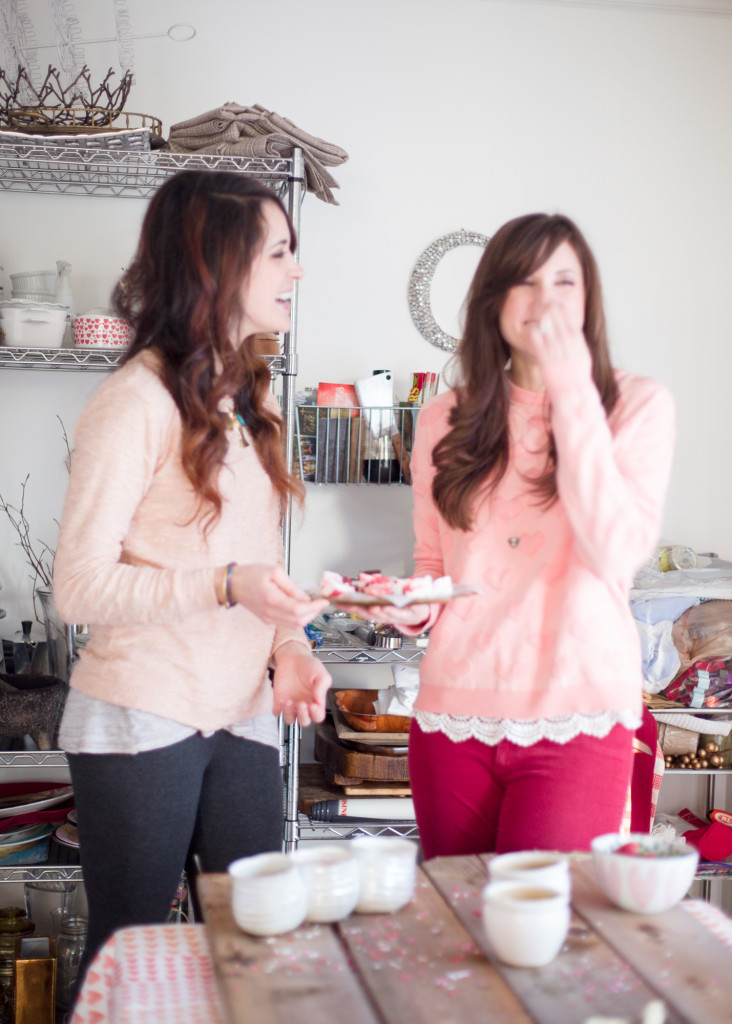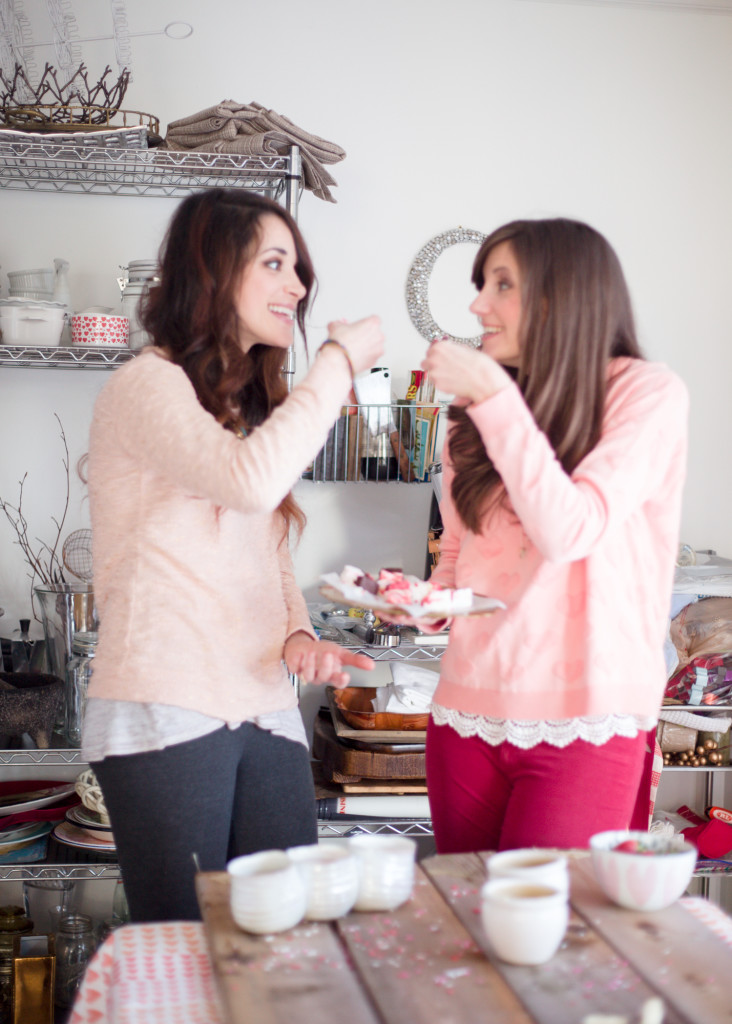 Cheers to homemade treats!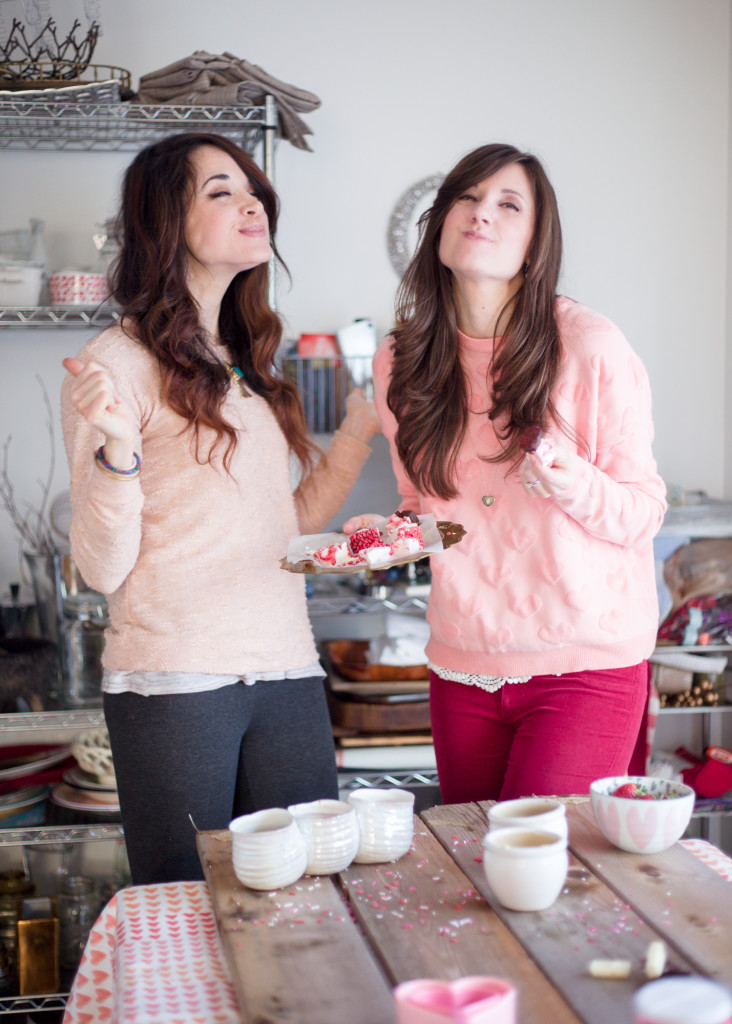 The true focus of our laughter…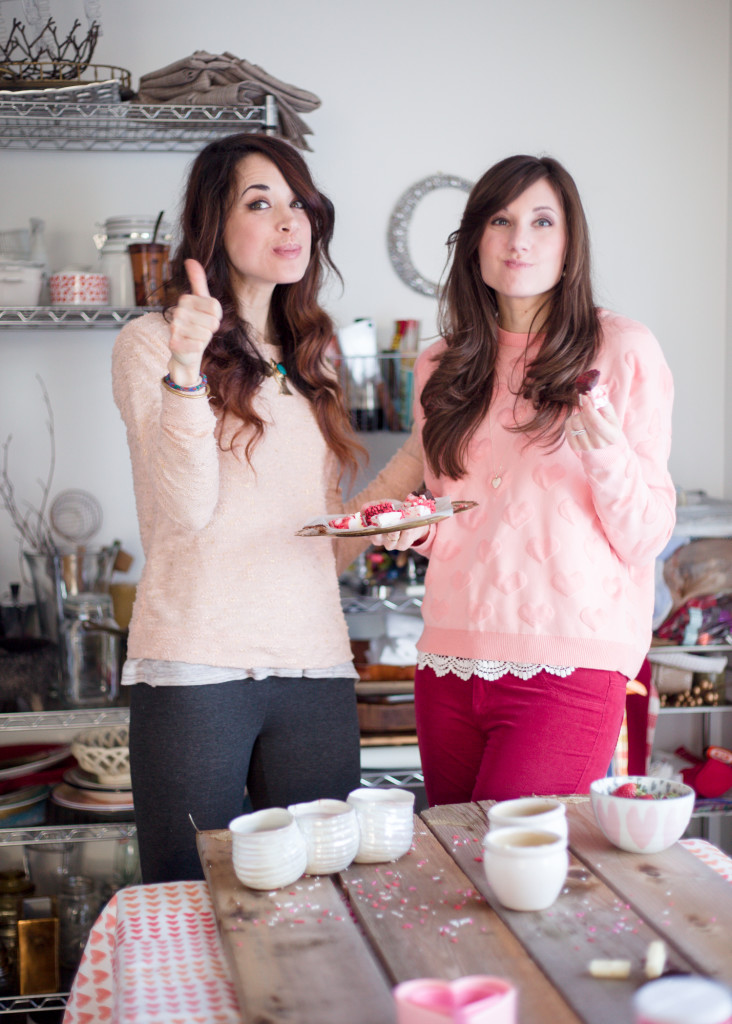 As you can see, these mallows are officially endorsed by Mattye and I:)Happy Valentine's Day luvs!