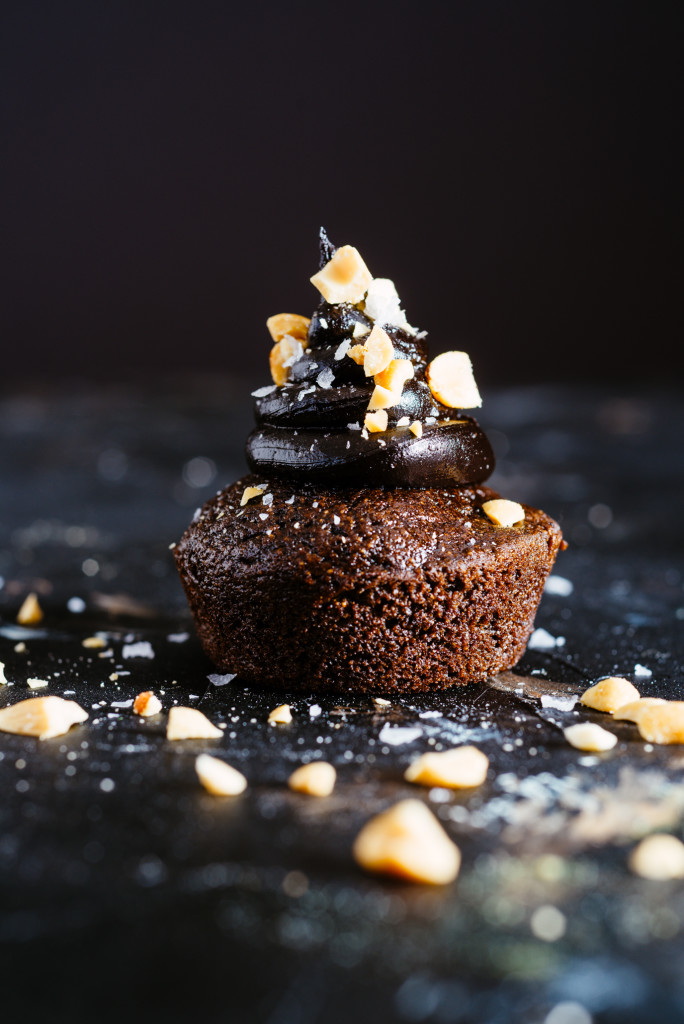 Glory hallelujah!! It's summertime, and all I can think about is avocados. I want avocados on my tacos, in (last week's) guacamole, in the tacos *spoiler alert* that will appear next week.
But I never thought I would want avocados in cupcakes. That is, until I came across Laura Lea Balanced and clicked on her "Desserts" tab. OH MY GEEZZ the creativity, beauty, and ingenuity of her healthy recipes are phenomenal! Strawberry shortcakes with coconut cashew cream, blueberry lime popsicles, Samoas macaroons, and… avocado cupcakes with chocolate orange buttercream. Brilliant.
I absolutely love Laura's creativity and how she replaces the typical white sugar and butter found in most cupcakes (and most buttercream recipes) and utilizes avocado. These cupcakes have a fudge-chocolatey texture, but lack the saccharine sweetness of a typical chocolate cake. Plus they are full of nutrients, use spelt flour, and the non-dairy buttercream is so wildly addictive that I wanted to eat it on it's own.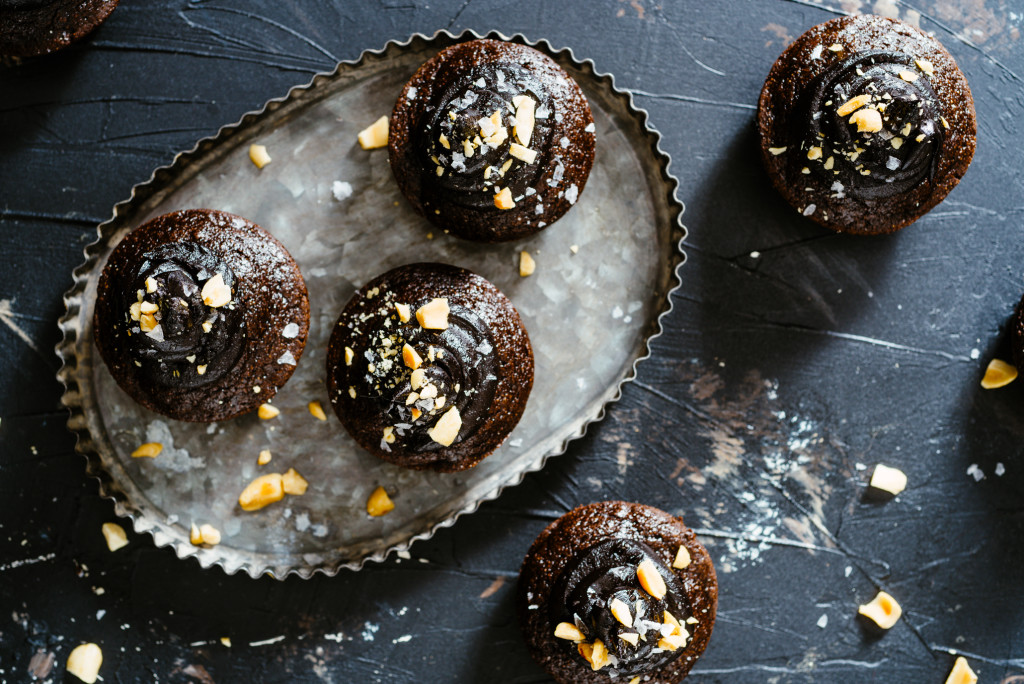 This week's recipe is my own small twist on what Laura already developed; putting dark chocolate cocoa powder in the cupcake batter, substituting honey in the buttercream instead of maple syrup (since Jake and I never seem to have that on hand) and adding PBFit powdered peanut butter, plus chopped peanuts, to the top. So, ya'll, these cupcakes are a MUST HAVE food adventure- especially if you love avocados.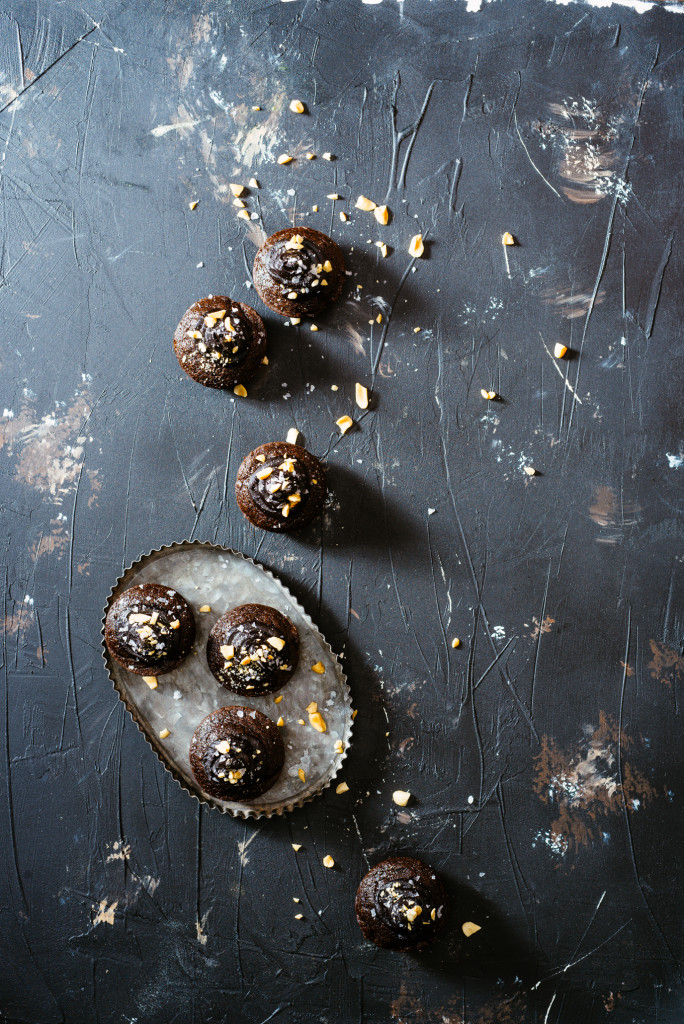 AND more avocado food styling tips!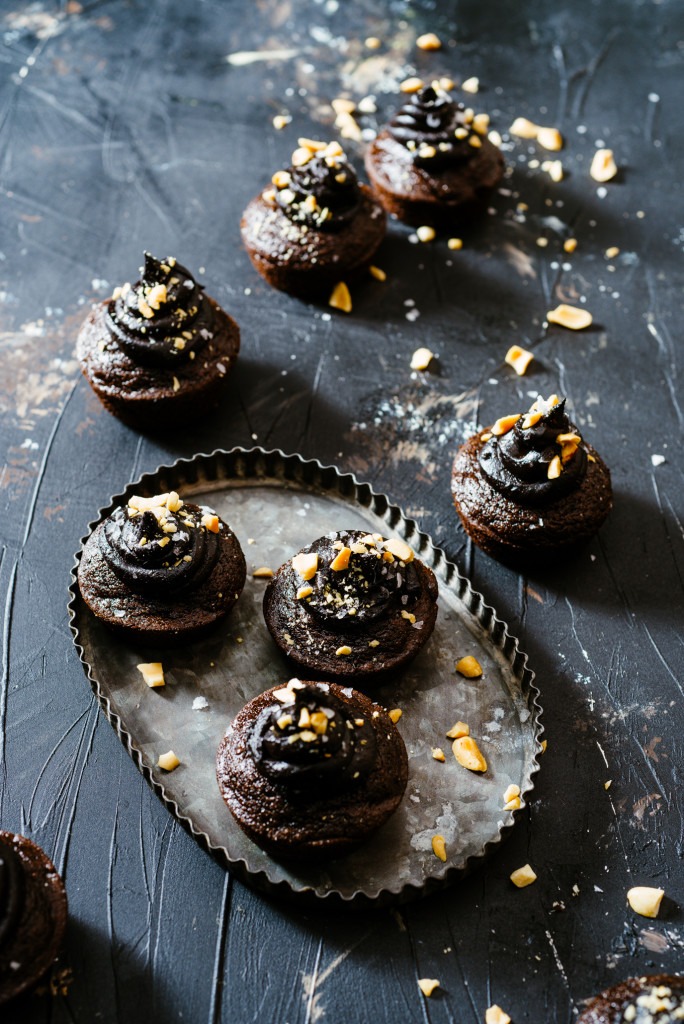 Chocolate Avocado Cupcakes with Chocolate Peanut "Buttercream" (Recipe adapted from Laura Lea Balanced Avocado Cupcakes with Chocolate Orange Buttercream)
This recipe requires a few specific ingredients (like fresh orange juice) but it's worth the effort! I suggest making the icing ahead of time since it needs to sit for about two hours in the fridge. Plus, if you like orange zest, make sure and check out Laura's original recipe! 
What You Will Need:
1¼

cups

spelt flour

2 tablespoons dark chocolate cocoa powder

¾

cup

coconut sugar

¾

teaspoon

baking soda

1/4 

teaspoon

salt

1

egg, beaten

1

ripe banana,

roughly chopped

½

large ripe avocado,

mashed

¼

cup

coconut oil, 

melted

¼

cup

freshly-squeezed orange juice

¼

cup

unsweetened vanilla almond milk 

1

teaspoon

vanilla extract

Chocolate Peanut Avocado "Buttercream"
Salted roasted peanuts, chopped, for topping
Flaked sea salt, for topping
What You Will Do:
Preheat your oven to 350 degrees F, and spray a muffin tin with olive oil cooking spray.
In a large mixing bowl, combine flour, cocoa powder, coconut sugar, baking soda and salt.
In a blender, combine egg, banana, avocado, coconut oil, orange juice, almond milk, and vanilla extract. Blend until smooth and no chunks of avocado remain (a minute or two).
Add liquid ingredients to the bowl of dry ingredients and fold (or gently stir) to incorporate.
Scoop about ¼ cup batter into each muffin hole and bake for about 15 minutes, or until a sharp knife inserted into them comes out with no crumbs attached.
Let muffins cool completely in the pan, or after cooling for about 10 minutes, transfer them to a wire rack to cool. Once cool, ice with buttercream and top with chopped salted peanuts and flaked sea salt. Enjoy!
Chocolate Peanut Avocado "Buttercream"
What You Will Need:
1 ½

ripe avocados, lightly mashed

5 tablespoons honey

5

tablespoons dark chocolate cocoa powder

1 tablespoon PBFit (powdered peanut butter)
What You Will Do:
In the bowl of a small food processor, blend avocado, honey, cocoa powder and PB fit until smooth.
Spoon icing out and place into a bowl. Cover and refrigerate for at least two hours. Attempt to resist temptation to eat this once it's cold!