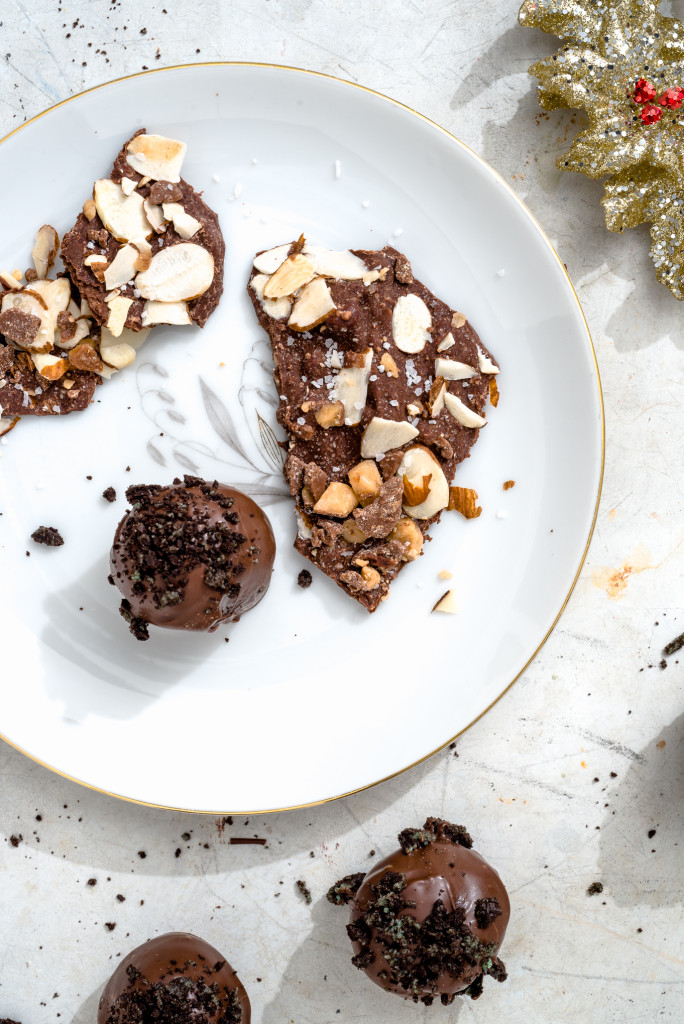 Tis the season of edible holiday treats, and on Luv Cooks, we have GOT YOU.
I mean, to me, there is no better way to show love to those that you love than to give something handmade, chocolate, and coffee-centric.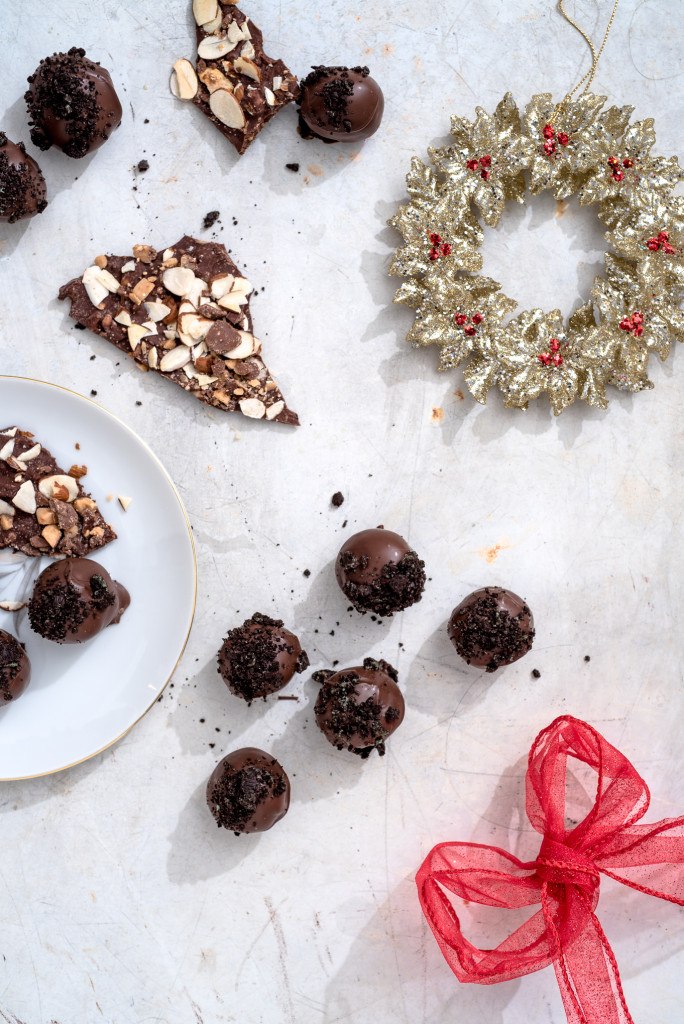 Let me begin with these truffles. I like truffles that are decidedly dark. Rich, yes- but not too sweet, just dark enough to satisfy a chocolate craving without sending me into a sugar headache. We use a 90% dark chocolate bar here, add in semi sweet chocolate to balance the flavor, and a bit of a dark chocolate mint bar and mint extract. Topping them with crushed Oreo Mint thins keeps the truffles fun and holiday-esque! They do take a bit of extra time for the truffle to set, but I promise they are worth it!
Also, PRO TIP alert: Use a toothpick around the base of the truffles to prevent the chocolate from pooling. (I know, I know, every truffle maker's nemesis, those pesky chocolate pools.)
Ohhh, and this coffee almond bark. It reminds me a bit of my wedding day ice cream- dark chocolate, Heath bar, and flaky sea salt. Divine. The addition of espresso powder deepens the chocolate flavor and you will be LUCKY if you can keep this stuff around for longer than it takes to set on the kitchen counter.
Both of these recipes are PERFECT to make ahead (you could start the truffles, toast the almonds, make the almond bark, then come back to dipping the truffles) and put in bags to hand out to people that you deem worthy.
CHRISTMAS TREATS HERE WE COME!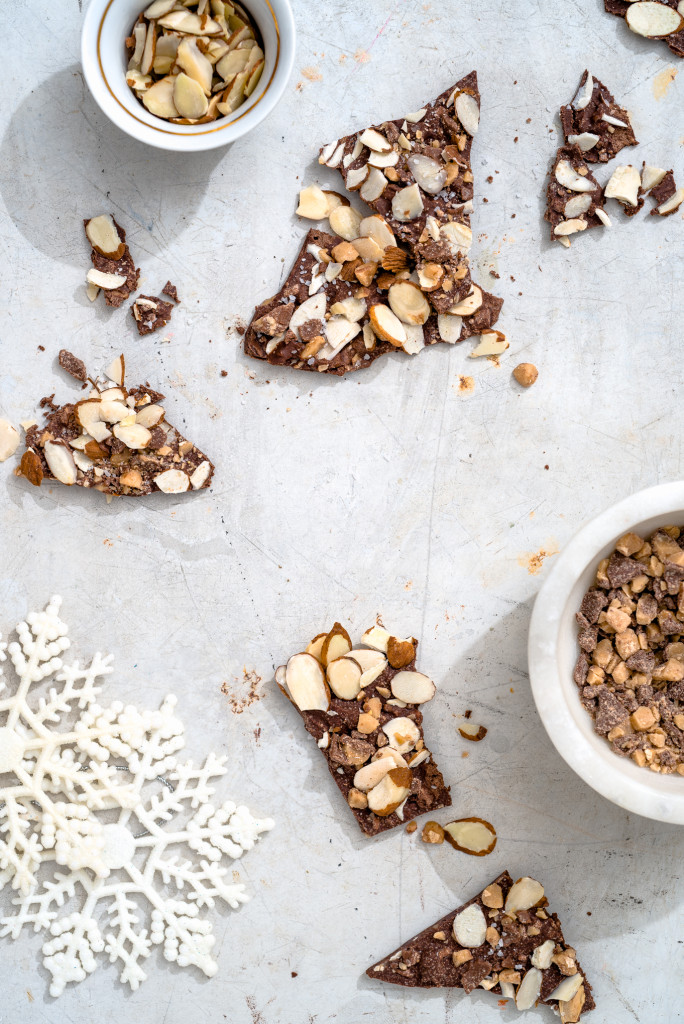 Coffee Toffee Dark Chocolate Almond Bark
The addition of espresso powder to the dark chocolate in this bar makes for a rich, satisfying treat. Paired with crumbled toffee pieces and toasted sliced almonds, good luck keeping this around for more than the time it takes to set on the kitchen counter!* (I apologize for using this joke twice for those who read our full post, hah!) 
Yield: Varies depending on preferred piece size
What You Will Need:
1/2 cup sliced almonds
5 ounces semisweet chocolate
3 ounces dark chocolate morsels
3 ounces Heath bar crumbles plus 1 ounce crumbled Heath bar for topping
1/2 to 1 tsp espresso powder, depending on coffee preference
Flaked or coarse sea salt, for sprinkling
What You Will Do:
Prepare a baking sheet with a baking mat, like a Silpat, or wax paper.
Roast nuts in skillet on medium heat until toasty. Remove to plate to cool.
Melt chocolate (except Heath bar) for 30 seconds in glass bowl in the microwave.
Stir with rubber spatula.
Microwave 30 more seconds; add 3 ounces Heath bar. Microwave 15 seconds; stir. Microwave 15 seconds more. Stir until smooth with only toffee chunks remaining.
Stir in espresso powder until dissolved.
Using a rubber spatula, spread chocolate mixture evenly onto baking mat (or wax paper) on baking sheet.
Top with almonds and additional 1 ounce Heath bar.
 Sprinkle lightly with sea salt and allow to cool at room temperature. Once cooled, break into pieces and enjoy!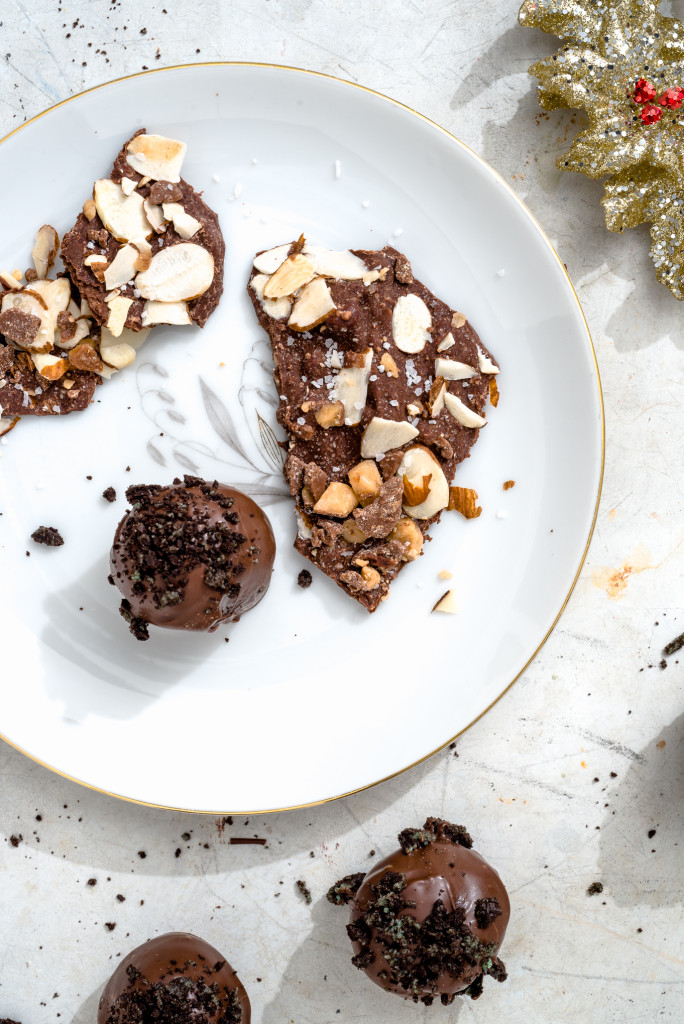 Mint Chocolate Truffles with Oreo Cookie Crunch
If there ever was a time to indulge in a truffle, it is the holidays. This version is decidedly darker, more chocolatey and less sweet than a premade version, but gets a childlike nod with a topping of mint-flavored Oreo cookie. These are also perfect for wrapping in bags and gifting to the ones you love. ***Make sure you set aside time for this mixture to cool in the fridge since it is a vital step!
Yield : 44 truffles
What You Will Need:
8 ounces 90% dark chocolate chocolate
7 ounces semisweet chocolate
1 ounce mint dark chocolate bar, broken into pieces
1 14 oz can sweetened condensed milk
1/2 to 1 tsp peppermint extract, depending on preference
12 ounces dark chocolate melting wafers, melted
1⁄2 cup Oreo Thin cookies, mint flavor, crushed
What You Will Do:
Melt all chocolate (except for melting wafers) in a large glass bowl over simmering water.
Once chocolate is about halfway melted, add condensed milk. Stir until all chocolate melts and the mixture resembles the texture of marshmallow.
Carefully take the bowl off heat and stir in mint extract.
Cover bowl with plastic wrap and refrigerate for at least two hours.
Line a large baking sheet with parchment paper.
Take truffle from fridge and allow to come to room temperature. The texture is perfect when you can easily scoop it into balls. If needed, you can reheat it at 15 second intervals in the microwave until softened.
Once rolled into balls, put truffles on parchment-lined baking sheet. Place sheet in freezer for about 10-15 minutes to firm up.
Melt dark chocolate in a glass bowl in the microwave for 30 second intervals, stirring after each session, until smooth.
Once ready, use a slotted spoon to dip truffles into melted chocolate. Move to baking sheet, then sprinkle with Oreos while the chocolate is still melty so the Oreos will stick.
Allow to cool on parchment lined baking sheet.