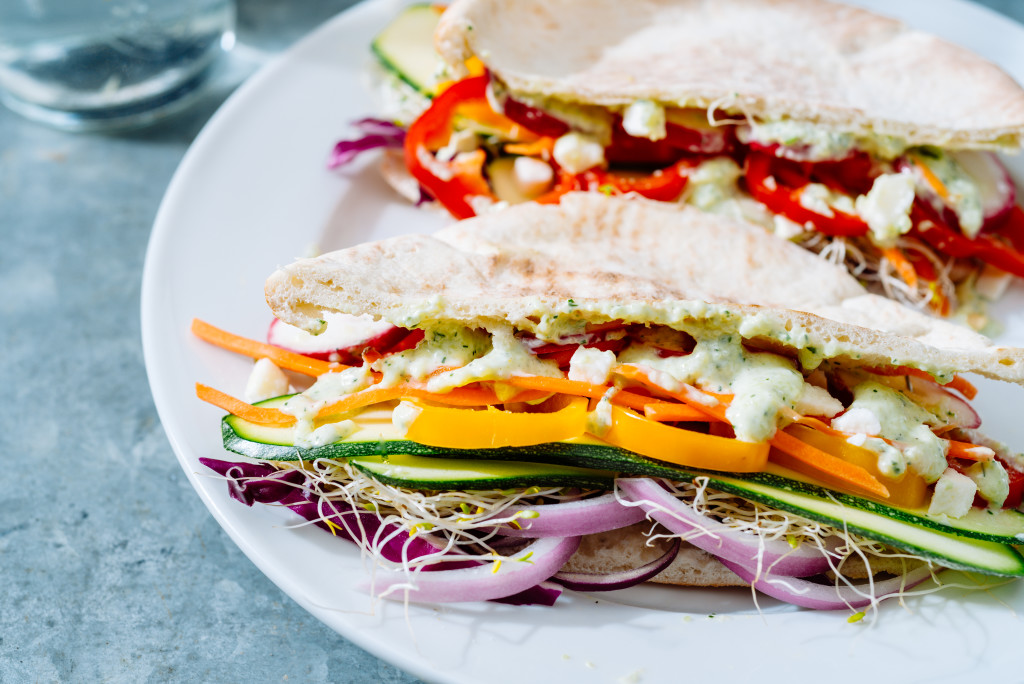 Rainbow veggie PITAS!!!!!
Of all of the zucchini recipes I've made this month, this is one of the ones I am MOST pumped about.
There are many reasons to love a veggie pita- one, you are eating the rainbow, which experts say to do. In my past (ahem, last week) I would have thought we were referring to Lucky Charms, but today we mean nature's rainbow of vegetables!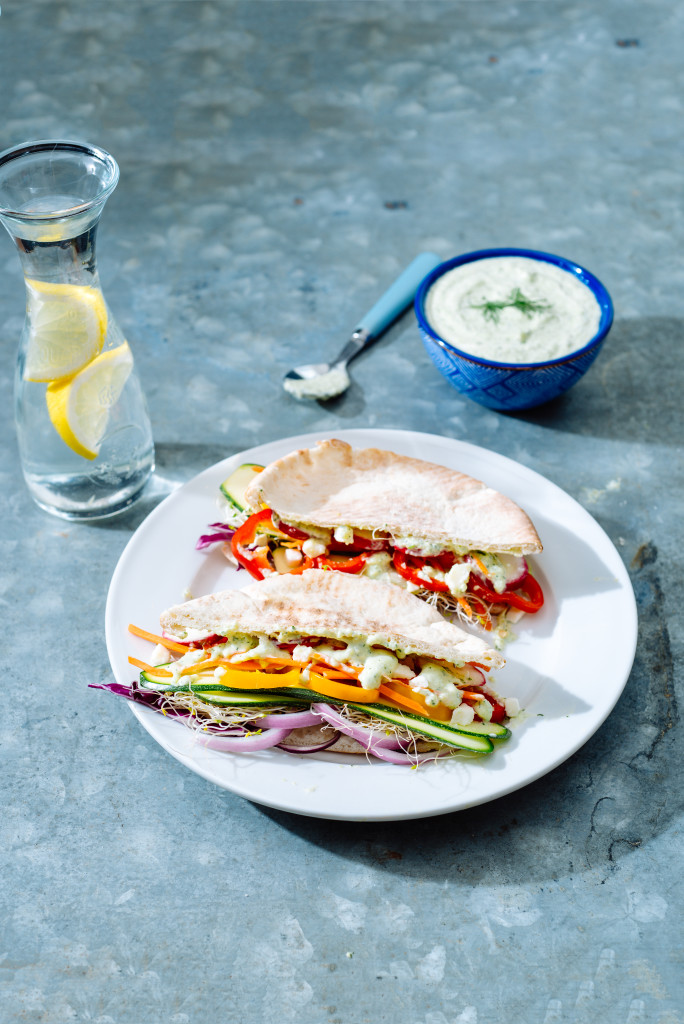 Two- this tzatziki sauce is blow-your-mind DELICIOUS! Though traditional tzatziki has cucumber as it's base, I decided to try it out with more zucchini instead. I could not stop eating it and it quickly became a favorite dip in the Blount household (for veggies, crackers, or, you know, a stray slice of ham). And third- well, do you really need a reason to eat a pita?! The answer is no, never do we need a reason to eat a pita, or pita bread, or it's partnering dips.
This recipe is also great because, well, zucchinis. A few fun facts I learned in my quest for zucchini knowledge:
Zucchinis are considered fruit. In fact, a zucchini with it's flowers still attached is the ultimate sign of freshness and may even taste sweet!
Latin American chefs prefer to eat both the zucchini fruit and it's flower (which serves as a stuffing for quesadillas).
Look for brightly colored, firm, smaller sized zucchini, as those that are over eight inches tend to become more fibrous and less tasty.
Because of zucchini's high water and fiber content, it's consumption is considered by nutritionists as a great way to stay (healthily) full; the nutrient-dense fruit even contains omega-3 fatty acids. **Did somebody say omega-3's in a veggie! That's right!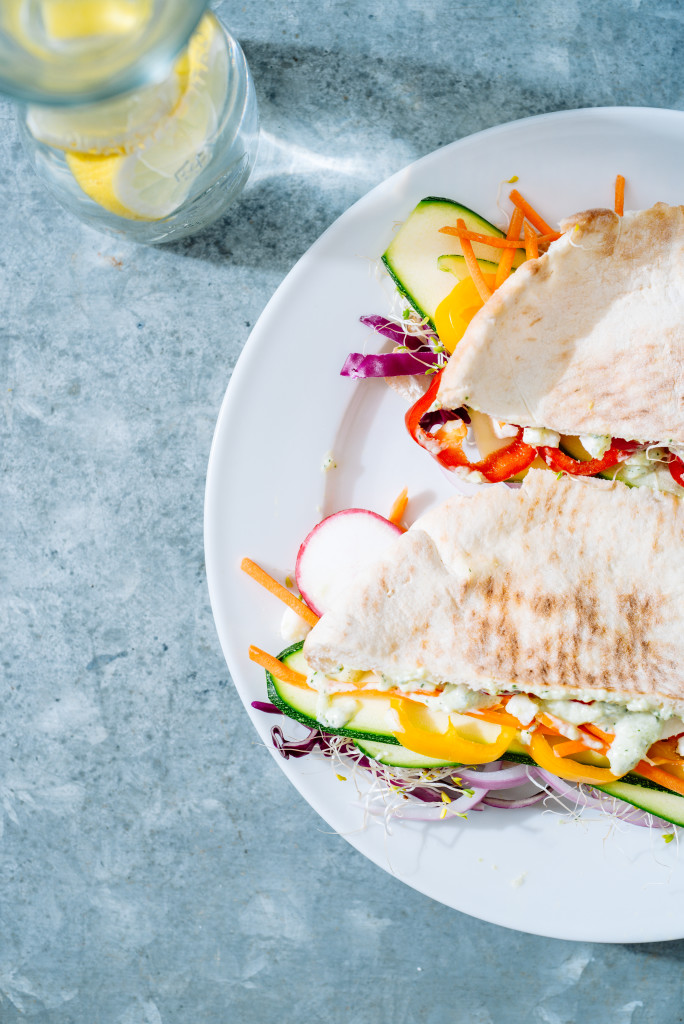 Now that we have established the amazingness of zucchinis, I think it's time for you to dice up some zucchini, make the tzatziki and ribbon away on that mandoline so you can pile those veggies high.
Enjoy your weekend pita sandwiches my Grecian super foodies!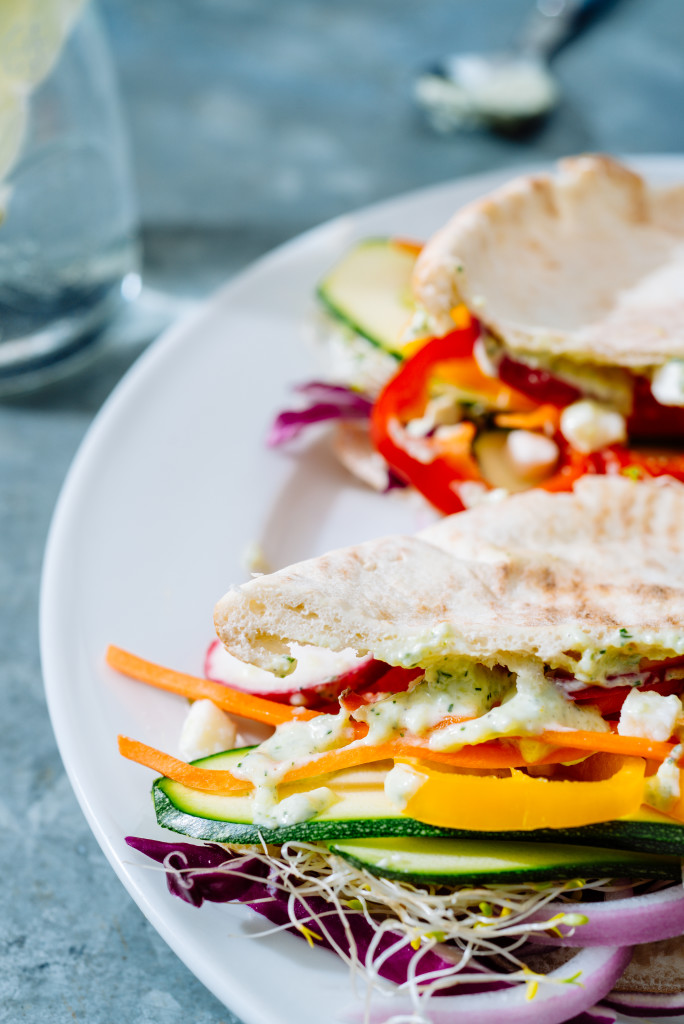 Rainbow Veggie Pitas with Zucchini Cucumber Tzatziki Sauce
These veggie-centric wraps are not only a great way to use zucchini, but a tasty way to include other fresh summer produce as well. Just slice your other summertime favorites thinly for easy stacking. Also, make sure and allow time for your diced cucumber and zucchini to rest on paper towels before combining in the tzatziki- this ensures a thicker, tastier sauce! You can also find the full recipe on Birmingham magazine's site here!
Yield: 6 pitas
What You Will Need for the tzatziki sauce:
1/2 English cucumber, peeled, seeded, and finely diced (about 3/4 cup)
1 cup diced, peeled zucchini
1 teaspoon salt; divided
2 cloves garlic, peeled and smashed
3 tablespoons dill leaves, packed
2 tablespoons basil leaves, torn and packed
1 tablespoon lemon juice
1 tablespoon olive oil
1⁄4 teaspoon curry powder
1 1/4 cup whole milk yogurt
Freshly cracked black pepper, to taste
What You Will Do:
Press the diced cucumber through a layer of several paper towels and ring with your hands to drain excess water.
Distribute drained cucumber and zucchini on a double layer of paper towels. Sprinkle with 1/2 tsp salt. Let sit for 30 minutes.
 Combine cucumber/zucchini, garlic, dill, basil, lemon juice, olive oil, and curry powder in a food processor.
Stir pureed veggie mixture into yogurt. Taste; season with 1/4 to 1/2 tsp more salt and black pepper to taste. Top with fresh dill or basil leaves for serving.
For the Rainbow Veggie Stuffed Pitas:
4 soft white pitas, halved
1 cup thinly sliced radishes
1 3⁄4 cup sliced red and yellow mini sweet peppers
1⁄2 to 1 cup matchstick carrots
1 zucchini, sliced on a mandolin into thin ribbons
1⁄2 to 1 cup Alfalfa sprouts
1⁄2 cup thinly sliced red onion; soak in cold water for 15 minutes then drain for less pungency
1 cup thinly sliced red cabbage
Feta cheese, crumbled, to taste
What You Will Do:
Gently spoon homemade tzatziki sauce into bottom of pita half. Starting on the bottom layer of the pita half, stack with radishes, peppers, carrrots, zucchini, sprouts, red onion, and cabbage.
Drizzle with additional tzatziki and top with crumbled feta. Enjoy!
Extra Tips:
*This tzatziki sauce becomes even more flavorful overnight. Simply cover and store your sauce to rest in the fridge for at least 8 hours.
* If you like a thicker consistency for your tzatziki (or any other dairy-based dip), simply drain the dip over several layers of paper towel in a bowl in the fridge. This trick also works for creating a thicker salsa!
*Traditional taziki features fresh parsley, so you can play with the herbs here. Substitute mint for basil and parsley for dill if you like!
*For less bite to raw red onions, soak them in ice cold water for 15 minutes, then drain.
*Gently warm your pitas in the microwave or oven before slicing and opening to make them even easier to fill with tzatziki and veggies.