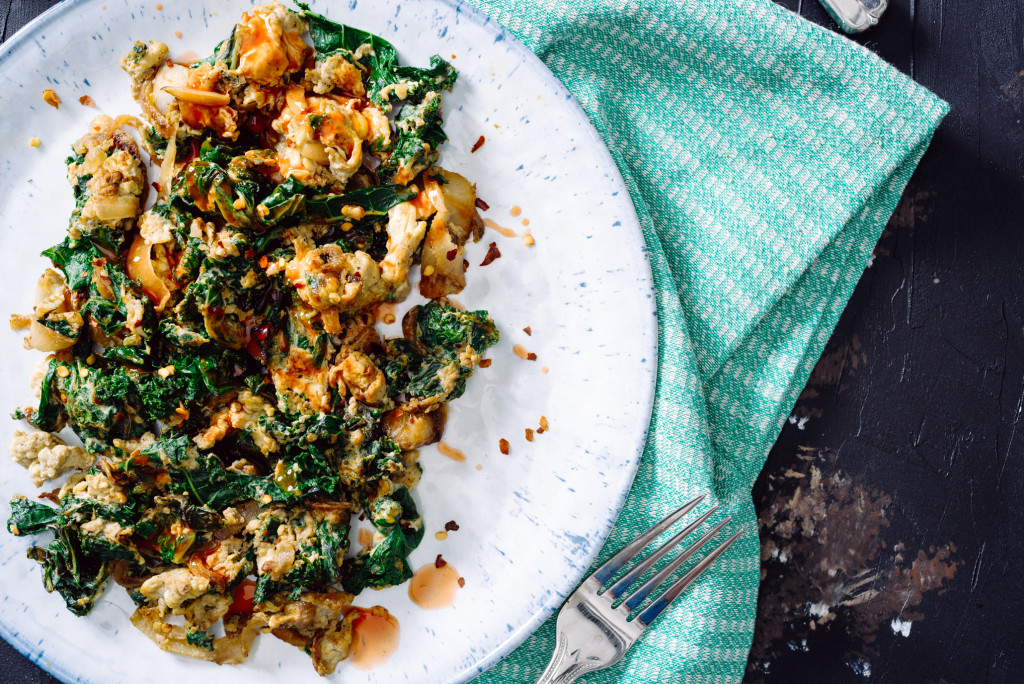 Caramelizing onions.
File this under one of the most delicious things to do to an onion. Granted- diced onions in fresh salsa? Zesty and awesome. Sliced fresh and put on a burger? Perfect ratio of bite. But caramelized? So, so good.
This week's recipe has rocked my world a bit because 1- I don't like kale. Shocker, I know. I will never be that person that wears the "Kale, YEAH!" shirt, or eats kale from the salad bar at Whole Foods, or drinks a kale smoothie and LOVES IT.  Not. Gonna. Happen.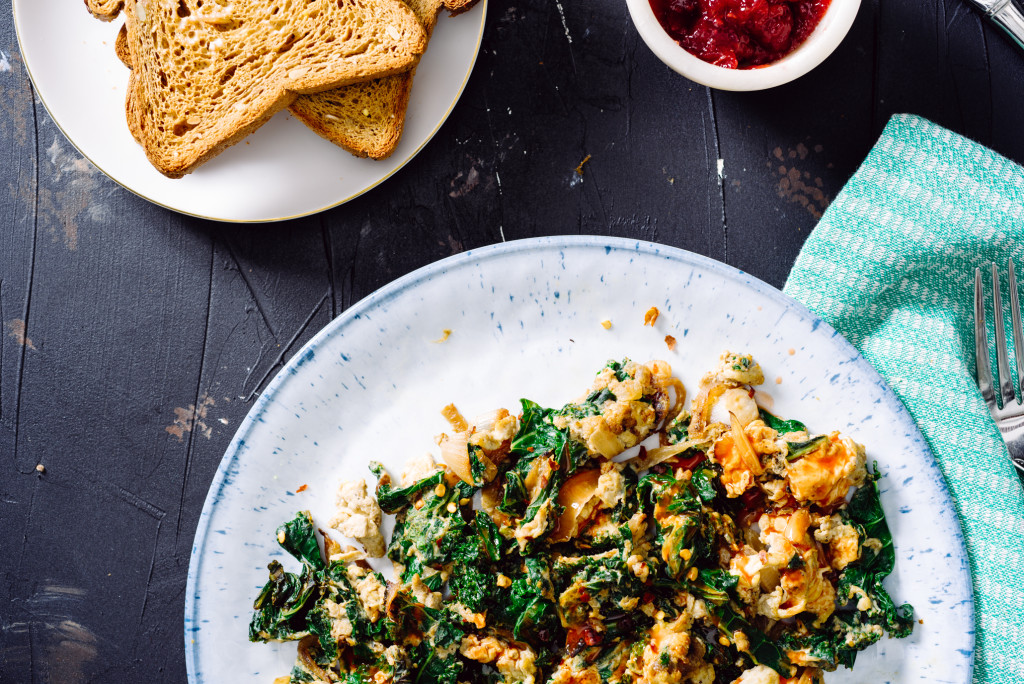 BUT Food and Wine!! As you guys know, discovering their recipes is rocking my world, and the same thing happened recently with their sautéed kale with garlic and olive oil. This recipe is brilliantly simple- just toast garlic in olive oil, toss in chili flakes, coat kale in the oil, and cook it until it wilts. Finish it off with salt and pepper.
Something magical takes place in this recipe when the kale hits the oil- and I later learned that the reason why is because FAT UNLOCKS THE NUTRIENTS IN KALE. That's right- some of the vitamins in kale can be hard to digest, so fat helps. This article by Time-written in the hey day of kale's popularity in 2015- shed lots of bright light for me on why I should actually eat it. Also- one ounce of kale has MORE iron than beef. What?!
So, taking Mallory's advice from the beginning of this month, I decided to combine the sautéed kale with caramelized onions in my own nutrient-dense powerhouse breakfast scramble.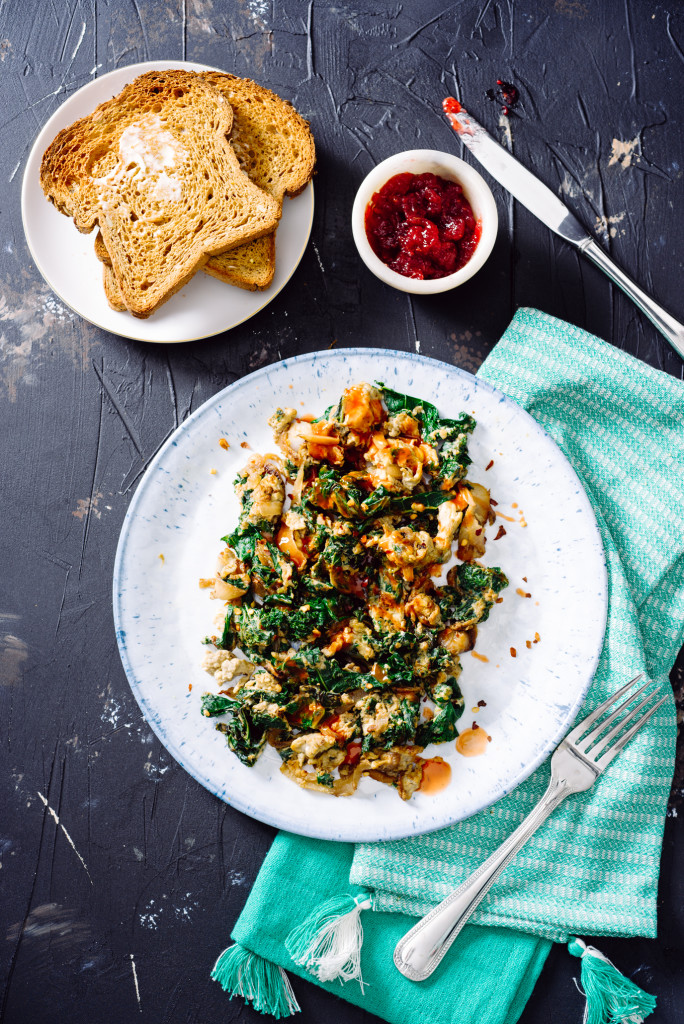 That's also super delicious and I want to eat it every day.
So, roll up your sleeves, chop up some greens and get amped as you conquer this beast of a breakfast recipe AND get all your Vitamin K.
KALE, YEAH!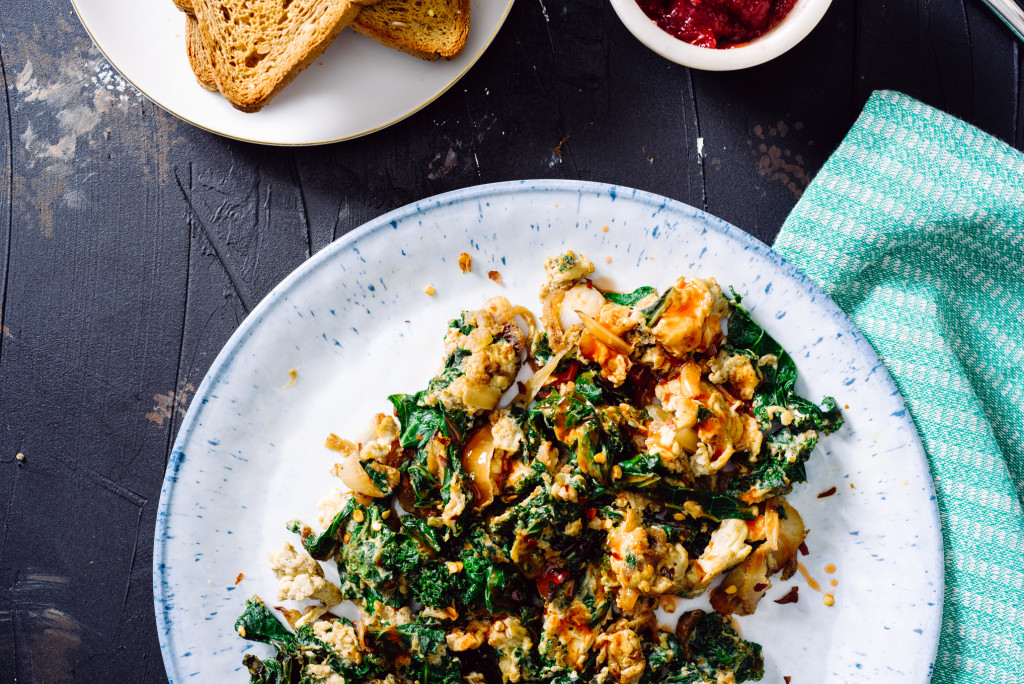 Caramelized Onion Kale Scramble 
This spicy scramble is my new favorite! It combines the richness of caramelized onion with the bright bite of kale. Assemble your ingredients ahead of time to make the breakfast cooking process easy, drizzle with hot sauce, and serve with whole grain toast and jam to round out the meal. 
What You Will Need:
1 tablespoon salted organic butter
1 tablespoon olive oil
1 bunch organic kale, rinsed, stemmed and chopped into bite size pieces
1 Vidalia or sweet onion, sliced into rings, about 2 cups
6 eggs, whisked
1/2 tsp salt plus more for seasoning
1/4 tsp pepper
1/4 tsp red chili flake
3 cloves garlic, sliced thinly
What You Will Do

Heat butter on medium heat; add sliced onions and a pinch of salt. Stir occasionally for about 8 minutes, until onions begin to brown/caramelize.
Add olive oil, garlic, salt, pepper, and red chili; stir for one-two minutes, or until garlic starts to brown.
Add kale in batches, coating each batch in oil, and slowly incorporating more as the kale wilts. You should smell the red pepper at this phase!
Continue to stir onions, garlic and kale; cover and cook 3 minutes more (stir about halfway through to make sure the garlic doesn't get too brown).
Add egg and stir continually until cooked through. Season with additional salt and pepper, if desired.
Garnish with hot sauce or crushed red pepper; serve with toast or bagels and jam!!